KTM AMA National Adventure Riding Series: Yosemite Adventure Tour
​The Yosemite ​Adventure Tour is an AMA Sanctioned ​ADVENTURE RIDE held at the gateway to Yosemite National Park in Buck Meadows, Califorina. This event is open to any make or model of street legal motorcycle.

This two day, GPS based, self-guided adventure ride includes scenic & historic destinations both in and around Yosemite National Park and the Stanislaus National Forest. Using paved and unpaved roads​ you'll have approximately 100 miles of fun each day! "​Dirt" routes are perfect for beginners and large adventure bikes. Experienced riders can be challenged by choosing "hard" splits if available. We do our best to include as many miles of dirt as possible. "Paved" routes are 100% paved.

Event is operated under permit from the Stanislaus National Forest and limited to 150 riders so register early! This event is open to any make or model of street legal motorcycle.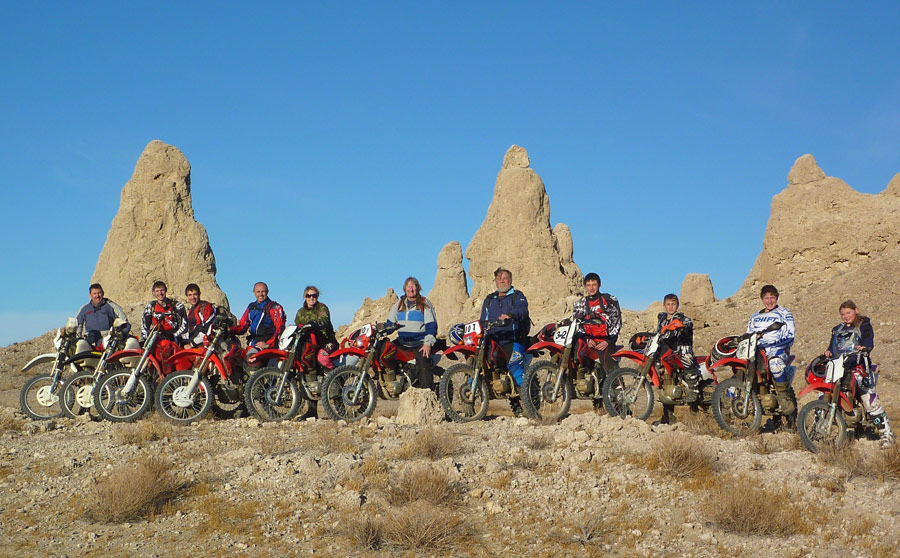 Registration Quick Facts:

- 150 rider limit so register early!
- AMA requires all riders to be AMA members.
- One Day tickets are available.
- Passengers are half-price.

Directions: [GPS: N37 48.926 W120 03.765] From Highway 99 or Interstate 5 take Highway 120 exit East towards Yosemite. Stay on Highway 120 for 65 miles till you arrive in the town of Groveland. Buck Meadows is a small community about 11 miles East of Groveland, towards Yosemite.

Amenities: Our host for this event is the small, historic community of Buck Meadows. Within this community is the Yosemite Ridge Resort. They can be reached at 800-706-3009 and provide cabins, full RV hookups, gas station, general sore & local dining. The "Yosemite Westgate Motel" ("Motel 6" style) is also in Buck Meadows and the nearby are "Lost Claim" or "The Pines" campground operated by the Stanislaus Nation Forest. Additional accommodations are available in Groveland.

Registration & Staging Location: Meet us at the registration booth to pick up your packet starting Friday at 5pm and resume again at 8:00am Saturday Morning. The booth & staging location is on the grass next to the general store and fuel pumps in Buck Meadows.

FREE GPS Training: There will be a FREE class on how to navigate with GPS while riding in the back-country. With or without trails, roads, land-marks or a paper map you'll be able to confidently navigate anywhere on the planet once you know the ropes. Bring your GPS pre loaded with our routes, something to take notes on and an open mind. This class will be at 6:30pm on Friday at the registration tent.

Fundraising BBQ & Raffle: Join us on Saturday at 7pm! THOUSANDS of dollars in gear, parts, accessories & apparel for you to win! Food, Prizes & Fun! Get your BBQ tickets on-line now. BBQ funds benefit Tuolumne Trails which helps kids with special needs enjoy the outdoors. Funds generated from the raffle are donated to Blue Ribbon Coalition.





GPS Routing: Bring your GPS!!! A download of suggested routes and destination will be emailed to you a few days before your adventure. Suggested routes will consist of paved, gravel and dirt roads. Each day is usually about 100 miles, visiting different destinations each day. We do our best to use dirt routes as much as possible.

Scenic Rides: THIS IS NOT A RACE!!! This is a fun, EZ-to-follow, on/off-road, leisurely, scenic and historic trip through parts of the beautiful Stanislaus National Forest and Yosemite National Park. In most cases easy routes are passable with a high clearance vehicle. In case routes or destinations are closed alternate destinations and routes will be selected.

Motorcycle Requirements: All motorcycles must meet the following requirements. Failure to meet ALL requirements will result in your money being refunded and you being asked to leave the event.

Quiet muffler with a spark arrester is mandatory and only helps our sport. Nothing above 94db!
Must be street legal with all required lighting, licensing, registration and insurance.
You will need to be able to go at least 75 miles on a tank of gas.
Other Information:

Destination and routes are only our recommendations. The Yosemite area has SO MUCH to offer that we hesitate to limit your experience. GPS downloads are an accurate representation of the route and include way points at various locations of historical significance and scenic beauty. A reference map showing suggested destinations, routes and bailouts is handed out during registration.

- Bring rain gear in case of bad weather. This is a rain or shine event.
- Bring a camera! This is a beautiful area!
- Lunch is provided each day.
- There is an optional dinner on Saturday night. After dinner we will hand out awards, raffle off prizes & recognize sponsors.

To view their promo video, CLICK HERE!
To learn more, CLICK HERE!

To view a full schedule of the KTM AMA National Adventure Riding Series, CLICK HERE!
Event Properties
| | |
| --- | --- |
| Event Date | 05-05-2018 |
| Event End Date | 05-06-2018 |
| Capacity | 150 |
| Individual Price | $74.00 |
| Location | Buck Meadows, CA |