106 West Motorcycle ADV Touring Company Launches Operations
106 West Motorcycle Adventures
has the perfect tours for those who want to explore the Rockies and Utah Canyonlands. Offering 4 separate guided adventure tours on late model
BMW F700/800 GS
bikes, the Colorado based company gives riders enough time (8-13 day tours) to truly explore these beautiful regions. 106 West limits their tours to 7 riders to create a unique and personal experience.
Company Owner, John Hax, takes pride in his knowledge of the region, and it shows. The well thought-out routes are all loops composed of easy to intermediate level dirt roads. "I spent a lot of time planning my routes so that every day has beautiful riding, an engaging diversion, and a unique town to spend the evening in." says John. "Every day has a highlight. For example, on Day One of the southern Rockies tour you might see an antelope, do a stream crossing, and then have amazing views of the Collegiate Peaks before descending 4000 ft/1500m to Salida, CO and spending a night in this artsy, white-water town on the Arkansas River."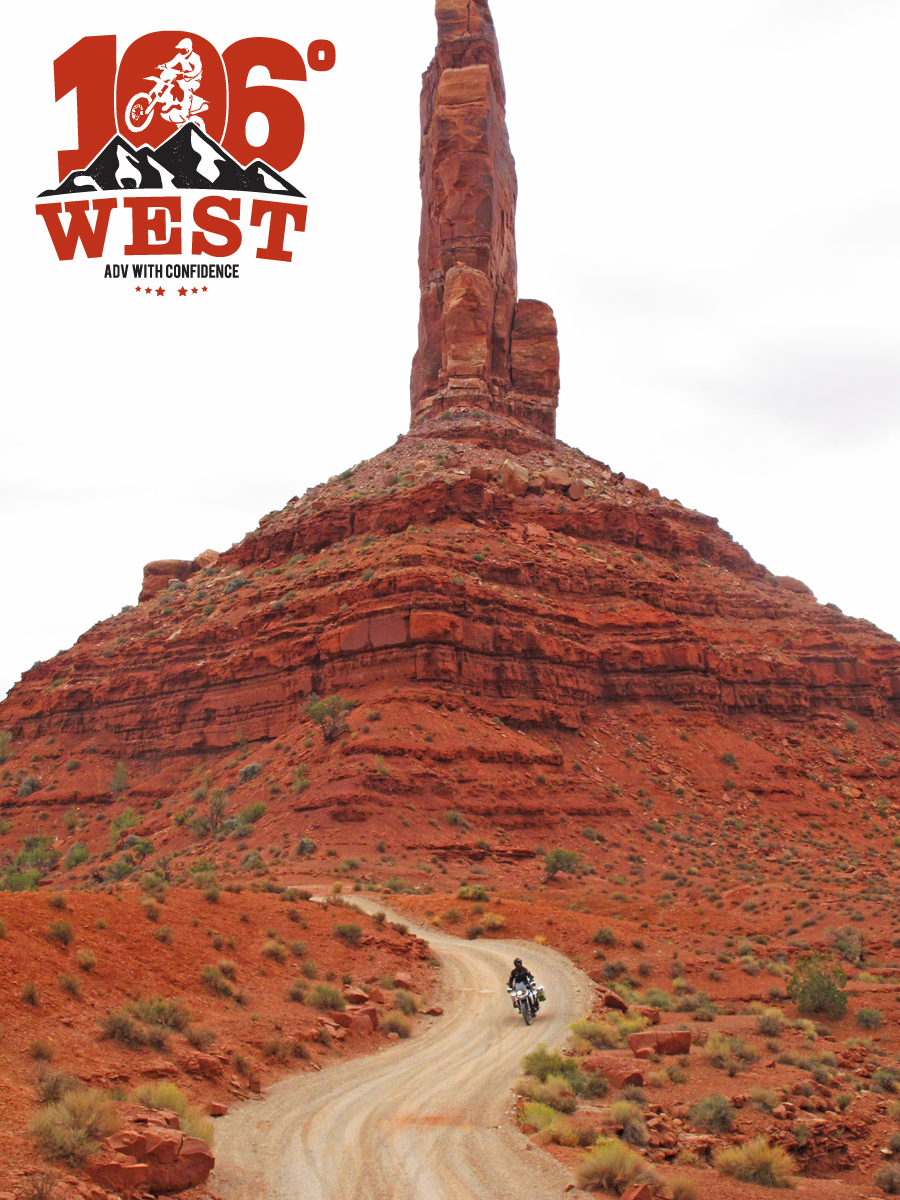 Exploration Tours:
•
14 Day – Mountains and Canyons Tour:
Wanting a taste of both the Colorado Rockies and Utah Canyonlands? This tour has the best of both worlds. A loop that encompasses the San Juan Mountains, Canyonlands National Park, Arches National Park, Capitol Reef National Park, Great Sand Dunes National Park, Bears Ears National Monument, Natural Bridges Natural Monument, and Hovenweep National Monument: Mountain passes, mining towns, arches, Native American ruins and canyon country, this tour has it all.
•
13 Day - Colorado Backcountry Discovery Route:
The COBDR tour includes the
Colorado Backcountry Discovery Route
, Rocky Mountain National Park, Mesa Verde National Park and Great Sand Dunes National Park. Ample time is given to explore all the old historic mining towns dotting the region.
•
13 Day - Exploring Canyon Country:
More than just a motorcycle tour, the Exploring Canyon Country tour gives you the opportunity to truly experience the majestic Utah Canyon Country. Experience the beauty, majesty and solitude in the best way possible: on the back of a
BMW
motorcycle. Majestic arches, spiraling rock formations, slot canyons and Indian ruins await you on this tour.
•
8 Day - Discover Canyon Country:
A shorter version of the 13 day tour, the Discover Canyon Country route highlights some of the most beautiful and scenic sections of Utah, but on a shorter time frame. From timeless monuments to fun and challenging terrain, this ride will take you through areas of Canyon Country, developed by nature over thousands of years.
•
8 Day - Southern Rockies:
Enjoy the beautiful Colorado Rockies at the height of summer. Historic mining towns, Great Sand Dunes National Park, alpine meadows, 14,000 foot peaks and The Alpine Backcountry Byway await you on this ride.
Detailed information about these tours can be found on the company website
–
106WestADV.com
.
Through these extended tours,
106 West
hopes clients will gain a perspective for how much beauty the region has to offer. "Nobody should spend thousands of dollars doing a motorcycle tour of Utah and not hike a slot canyon, walk beneath an arch, or visit an Indian Native American ruin." explains John.
Limiting tours to 7 riders enables 106 West to align riders with their tour goals. Whether it be finding a less difficult route, spending a morning hiking, or visiting Native American ruins, small group sizes allow riders to "do their own thing" in a way not possible with larger tours.
Despite the resurgence of luxury tours,
106 West
tours are economical affairs. This is partly due to the limited amount of lodging options. While the Rockies tours offer 3-4 star lodging, the Canyonlands tours are limited to 2-3 star hotels. Have a specific itinerary in mind? No worries because 106 West also offers custom tours. Bring 6 riders and the west is yours! "For those riders wanting a bit more adventure, pitching tents instead of lodging is always an option. Camping is available in most towns and certainly adds some spice to the experience." explains John.
106WestADV.com
About the Owner: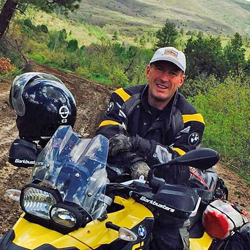 Running an adventure motorcycle tour company requires much more than just the ability to ride a motorcycle; planning, professionalism, experience and passion are equally important. As a former Officer in the
United States Marine Corp
I spent 4 years planning logistics as complex as the deployment of a battalion
Light Assault Vehicles
by air transport to Somalia and the return of
700 Amphibious Assault
vehicles from Kuwait back to the USA. My professionalism comes from spending 20 years as a consultant in the IT industry. Experience comes from riding thousands of miles of dirt including Denver to Portland, the Colorado, Utah, and
Nevada Backcountry Discovery Routes
, and countless riding and hiking trips throughout Utah and Colorado. Passion; what I love to hear from my guests is when they tell me they never would have seen such beautiful country if not for my guidance. I am also an Ambassador for the
Backcountry Discovery Route
organization. I look forward to giving you the adventure of a lifetime and showing you some of the most beautiful country on the planet. – John Hax
Tags: Rockies, COBDR, Utah, Colorado, BMW, Touring, Backcountry Discovery Route