Visit ADVMoto at the 2017 AIMExpo
Join
ADVMoto Magazine
as we celebrate our 100th edition milestone! Although
Dual Sport News
first took a consistent format in January of 1999, it existed for three years before that as
Kawasaki 650 Dual Sport News
. In 2010 the current Publisher, Carl Parker, picked up
Adventure Motorcycle
, rebranded the title as
ADVMoto
, brought it back to print and became available on over 3,000 newsstands around the world.
"Although the ADV segment may be small for now, we are large in heart and growing rapidly. The upwelling of support and passion in the ADV community is tremendous.There's no doubt more riders will embrace adventure bikes not only for their many practical merits. The community is a diverse spectrum of riders who understands we have one life to live and time is precious. Being accepting and supportive of each other not only makes achieving our goals easier, but enriches us on many personal levels." claims Carl Parker. "It's an honor to work within the ADV world. The readers and sponsors who have supported us for all these years are second to none. We're doing everything we can to ensure the word 'adventure' stays close to our hearts."
Despite the challenges of growing a family owned, independent media company in a niche market, he says "Seeing happy people is worth it. Seeing people dream, and make dreams come true, is worth it."
Visit ADVMoto at the 2017 AIMExpo!
Together with the exciting release of our 100th edition, the staff will be at the 2017
AIMExpo
(
AIMExpoUSA.com
) in Columbus, Ohio on
Sept. 21–24
. Round-the-worlders
Sam
Manicom
(
Sam-Manicom.com
) and
Daniel Rintz
(
Open-Explorers.com
), and the
Motorcycle Relief Project's
(
MotoRelief.org
)
Tom Larson
will be on hand as well, so be sure to come hang out at
booth 957
!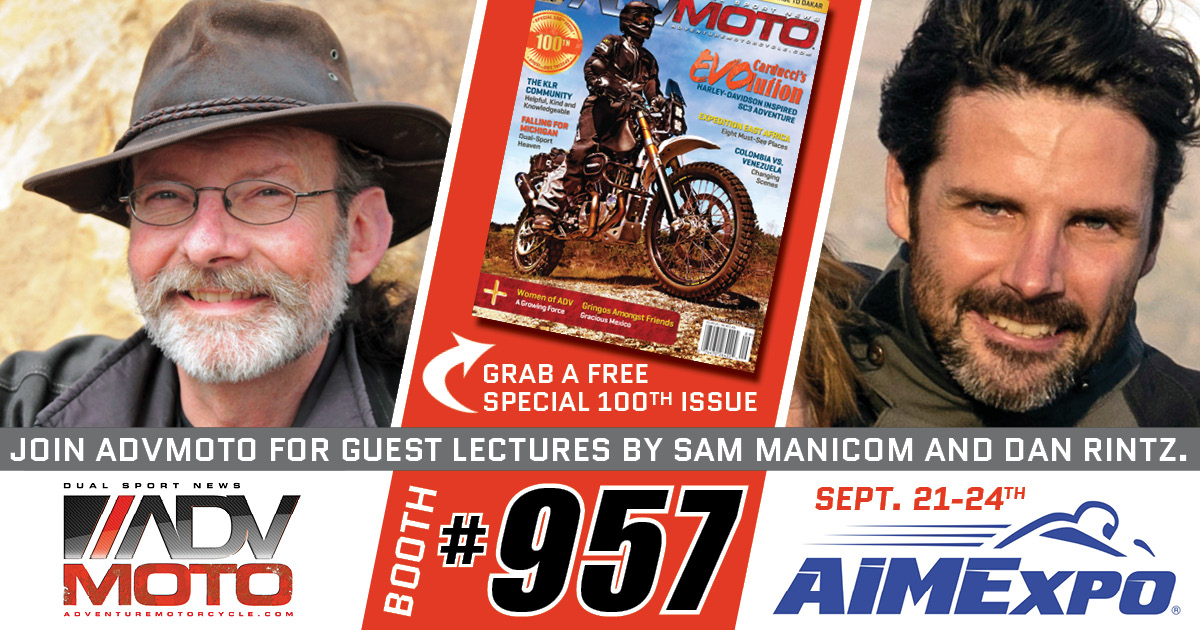 • Sam Manicom and Daniel Rintz ADV-VIP Presentation, Saturday Sept. 23rd
Join us Saturday,
Sept. 23rd at 2-3pm
, in converence room
A110-112
at the
Greater Columbus Ohio Convention Center
for a special presentation by some of the most knowledgeable adventure motorcyclists in the world. Three lucky attendees will win raffle prizes. Proceeds go to the
Motorcycle Relief Project
to support the
Sidecar for Disabled Veterans Charity
. Snacks and refreshments will also be on hand.
About the speakers:

-
Sam Manicom -
Sam Manicom, often refered to as the "Guru of Adventure Motorcycling", rode for eight years around the world, covering 200,000 miles. He is the author of four motorcycle travel books.
-
Daniel Rintz -
After six years of travelling, Dan Rintz has circumnavigated the world by motorcycle, visiting 99 countries. His movie, "
Somewhere Else Tomorrow
", is getting rave reviews from around the world.
{youtube}QkVWkRy03P8{/youtube}