Coyote Trail Adventures Ramps-Up Operations and Supports the 34th LABV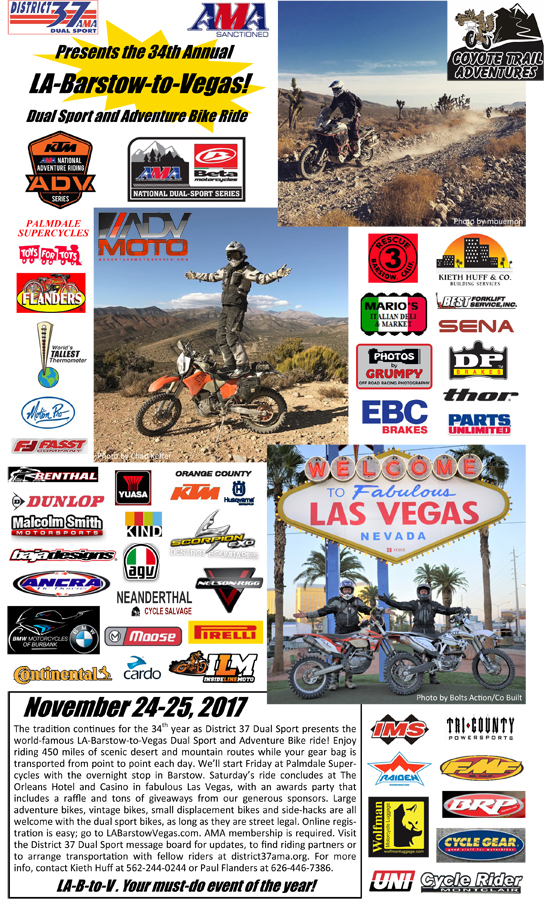 Coyote Trail Adventures
(
CTA
) is happy to announce their partnership with the
34th Annual LAVB
(
LA-Barstow-to-Vegas
) dual sport event (Nov 24th-25th), as a provider for rental bikes. The
LABV
is the most famous and longest two-day dual-sport ride in the world. Those who are looking to participate in the event without shipping their bikes, and overseas travelers can now be a part of it.
CTA
is offering a complete, all-inclusive package that includes bike rentals and accommodations.

LABV Coyote Rider Package Includes:
Bike rental (event entry fee is not included)
3 nights lodging
Breakfast and lunches (dinner not included)
Gas
Transportation (between Palmdale to Las Vegas and back). Ask us about airport pickup and drop off.
On the trail support
Chase truck with a spare bike on the trailer
Price: $1500 (Limited Coyote Rider Packages Available!)
Let
Coyote Trail Adventures
help you have a blast all the way to Vegas!
To learn more about these rental programs, visit
CoyoteTrailAdventures.com
. For more information about the LABV, visit
LABarstowVegas.com
.
---
Coyote Trail Adventures Offers Promotional Tours on the West Coast


Coyote Trail Adventures
is now accepting entries for their one, two, or three-day dual-sport tours through the greater Mojave Desert and Eastern Sierra Nevada Mountains. Promotions are currently available for
CTA
's
Three-Day Panamint
rides scheduled for September. Riders will receive $100-off per rider discounts when the group exceeds 4 riders. The ride is a full ride at 8 riders. Enjoy the Mojave Desert and parts of Death Valley with
CTA
on street-legal dirt bikes! Schedule a tour today and experience some of the wildest riding America has to offer!
CoyoteTrailAdventures.com
.
Motorcycle graphics company Factory Effex and Motocross Giant, who specializes in gear an apparel, have partnered with CTA to offer discounts on their products after registering for CTA tours.