Horizons Unlimited: Mountain Madness Appalachians Nav Rally
What's a HUMM?

Are you ready for a completely different type of adventure rally?
Horizons Unlimited
brings
Mountain Madness
to the
Appalachian Mountains
of Maryland. The inaugural event is unique for the east coast. Unlike other
HU
meetings,
Mountain Madness
is a navigation challenge that focuses on collecting points and exploring new areas and
ADVMoto
is happy to be the official media partner for the event. But don't expect us to let you have all the fun; we'll will have a small team competing as well!
"The most fun you can have on two wheels!"
"The best day's riding ever!"
"A brilliant and unique event... amongst the top ten 'best fun' biking experiences."
The
HUMM
is a unique 2-day, off-road motorcycle orienteering/geo-caching event for teams of 2-4 bikes. One of 3 to be held this year in Spain, Canada and the USA,
HUMM Appalachians
will be held from
Aug 11-13
in and around
Green Ridge State Forest
in the
Appalachian Mountains
of
Maryland
. Test your map reading and navigation skills, find hidden secrets and enjoy the fabulous riding.
Horizons Unlimited
has been organizing the
HUMM
since 2007 in a number of countries, and are now bringing the first USA
HUMM
to the Appalachians in Maryland. In 2018 there will also be a
HUMM
in Arizona!
---
---
Why a HUMM?
No set course!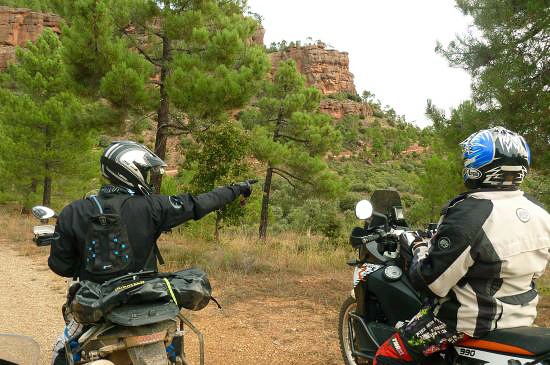 Unlike most dual sport rallies/rides, the
HUMM
has no set course! It's kinda like a scavenger hunt for bikes with off-road capabilities. Each team gets a map and a
HUMM Points Book
on Day 1. Each checkpoint gets its own page with key info about its location and a score based on distance, degree of difficulty and scenic value - your team figures out how to get there. Since there are more checkpoints than any team can get to in the 2 days of the event, each team must devise its own strategy, so there is no set course. You're never following a string of riders down the same dusty road!
Choose your own adventure!
Whether you're new to off-road riding or a trail ninja, the HUMM lets you and your team choose your adventure. The emphasis is on strategy, teamwork, riding and navigation skills and pure fun! Many teams choose their route based on scenic value!
Official support!
We are fully official with all local and state authorities including park officials, so no aggravation for riders on the trails or the roads. :) This event is
AMA
and
FIM
sanctioned. We're serious about what we do to provide the best experience for the participants.
The HUMM is the first adventure riding event to be sanctioned by the FIM under its Touring and Leisure Commission.
We'll be there if you need us!

Each team will have a Spot satellite tracker supplied for the event. If you need help, we'll come and get you. Our locally based support and recovery service can provide first aid and transport to the nearest suitable facility as well as basic field repairs and motorcycle recovery, on a 'best efforts' basis.
What's included?
• 1st, 2nd and 3rd place teams in each class get a
keeper trophy
for each Team Member! How cool is that!
• Support services - If you need help, we'll come and get you.
• Awards Dinner on the final evening is included in your registration fee.
• An exclusive, sweat-wicking
HUMM
technical t-shirt.
• Each team gets a custom map and points book to keep, afterwards you can use it to find more points at your leisure!
• Mucho
bragging rights
!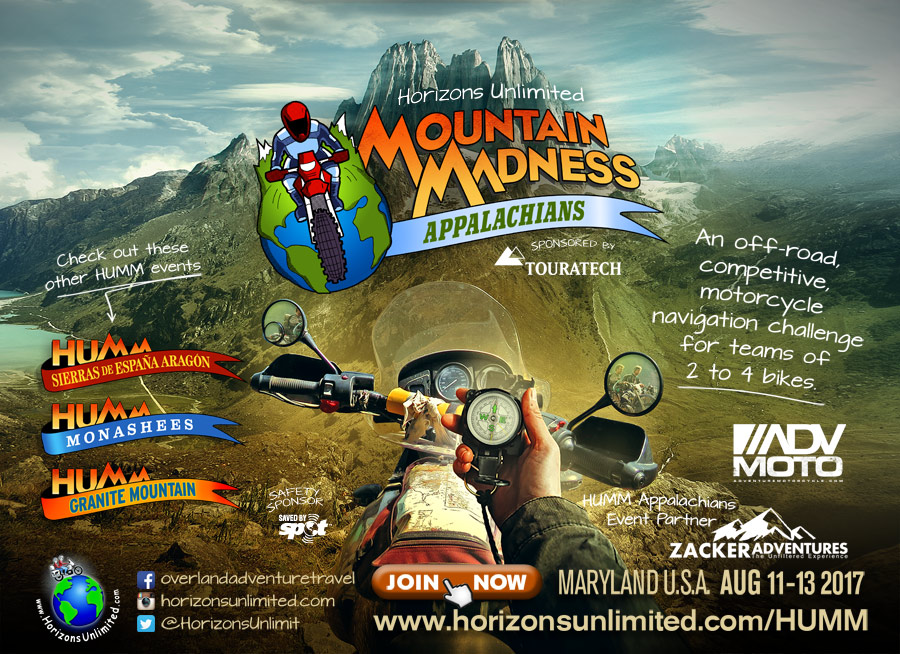 Frequently Asked Questions
1.
Do I need an off-road bike to participate in this event?

Bikes need not be dedicated off-road specials but need to have a vague predilection for the dirt. So GS Adventure yes, Electric Glide in Blue, no. Any Adventure or Dual Sport bike is perfect - must be street legal. Knobby tires are a plus but by no means essential.
2.
I'm not an expert rider and I'm nervous about the difficulty of the trails. Will there be trails I can ride?

Trail difficulty depends a lot on motorcycle model/type and experience - plus personal preferences. For the HUMM, we try to make an event that is fun and yet challenging for all levels of rider. It takes place primarily on unpaved roads and trails. We've used a 0-5 scale, in which 5 is the most challenging. There are plenty of Level 1, 2 and 3 trails available, so don't feel you need to push beyond your ability. You can even win without riding Level 4 or 5! You should always make your own best judgement as to your skill level and the difficulty of the routes you choose to ride. Click
here
for more details on Trail Difficulty.
3.
My off-road skills are a little rusty - can you help?

Absolutely! We're offering 1 or 2 days of pre-
HUMM
off-road skills training with
Zacker Adventures
. This will be a great confidence boost and you can put your freshly honed skills into immediate practice! Click
here
for more details on Rider Training.
4.
I would love to come but my spouse doesn't ride. What is there for them to do?

For those of you who would like to bring along your non-riding spouse / significant other,
Rocky Gap Casino Resort
offers a casino, evening entertainment, spa, multiple restaurants, golf and much more! The surrounding area boasts numerous activities including hiking, white water rafting, UTV trips and more!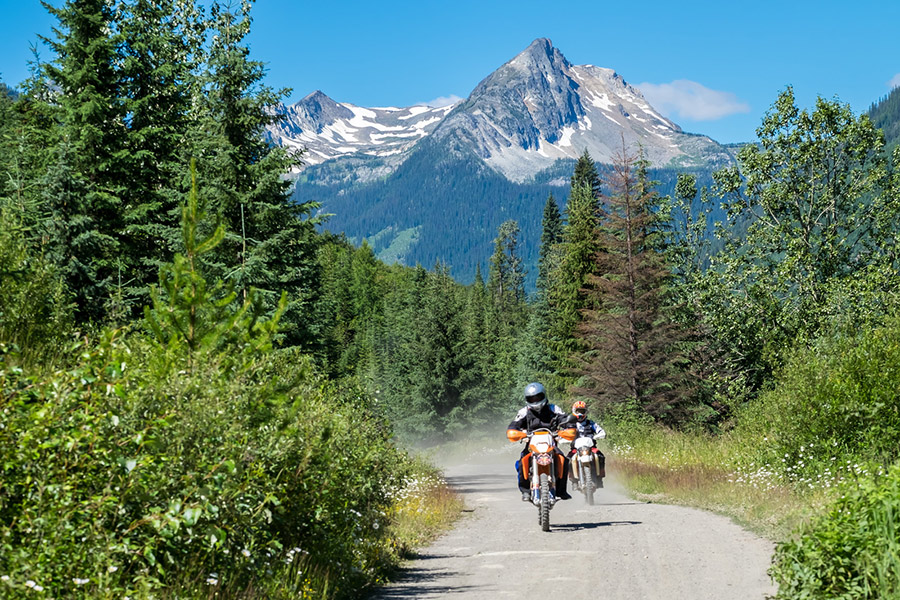 About Horizons Unlimited:

Horizons Unlimited
(
HU
) has been inspiring, informing, and connecting a global community of overland adventure motorcycle travellers since 1997.
Horizons Unlimited
and its
HU
Bulletin Board
forum (
HUBB
) are the world's premier online resources for reliable information about every aspect of overland motorcycle travel. They have organized worldwide motorcycle adventure traveller events since 2001 and
HUMM
s since 2007.
HU
is based in British Columbia, Canada.
Discover more about Horizons Unlimited at:
www.horizonsunlimited.com

For more information and registration, click here!




Tags: navigation, Mountain Madness, horizons unlimited, rally