2019 KTM AMA National Adventure Riding Series Schedule
ADVMoto
is excited to sponsor the
KTM AMA National Adventure Riding Series
for 2019!
Adventure motorcycle riding continues to command the attention of American motorcyclists with new models and new opportunities to explore the unknown from coast to coast. And the best rides and routes can be found on the
KTM AMA National Adventure Riding Series
2019 schedule.
AMA
Recreational Riding Manager
Heather Wilson said that the series has served a number of adventure motorcyclists since its inception in 2007, and is continuing that tradition for 2019.
"Many men and women are upgrading to larger, yet more versatile, bikes to be able explore highways and back roads," Wilson said. "We are proud to provide AMA members with opportunities to get out and ride. And we appreciate KTM's support for the series and the company's commitment to the adventure riding segment."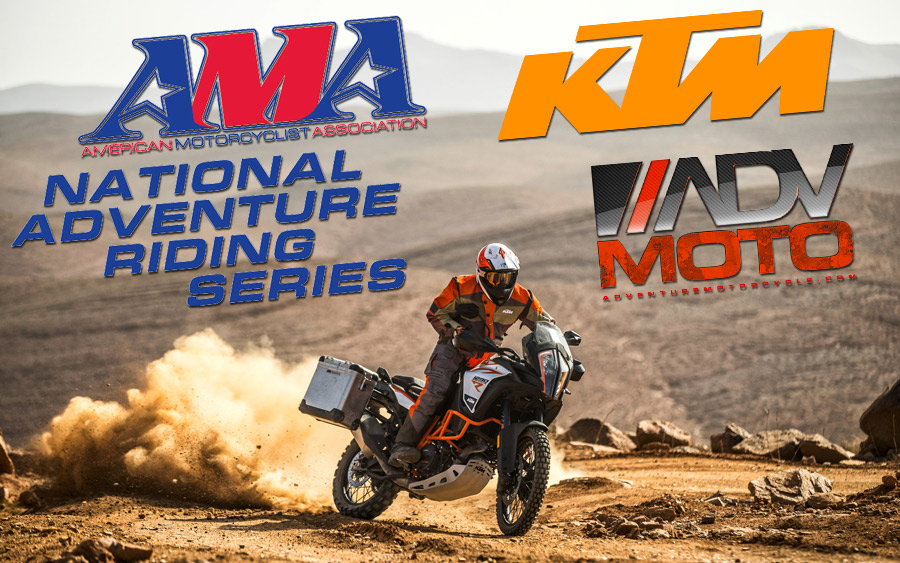 For 2019, the series is once again sponsored by KTM, which makes a full lineup of cutting–edge adventure bikes that can conquer anything the series has to offer.

"KTM is excited to return as a sponsor." said KTM Ride Orange Manager Mark Hyde. "Our staff had a great time meeting the riders at many of the national adventure rides this year and we have expanded our staff to support even more events next year."

KTM AMA National Adventure Riding Series schedule boasts 15 events throughout the country. Some longtime national adventure riding event organizers remain on the schedule, while other organizers who have been hosting adventure rides for many years have been added.
KTM Ride Orange Event Specialist and eight–time AMA National Enduro Champion Mike Lafferty praised the event organizers who host these quality events.

"A lot of planning and physical labor go into hosting an event," Lafferty said. "Without organizers like these, it wouldn't be as easy for an adventure rider to find other motorcyclists who enjoy this style of riding or to find routes they may not think to travel on their own."
Check out the KTM AMA National Adventure Riding Series PROMO VID HERE!

---
*Events will be regularly updated as we receive info from event organizers*
April 27-28
Location: Stanton, Ala.
Perry Mountain Tower Run Adventure Rally
Perry Mountain Motorcycle Club
(334) 327-5086


This email address is being protected from spambots. You need JavaScript enabled to view it.


perrymountainmotorcycleclub.com
May 4-5
Location: Buck Meadows, Calif.
Yosemite Adventure Tour
Family Off-Road Adventures
(209) 649-3633


This email address is being protected from spambots. You need JavaScript enabled to view it.


www.familyoffroadadventures.com
May 16-19
Location: Port Matilda, PA.
PA Wilds 1000
Pine Barrens Adventures
(732) 995-4343


This email address is being protected from spambots. You need JavaScript enabled to view it.


www.pinebarrensadventures.com

June 1-2
Location: Lock Haven, Pa.
Durty Dabbers
Durty Dabbers Motorcycle Club
(570) 502-5830


This email address is being protected from spambots. You need JavaScript enabled to view it.


www.durtydabbers.com
June 8-9
Location: Wabeno, Wis.
Ride For Research
Wisconsin Dual Sport Riders
(920) 475-0710


This email address is being protected from spambots. You need JavaScript enabled to view it.


www.widualsportriders.org
June 22-23
Location: Big Bear, Calif.
Big Bear Run
Big Bear Trail Riders
(818) 391-3031


This email address is being protected from spambots. You need JavaScript enabled to view it.


www.bigbeartrailriders.com
August 15-18
Location: Pomfret, VT
The Touratech DirtDaze Adventure Bike Rally
Touratech-USA/ DirtDaze


This email address is being protected from spambots. You need JavaScript enabled to view it.


www.dirtdazerally.com
Sept. 7-8
Location: Pineola, N.C.
Blue Ridge Adventure Ride
Appalachian Trail Riders
(704) 309-3271


This email address is being protected from spambots. You need JavaScript enabled to view it.

This email address is being protected from spambots. You need JavaScript enabled to view it.

This email address is being protected from spambots. You need JavaScript enabled to view it.


www.carolinadualsporters.com
Sept. 13-15
Location: Lexington, VA
Horizons Unlimited Mountain Madness Appalachians
Horizons Unlimited
www.horizonsunlimited.com
Sept. 14-15
Location: Bixby, Mo.
Show Me 500 National Adventure Ride
Midwest Trail Riders Association
(314) 434-5095


This email address is being protected from spambots. You need JavaScript enabled to view it.


www.ridemtra.com
Sept. 28-29
Location: Wabeno, Wis.
Big Woods 200
Wisconsin Dual Sport Riders
(920) 475-0710


This email address is being protected from spambots. You need JavaScript enabled to view it.


www.widualsportriders.org
Sept. 28-29
Location: Columbus, Ind.
Buffaloe 500 National Adventure Ride
Stoney Lonesome Motorcycle Club
(812) 350-5732


This email address is being protected from spambots. You need JavaScript enabled to view it.

This email address is being protected from spambots. You need JavaScript enabled to view it.


www.stoneylonesomemc.com
Oct. 12-13
Location: Mount Vernon, Ky.
Renfro Valley Adventure Ride
Appalachian Trail Riders
(513) 604-0651
p

This email address is being protected from spambots. You need JavaScript enabled to view it.


www.carolinadualsporters.com
Nov. 29-30
Location: Palmdale, Calif.
L.A. - Barstow to Vegas
District 37 Dual Sport
(626) 446-7386


This email address is being protected from spambots. You need JavaScript enabled to view it.


www.labarstowvegas.com
To support and sign-up for your AMA Membership, visit AmericanMotorcyclist.com.