Terry, Sandy and Jack Borden - Adventure Trio

Terry, Sandy and Jack Borden are an adventurous family of 3 on 2
BMW GS
motorcycles. On September 13th, 2014 they left their day-to-day suburban grind and began a 15-month journey through Mexico, Central and South America. The goal - To show their then 14-year-old son, and themselves, the world beyond the media.
The
Adventure Trio
began their family motorcycle travels when Jack was just 5 years old. What started as a 10-day journey through the western U.S. turned into a 2-week ride north to Canada, then a 3-week trek across the Midwest, and so on. By the time Jack was 12, the Borden family had traveled through 2 Canadian provinces, across 25 states, and south through Baja. They have played baseball at Field of Dreams in Iowa, camped among the giant ferns and berry bushes of Vancouver Island, and hunted for hermit crabs along the shores of the Gulf of California.
In May of 2013, they decided to take their travels, and their lives, a bit further. It was time to trade in their suburban life in for something beyond the usual. In making this decision they asked themselves one question and one question only – Would we regret NOT doing this in 10 years? The answer was YES. And, with a simple handshake between Terry and Sandy, the deal was done. They were going to do what most everyone told them was impossible. They were going to take their daily life on the road.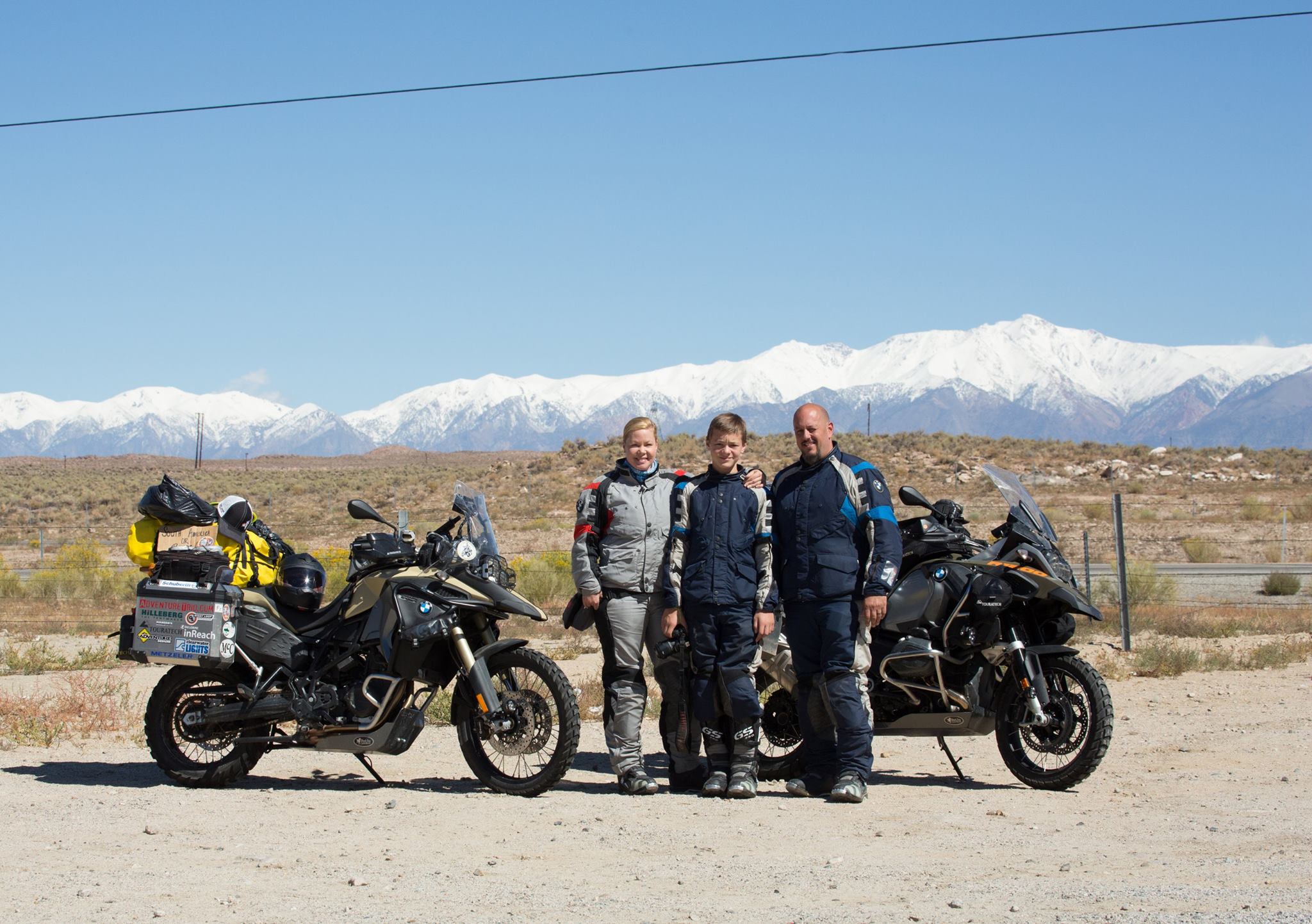 In the year and a half leading up to their departure, they sold the house in the suburbs, downsized all of their belongings, and saved, saved, SAVED. They moved to a smaller home in the quaint little town of McCloud, California, filling it up with only the items they needed. And then, they headed south. In 15 months through 15 countries, this unique family released baby turtles into the Pacific in El Salvador, camped amongst the wildlife in Colombia, and danced on tables in Bolivia. They walked the shores in Argentina, set up tents on the beaches of Brazil, and created an international family of friends. The Borden's learned that the world and all her people is an amazingly beautiful place.
The family motto? "Don't ask why, ask why not." Their experiences prove that you really can leave the usual and take the family life on the road.

With over 10 years of family motorcycle travel experience, Terry, Sandy and Jack have inspired many other families to travel on two wheels. Jack shares his experiences as a 'World Schooler' on the road, learning about the world beyond the classroom.
Terry and Sandy compare notes and swap stories about what life is really like when you take your marriage and family out of the ordinary and into the unknown. This hour-long presentation is filled with their favorite photos and videos from the road as well as tales on how to find the humor when all seems to go wrong. Real "life" lessons are shared as Terry, Sandy and Jack talk about what it is like as a nomadic family learning to adjust to life beyond the usual. Their story of family life on the road makes their story truly unlike any other you have experienced.
You can contact the
Adventure Trio
by email at
This email address is being protected from spambots. You need JavaScript enabled to view it.

Names:
Terry, Sandy and Jack Borden
Company:
Adventure Trio
URL:
http://www.adventuretrio.com

Additional Links:
• Link 1 -
http://www.sfchronicle.com/outdoors/article/28-000-miles-of-bonding-and-adventure-for-Bay-10817747.php
• Link 2-
http://adventuretrio.com/media/right-this-minute-tv-from-south-america/
• Link 3 -
http://adventuretrio.com/media/fox-10-phoenix-departure/