Lois Pryce - Lois on the Loose

Lois Pryce is a British travel writer, author and co-founder of the
Adventure Travel Film Festival
. After leaving school to pursue a career in the music industry, Lois ended up as a product manager at the
BBC
. But by 2003 she had grown weary of the daily grind in jargon-infested London media-land, so she quit her job to ride 20,000 miles from Alaska to the tip of South America astride her 225cc
Yamaha
trail bike. Upon her return she wrote the book of this trip,
Lois on the Loose
, which was published in the USA and the UK and translated into several languages. Itchy wheels struck again and it wasn't long before she was plotting another adventure.
In October 2006 she set off once more, this time to ride the length of Africa from London to Cape Town, crossing the Sahara through Algeria and Niger and continuing down the west coast through the Congo and Angola to South Africa. Four months and ten-thousand miles later she rolled into Cape Town just about in one piece, having tackled
Kalashnikov
-wielding soldiers and Angolan minefields along the way. Her book of this wild adventure,
Red Tape
& White Knuckles
was published in 2008.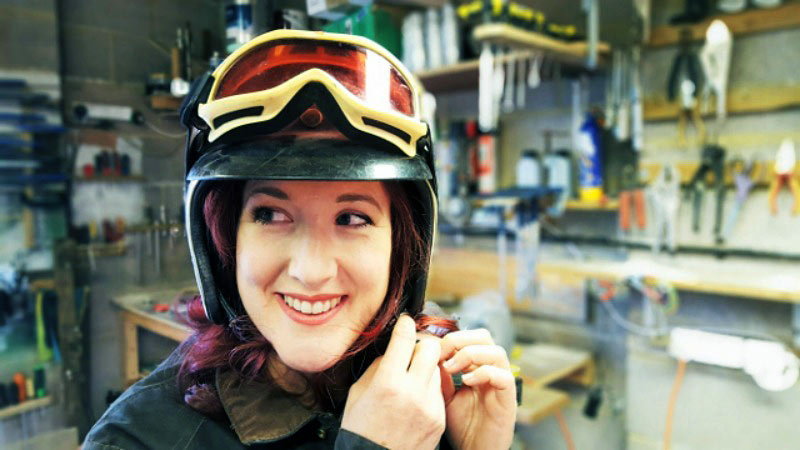 She has since written and presented a DVD guide to worldwide motorcycle and driven a vintage Soviet sidecar outfit across the USA. She also (literally) moonlights on
BBC Radio 5's Up All Night
show as their regular travel correspondent and her writing has appeared in numerous publications including
The New York Times
,
CNN
,
The Telegraph
,
The Independent
and
The Guardian
. Her talks and presentations about her adventures have garnered a reputation for being both inspirational and entertaining, and have taken her around the world to a diverse range of clients - from schools and businesses to motorcycle clubs, the
Royal Geographical Society
,
TEDx
and even the
Ministry of Defence
.
She is also a co-founder of
The Adventure Travel Film Festival
which takes place in the UK and Australia each year. In 2013 and 2014 she made two solo motorcycle tours around Iran which is the subject of her next book, '
Revolutionary Ride
', to be published in January 2017. When she's not on the road she lives on a Dutch barge in London with her adventure film-maker husband, Austin Vince. The rest of her hours are spent pickin' the banjo in all-girl London bluegrass band,
The Jolenes
.

Lois gives presentations on many topics relating to her solo world travels - from entertaining stories from her extensive expeditions to motivational talks of overcoming fear and embracing risk. She has spoken at organizations and events around the world, from businesses and schools to book festivals and bike clubs.
Previous clients and events include The Ministry of Defence, The Royal Geographical Society, The Skeptics Society, TEDx Patras, The Edinburgh Book Festival, SOAS University London, The UK Royal Society for Asian Affairs, Dubai Traveller's Festival, The Institute of Advanced Motorists & The British Police Motoring Club.
You can contact Lois at
This email address is being protected from spambots. You need JavaScript enabled to view it.
or find her on
Twitter
.

Name:
Lois Pryce
Company:
Lois on the Loose
URL:
LoisontheLoose.com
Additional Links:
• Link 1 -
https://en.wikipedia.org/wiki/Lois_Pryce
• Link 2 -
https://www.youtube.com/watch?v=QucYuQx7jnA