Sam Manicom

Overlander and author Sam Manicom was born in the Congo in Central West Africa where his parents worked. His family returned to the UK when he was 10 and he has been travelling for most of his life. He has travelled using various forms of transport including bicycle, sail, and train, and has hitchhiked in many parts of the world. His first solo trip was age 16 by bicycle into Europe. His first major trip was a seat-of-the-pants 3 year backpacking voyage of discovery across Europe, India and Australia, which often saw him down to his last $10. What was needed, he earned along the way and this he says was a great learning experience.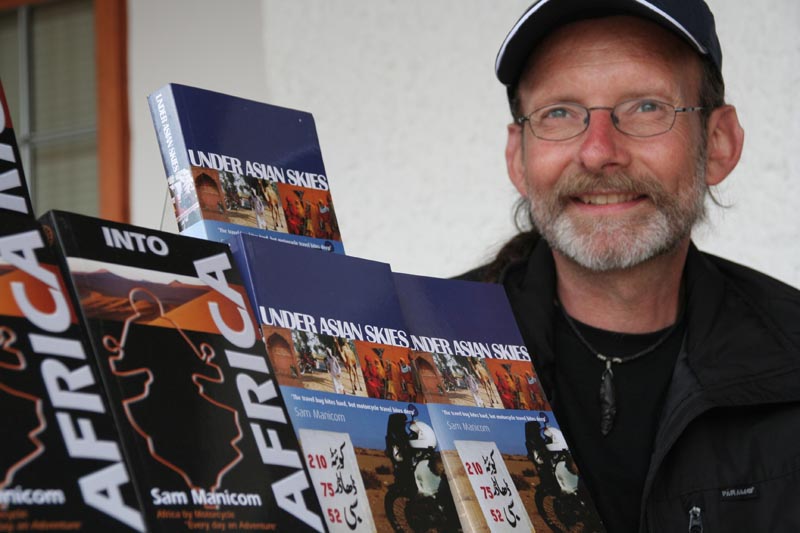 Back in the UK, but wanting to do something completely different, Sam learned to ride a motorcycle and within 3 months of starting to ride, he set off to travel the length of Africa. This one-year trip turned into an eight-year, 200,000 mile, around the world motorcycle adventure across 55 countries. Sam now works full time in the world of adventure travel. He's a keen advocate of motorcycle travel in particular and when not writing his books, magazine articles and conducting multimedia travel presentations within Europe and the USA, he's very much involved with travel related organisations.
For 8 years and until 2015, Sam was one of the main organizers of the
HUBB UK
, the world's longest running adventure travel meet, run by
Horizons Unlimited
each year in the UK.
In 2011, Sam joined the team of advisors working with travellers supported by
The Ted Simon Foundation
. Sam is a co-host for
Adventure Rider Radio RAW
. His four books,
Into Africa
,
Under Asian Skies
,
Distant Suns
(Southern Africa, and South & Central America) and
Tortillas to Totems
(North America) vividly describe his epic 8 year journey. Sam's books are available as paperbacks, on kindle and now as audiobooks.

My nickname is 'The Storyteller'. The objective of my presentations is to share the fun of the road on a motorcycle, with all the advantages this form of travel gives. To open minds to the delights of other cultures and the dramatic ever changing landscapes of the world. Also, to show that though disasters inevitably do happen at some stage of a long journey, they are simply the beginning of a new adventure. The presentations are split into alternating sections containing tales of people, drama, disaster, the challenges, the surprises, humour, and the sheer joy of the open road.
My presentations are usually 2 hour multimedia Powerpoint presentations but can be reduced if required. The 2 hour presentations allow the storytelling to come fully alive to the audience. I have presentations available on Africa, Asia, South America, Norway, Vietnam, and I also conduct classes on writing travel books.
You can contact Sam at
This email address is being protected from spambots. You need JavaScript enabled to view it.

Name:
Sam Manicom
Company:
Adventure Motorcycle Travel Books
URL:
Sam-Manicom.com
Additional Links:
• Link 1 -
https://www.youtube.com/watch?v=bToV6paAEXM
• Link 2 -
http://www.adventureriderradio.com/search?q=sam%20manicom
• Link 3 -
http://www.audible.co.uk/series?asin=B01ELVUVIE