Steph Jeavons - One Steph Beyond

Once there was a time before mortgages, student loans and income tax. A time when life consisted of summer holidays and winter snow days...when a cardboard box was a space ship and a
Radio Flyer
wagon might get you to the moon and back in time for dinner. It was a time when imagination was in charge of reality and adventures happened every day.
Reality may change, but imagination doesn't. If you close your eyes you might see yourself winding up a narrow dirt track in the Himalayas to the top of the world...or as the only living soul for hundreds of miles in the Australian outback making friends with scorpions and kangaroos...or crossing dark, foaming seas to witness the summer solstice rise over Antarctica... At least, if you close your eyes and see those things you're probably Steph Jeavons. And those imaginings, and dozens more, started out as a dream of riding her motorcycle around the world. A dream that has unfolded over the past 26 months and 52,000 miles into her reality. Steph doesn't have a big inheritance, a fat trust fund or even corporate sponsorship.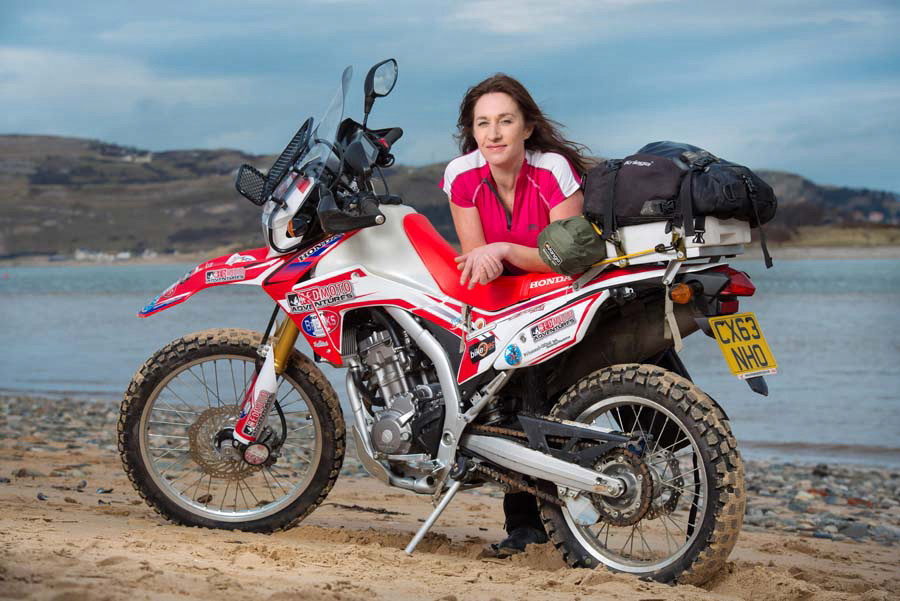 What she does have, however, is an authentic curiosity and genuine sense of wonder that characterises not just this particular adventure, but her life in general. Steph lives with open hands and an open heart and while she cheerfully admits that she's no stranger to fear, she's determined to let her imagination—and her dreams—determine her reality. Throughout, Steph has been committed to connecting with people who are passionate about riding, or eating, or drinking, or music, or cars, or dreams—indeed, people who are passionate about living. These consequently find themselves connected not by language or politics; but by a thread of hope attached to a
Honda
CRF 250L
that left the
Ace Café
in London on March 23, 2014.
Steph has spoken internationally at a wide variety of events and venues. Join Steph on the final half of her journey around the world—she is always looking for places to get off the beaten path and might soon be coming to a community near you. Do not miss this unique opportunity to be inspired to remember your dreams. If you've ever had a red
Radio Flyer
wagon, or played in a cardboard box, this is a woman you'll want to meet.

Presentations can work around your requirements and can be anything from 30 minutes to 2 hours. I talk about my journey and what it takes to ride solo around the world. I include many photographs and videos from the road and adopt a lighthearted and inspirational approach to encourage others to follow their dreams - whatever they may be.
You can contact Steph at
This email address is being protected from spambots. You need JavaScript enabled to view it.

Name:
Steph Jeavons
Company:
One Steph Beyond
URL:
OneStephBeyond.com
Additional Links:
• Link 1 -
https://itunes.apple.com/us/book/embrace-the-cow/id1192844352?ls=1&mt=11
• Link 2 -
https://www.facebook.com/onestephbeyond/
• Link 3 -
https://www.youtube.com/user/stephjeavons