Lisa Morris and Jason Spafford - Two Wheeled Nomad

Born and bred in Great Britain, Lisa Morris has sunk into various continents over the last two decades—co-running scuba diving trips around the watery globe with her partner, Jason Spafford. Having just wended their way from the bottom of the planet to the top on two wheels, Lisa is a spirited advocate for women riders, adores telling tales on the trails and indulging her inner gear-geek as a product tester for various overland, travel and motorcycle companies and publications worldwide.
The pair of them also enjoy giving as much as they can back through ambassadorship roles for numerous brands. As a self-confessed thrill-seeker, Jason's primary passion is adventure travel. Travelling expansively across the globe for fifteen years was driven by a co-devotion to scuba diving; like Lisa, he became an instructor and dive guide in conjunction with working as an Underwater Photographer and Videographer.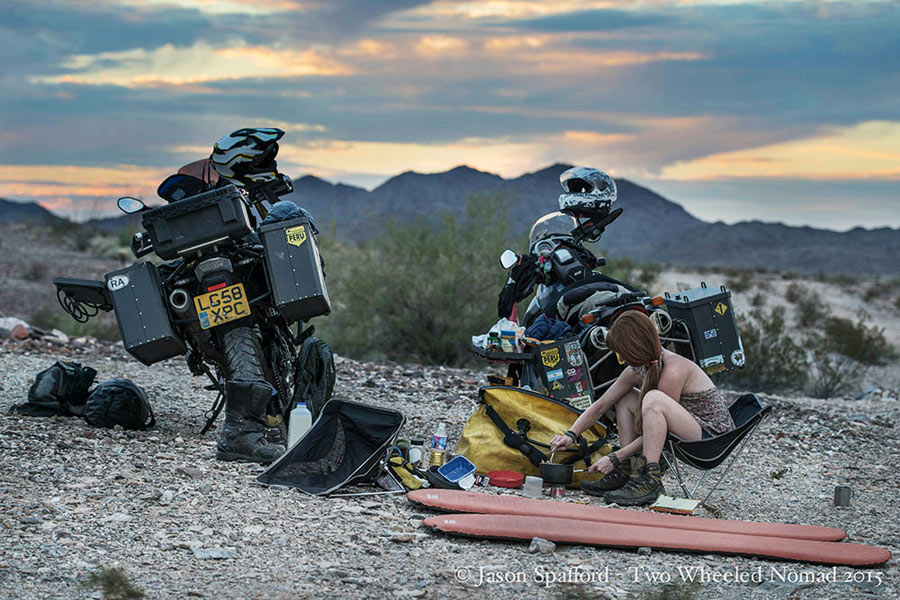 Having ridden bikes for almost three decades, Jason is now motorcycling through the Americas incorporating his addiction for photography and capturing unique drone footage while filming on the road. His thirst for all things adventure is not easily quenched; it knows no boundaries above or below the waterline. Their skills as media professionals are superb, where twowheelednomad.com, tied into their life of adventure, have earned them a loyal following.
As professional adventure getters, they're also hunters of happiness, obtainers of experiences and collectors of friendships.

Riding the Americas
:
'Antarctica to Alaska'
--50,000 miles, 21 countries, 3 years and 1 marriage proposal. Presentation in stills or motion pictures.
You can contact the Lisa and Jason at
This email address is being protected from spambots. You need JavaScript enabled to view it.
, or private message us via our website or Lisa Morris' profile on
Facebook
.

Name:
Lisa Morris and Jason Spafford
Company:
Two Wheeled Nomad
URL:
TwoWheeledNomad.com
Additional Links:
• Link 1 -
https://www.facebook.com/twowheelednomad/
• Link 2 -
https://www.instagram.com/twowheelednomad/
• Link 3 -
https://www.facebook.com/lisa.morris.7505468