2016 Baja Rally Updates and Video
Special Stage 4
Friday became known for beauty, versatility and capriciousness. Saturday, the final day of the 2016 BAJA RALLY, will be known for pure unadulterated, slippery speed! As the sun crested the over the mountains surrounding the family-own Rancho El Coyote – one of the rally's more acclaimed bivouacs – competitors were led to the start in arguably the most majestic hour in Baja. The slowly illuminating azure and metamorphosis of color eased the eyes and nerves straining with tension over the approaching finale. Here is where the legends are made. Here is where the ties are broken. But beyond it all, it is Special Stage Four that either makes or breaks a (wo)man. It is the birthplace of glory, the Hail Mary reveal and evidence of addiction to the sweaty, terribly enriching mess that is Rally Raid. The final day was more than Prologue through Three because it was and will always be the defining moment.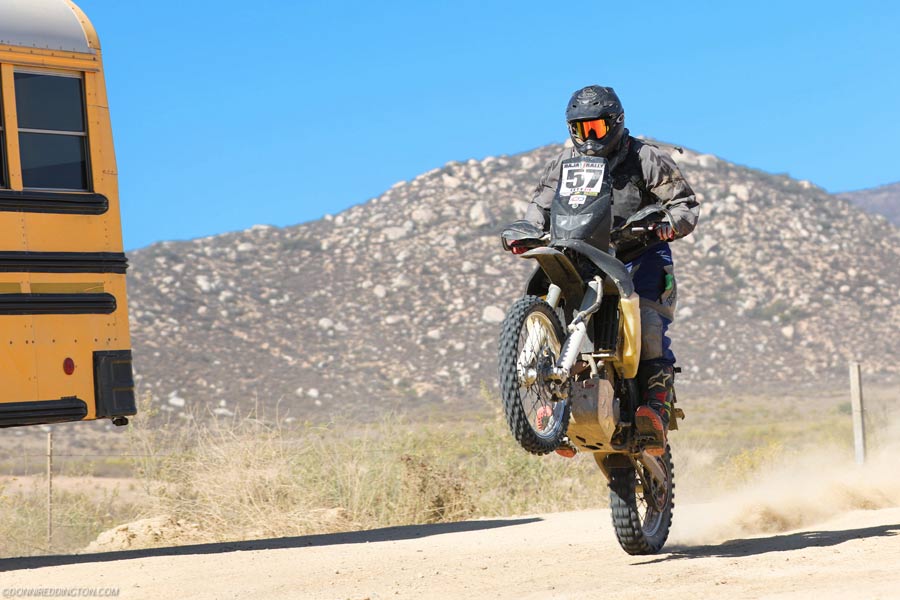 Results are a thing of mystery as of yet. Number 13, Trent Burgiss of New Zealand (and Steve Hengeveld's biggest adversary this year), threw a fist in the air to acknowledge his accomplishments as he was first to roll past the final Timing Team, hand in his Rally Comp and cruise the Mexican Highway 1 to San Nic. The Arizona resident, Hengeveld crossed the checkered flag not too far from his biggest adversary, and from Italy, Francisco Guiseppe Checchi (#67) made a tremendous finish as the third man across the line. We asked for your patience as the night comes to a close while we do our utmost to tally the up the times, penalties and results to be absolutely sure and clear when we announce our winners. To learn about the winners, finishers and contenders for next year, please visit the BAJA RALLY website, Facebook and Instagram. And until then, feast your eyes on our spectacular video recaps and images captured throughout the 4th Annual BAJA RALLY!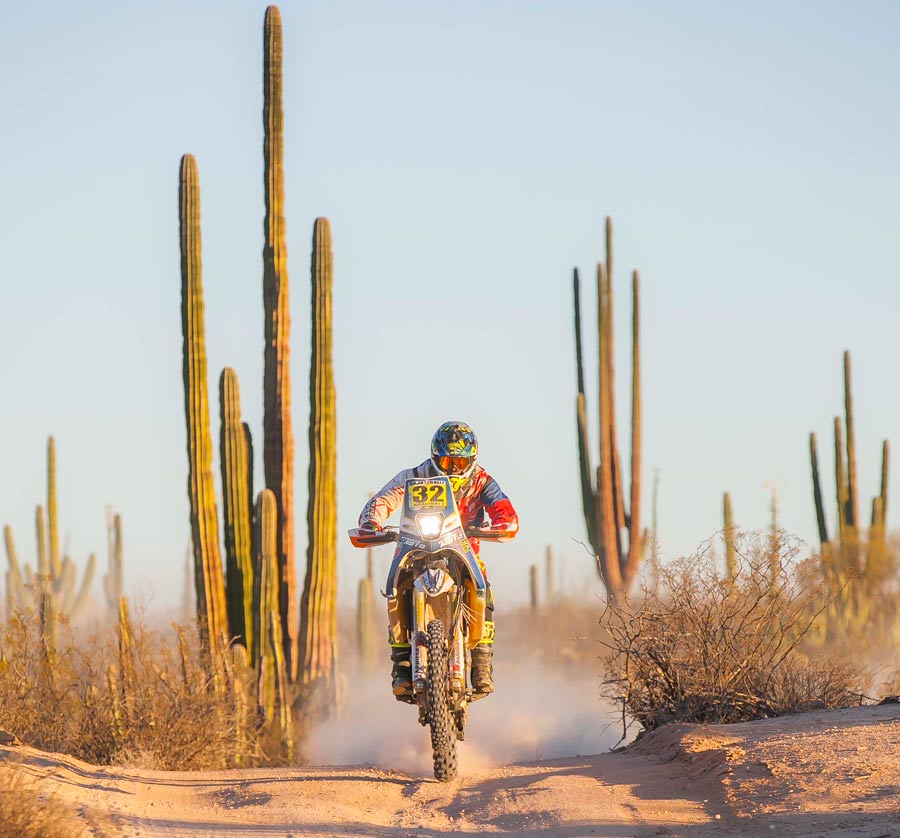 BAJA RALLY Overall Results: Top Ten

UTV
1. Bob Jones, #4U - 28:52:34
2. Patrick Witt, #14U - DNF
3. Polo Buchanan, #23U - DNF

Rally Pro
1. Steve Hengeveld, #1 - 18:23:16
2. Trent Burgiss, #13 - 18:39:18
3. Gerardo Nino, #24 - 19:57:38
4. Mike Johnson, #83 - 20:16:48
5. Carlos Gracida, #32 - 20:52:48
6. Steve Enger, #59 - 22:31:18
7. Mauricio Santana, #72 - 23:43:01
8. George Dennison, #5 - 24:45:06
9. Rees Robinson, #42 - 24:59:57
10. Duncan Ure, #35 - 25:24:59

Rally 1
1. Ton Gurule, #15 - 19:41:55
2. Francisco Checchini, #67 - 19:57:10
3. James Mitchell, #9 - 20:44:47
4. Mo Hart, #33 - 21:05:32
5. Nathan Rafferty, #8 - 21:13:07
6. Nich Plumb, #49 - 21: 57:23
7. Mathias Pelzmann, #47 - 24:36:45
8. Stefan Rosner, #45 - 24:38:33
9. Bernard McKevitt, #21 - 25:11:35
10. Sergio Lopez-Jaimes, #58 - 25:21:46

ADV Expert
1. Lawrence Hacking, #26 - 28:06:23
2. Keith Billings, #81 - 31:33:30
3. Casey Hilliard, #53 - 38:18:04
---
Special Stage 3
Friday's Special Stage Three was considered one of the most rewarding rides of the rally so far. Casey Hilliard, riding his BMW HP2 Enduro in the Adventure Class, was hardly disappointed by the premature end of the day's stage. It was a thick, low-hanging marine layer that prevented BAJA RALLY Air from departing for the clouds on time which led to a delay at the start of the second liaison. As a result, the organization chose to split Special Stage Three into two parts: morning and afternoon with a long liaison in between.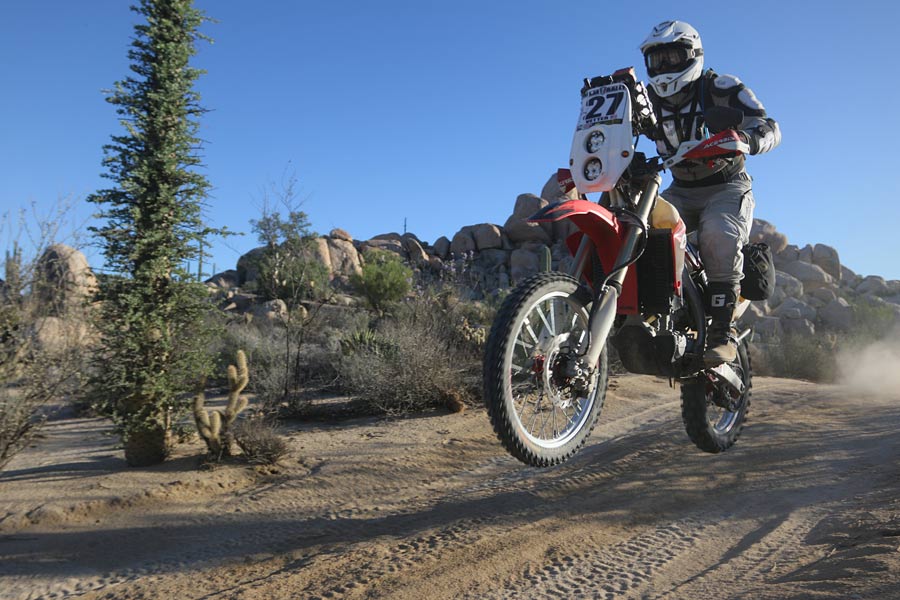 Though the speeds under competitive tires were as fast as they've ever been, the holdup shed too much daylight from the estimated time of arrival and in another last minute decision, the racers were called in before they could delve too deep into Part Two of the course. Many on other side of the computer screen may feel disappointment from these turn of events, but many more understand the fickle nature of both the Baja environment and rally raids.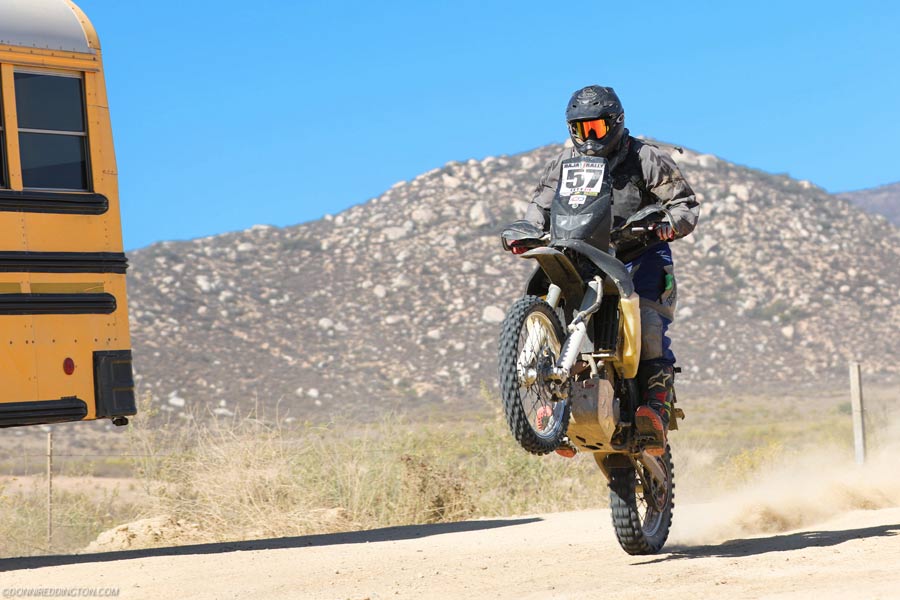 The remote locations enriched us visually, but stranded our web communications for several hours at a time. Organizers, riders and patrons alike are grateful for everyone's patience in their shortcomings with updates, results and media this Friday! And will continue to drain the country's WiFi and share the event by any means necessary. Be warned... (Winky Face). Hopefully, you'll keep an eye on our BAJA RALLY LIVE page to watch streaming footage and track our participants on their last leg. For up-to-date news and photo coverage, follow BAJA RALLY on Facebook and Instagram!
Special Stage Three: Top 10

ADV Class
1. Casey Hilliard, #53
2. Kieth Billings, #81
3. Lawrence Hacking, #26
4. Brian Englund, #55 (Out)

Rally 1
1. Arthur Johnson, #25
2. Beto Verber, #69
3. Francesco Checchini, #67
4. Nathan Rafferty, #8
5. Damon Powell, #65
6. Tony Gurule, #15
7. Chris Braun, #7
8. James Mitchell, #9
9. Mo Hart, #33
10. James King, #79

Video
---
Special Stage 2
Today was another day filled with mechanical mishaps and extractions. But what surprised us most was the sheer drive that brought the competitors to the finish line north of Cataviña well before our estimated time of arrival. Before too long, the men and women of this race cooled off in the hotel pool and found sanctuary from the central peninsula's blaring sun within the courtyard of a government-made "mission" hotel. Steve and Trent did not fail us with an impeccable battle along the sea line, into the mountains and all the way to the prehistoric rubble that hasn't moved since Baja's inception. Casey Hilliard, so far an outstanding contender not only in the new Adventure class, was forced to D & F due to a flat tire on his BMW H2. But altogether, Day Three ended with no major incidents!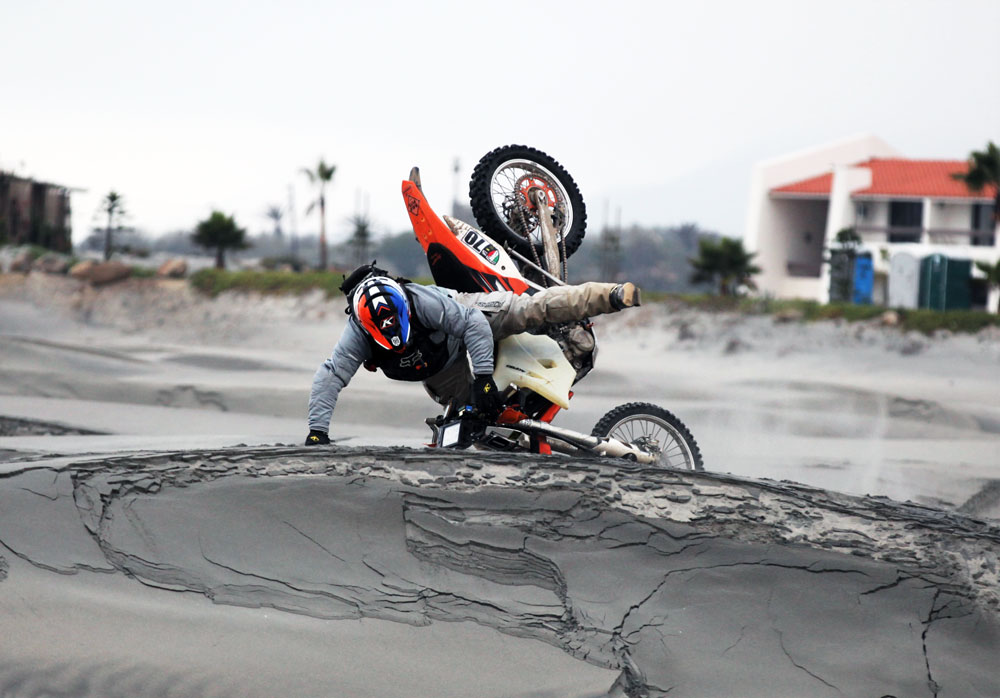 "Today was very successful in that all the riders managed to come home unharmed and without injury. And that our team of safety and medical experts used our communication system to relay information about potential incidents like never before. In particular, relaying messages from the ground through radio aircraft to assess situations and determine that medical evacuation was not necessary. The key of today was to bring 70 riders and drivers into the 'Valley of the Candles' to share the magic of Baja's National Protected Zone. I'm very proud of our team and all of the competitors for participating in this event!" -Scotty Bloom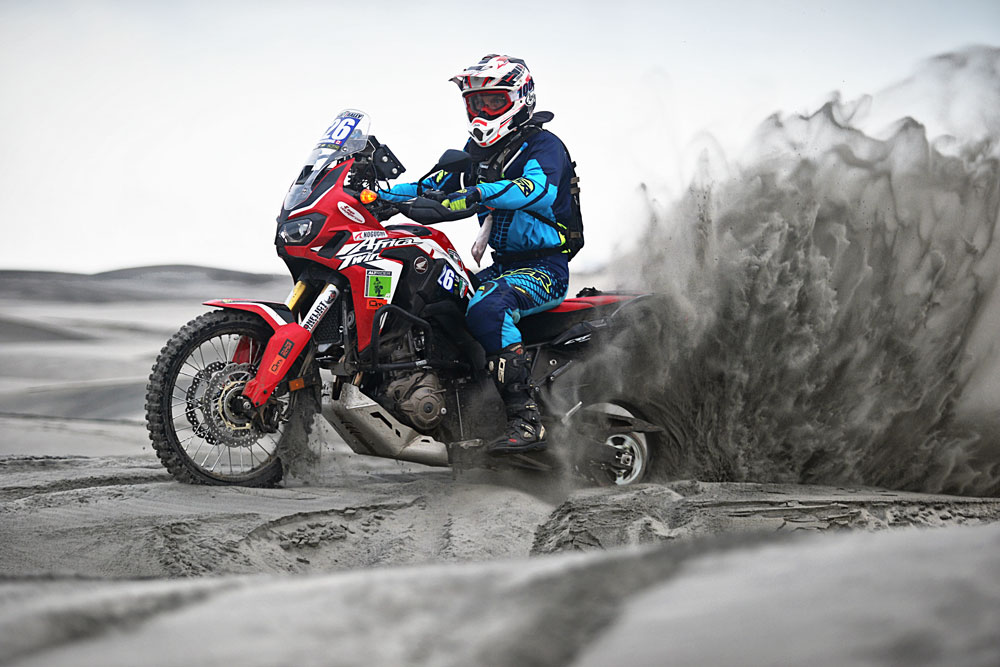 The BAJA RALLY has reached its southern most point in the course and is preparing to make the long, hard haul back to Ensenada. Be warned, patrons and participants, that Special Stage Two may have given hope that could very well be taken away within the first few miles of Day Five. It's the animal that is Rally Raid: unpredictable, indifferent and unforgiving. With two more stages left in 2016, the podium could be taken – not given – to anyone, and just as the favorites can lose favor and the underdogs can scrape their way to the top!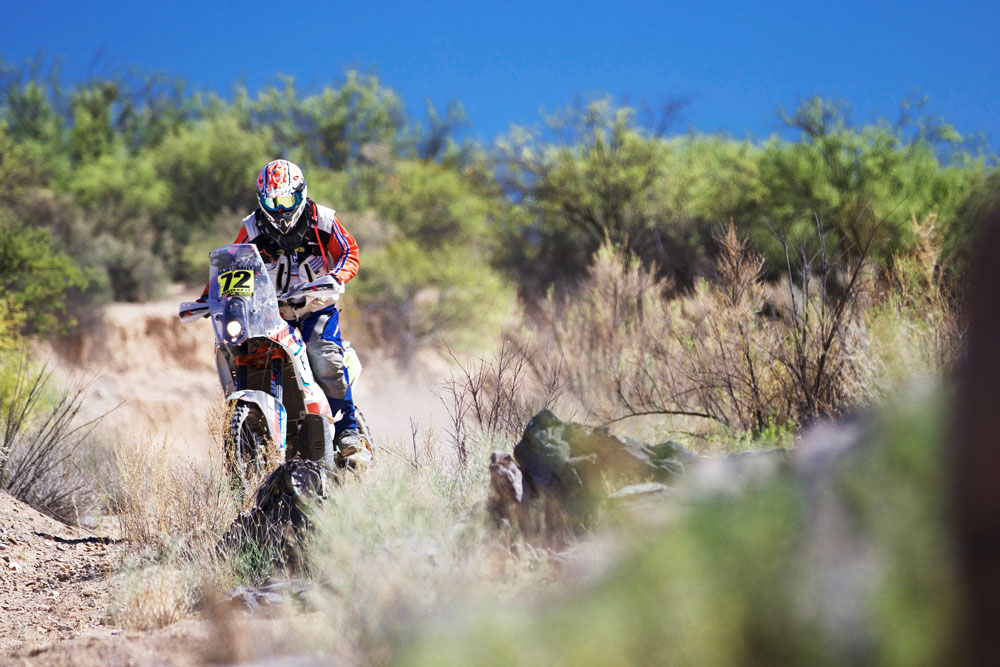 The race has crested its schedule. And tomorrow's day could be another one for the books. Will you be watching when rally history is made? Join us on Facebook, Instagram and the Baja Rally Live page on the website to witness North America's first and only Dakar style navigational rally! If you miss the action in progress, look for our video recaps on Facebook and YouTube every day 'til the finale.

Standings:
1. Steve Hengeveld, #1
2. Trent Burgiss, #13
3. Mike Johnson, #83
4. Tony Gurule, #15
5. Gerardo Nino, #24
6. Francesco Checchini, #67
7. Carlos Gracida, #32
8. Petr Vlcek, #64
9. Nick Plumb, #49
10. James Mitchell, #9
---
Prologue and Special Stage 1
The Prologue Stage proved to be a challenging day for many and a breakout for others. 2015 BAJA RALLY winner, Steve Hengeveld, had a terrific start, but it was number 25 Garrett Poucher that left the starting line first for Special Stage 1 – later enduring an accident during Wednesday's SS1 that led to his withdrawal from the race! Only three incidents occurred Tuesday morning with one man out on a minor injury and two others out with mechanical issues.
.be">
Though Wednesday began a few short, the list of worthy competitors was still full to the brim. Winding their way down the western coastline and often crisscrossing the slippery mountains, riders and drivers found themselves, again, facing obstacles hidden within the effortlessly beautiful terrain of Baja.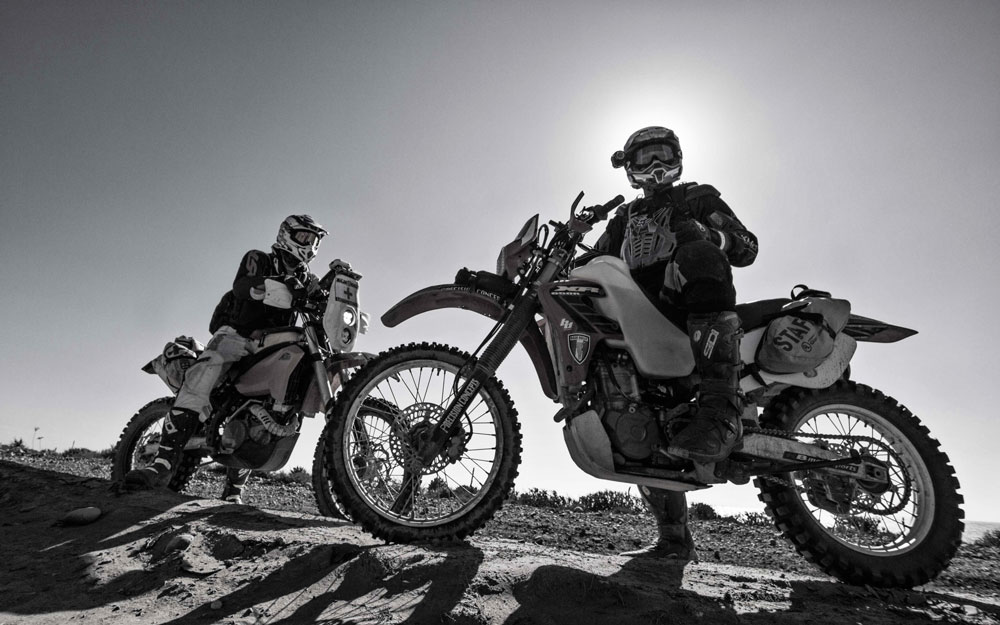 "This Garrett Poucher kid blew some minds with his gapping on Baja Pros and rally vets. As a result, he blew out his wrist and out of the rally after Stage 1. He called to say that he's coming to every future BAJA RALLY. Also, the battle between [Steve] Hengeveld and Trent Burgess was a spectacle! Today we showed over 30 international riders what Baja is all about!" - General Director, Scotty Bloom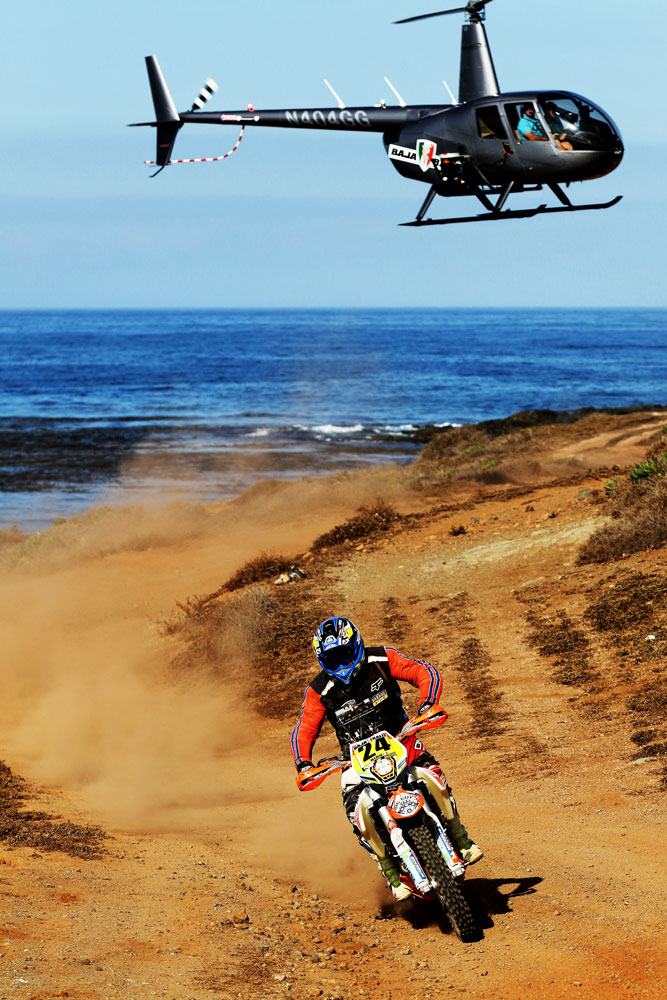 Special Stage 1 came to a close with great distances between the racers and even fewer contenders for the remaining week. Steve Hengeveld, not so unexpectedly, pushed his way to the top finishing strong. And as the big bikes held their own, many rode to their limits well past sunset to avoid penalty. But whatever time they finished, all the competitors were formidable! One can only expect the battle will be as exciting in the following days as it has been in the last two. Tonight we bivouac along the ocean among rolling sand dunes and crashing waves. Locals will sell us their wares or the catch of the day, and those who are lucky will sleep soundly before Thursday's challenges waken them before the sun.
More YouTube Videos:

• Day 1 - Registration: https://youtu.be/1twyBQftEjA

• Day 2 - Prologue Stage: https://youtu.be/dVT6Nr44UD0

• Day 3 - Special Stage 1: https://youtu.be/Fq2D10jeosE

---