American Supercamp Flat Track School
Train Small, Win Big……. or Just Ride Better.

Go to flat track school. Learn to slide. Go pro. World domination. How hard could it be? Going to flat track school and learning to slide did in fact happen at my two day class at American Supercamp. The rest I'll have to work on.
American Supercamp is a flat track racing school for the rider looking to learn new skills or as owner operator Danny Walker likes to phrase it "putting more tools in the tool box." He, along with other motorcycle racing greats, designed and developed the drills and techniques for this flat track racing school. Danny also manages the 2015 A.M.A 1000cc Superstock championship winning team with Jake Gagne on the Road Race Factory Orion R1. You can bet Gagne's using Supercamp training techniques.

Slide. It's the first thing you think of when you imagine yourself riding a flat track bike. You can hardly stop yourself from holding invisible crossed up handle bars in front of yourself and a sideways bike between your legs with your throttle hand turned up to eleven when someone just mentions it. I attended American Supercamp to slide, and to become a better, faster, safer rider. I had also heard it's an absolute blast and that everyone and anyone has to go at least once.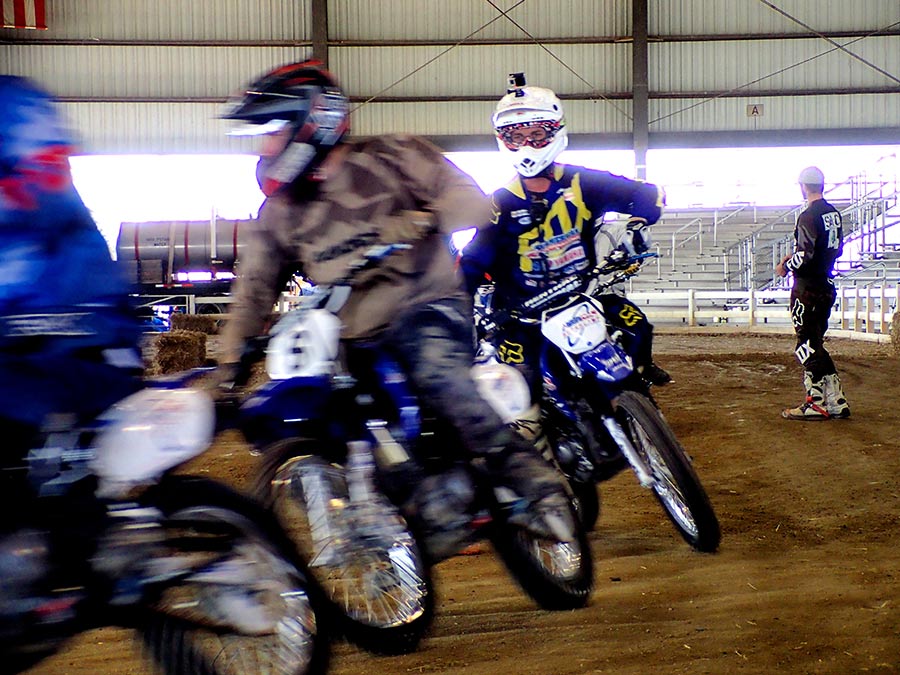 There's no shortage of action during the 2 days you'll spend at Supercamp. You arrive at the location and get right into your training. Everyone is assigned to one of three riding groups (to Danny's best guess at your skill and experience level) and are let out on the track after you're given a few pointers and are brought up to speed on the theory of corner entry. It immediately feels like you're thrown in the deep end, but even with just the intro demonstration and talk they've already got you thinking about your body positioning and your line through each turn. This is a "passing" school but at the non-racer two day course you're encouraged to only pass on the outside of the corner entry for the set up on the exit. The instructors gradually add difficulty into the class – spraying down the arena dirt to give you slick conditions and constantly changing up the course on day two – but are always looking for the same principles introduced at the very beginning of the course.

I do a lot of things wrong on a motorcycle. I know it. I actually say that I'm a horrible rider and what I lack in skill I make up for with brute force and ignorance. While at Supercamp you'll work on making yourself a faster rider by learning proper body positioning and breaking bad habits. Literally breaking - the Supercamp instructors stand out on the track and beat you with sticks until you get that outside elbow up or stop being lazy and get your butt on the right side of the seat (they use padded broom sticks for adjusting you as you pass). They even make you do a few laps holding onto your gas cap with your left hand to show much the rest of your body positioning can affect your turn.

Countless laps are completed the first day of Supercamp aboard the small Yamaha TTR 125's. The beauty of this school is that you're training on someone else's small light weight bike. To further enhance the slide-ability they've fitted a Dunlop street biased tire to the rear while the front still sports a knobby. Learning on a bike this small increases the safety factor by ten, at least. I had 7 crashes at Supercamp and other than a bruised ego and maybe a stiff shoulder I was able to get right back up and continue turning laps. Attempting to train this close and sometimes over your skill limit would be downright dangerous on a full size dirt bike, let alone a big adventure bike. Yet all of these skills transfer from slow and small to big and fast seamlessly. Don't worry about not being able to "ambi-turn". Half way through every riding session the group stops and turns laps in the opposite direction so you'll be able to slide right and left hand turns.

Learning how to smartly hustle these 10 horse power beasts around the track is much more than just giving it a hand full of throttle and having the biggest power slide. Sliding the rear out of a turn looks great and feels fun but you'll be quickly passed up by one of the instructors yelling "SMOOTHER" at you. Here is where this course translates the most for me to all types of riding situations. Getting your braking done by squeezing the rear brake before the turn. Leaning the bike over and changing direction as quickly as possible and getting the turn done. Then rolling on the throttle searching for maximum forward drive. Being in the turn is actually the most dangerous part of racing on the track or riding on the street. Danny explains in many, many more words than this. "Get the turn done, then stand the bike up and get on the gas." It sounds simple but its extremely effective and a much safer way to ride.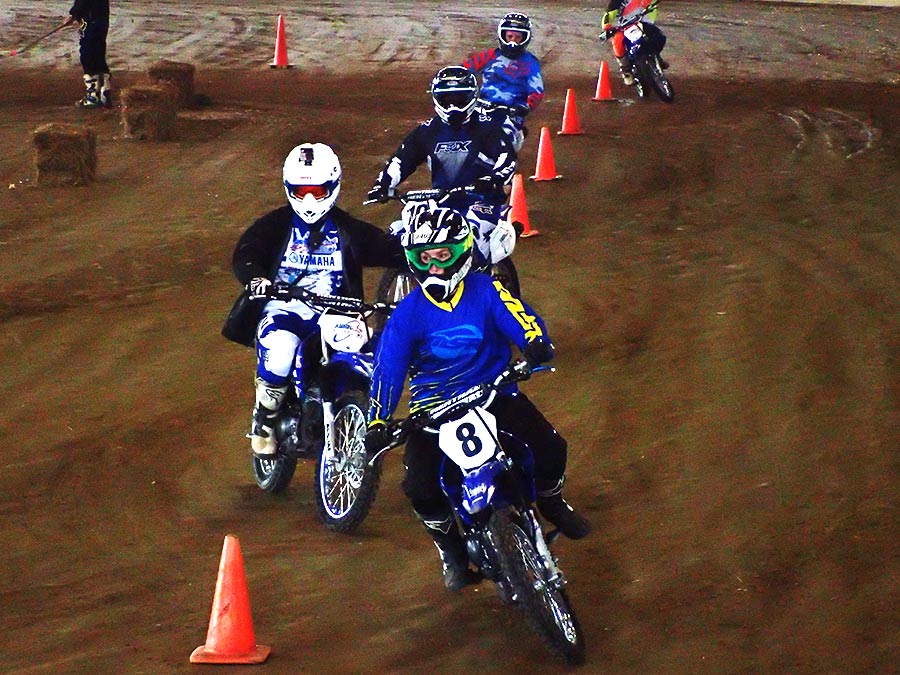 Getting things to "click" means you have to tell yourself to do things you might not want to. Like braking much later than you think is possible or taking a racing line so wide it seems inefficient, but this is why you're at school. To help you learn safely about late braking, the track is set up with plenty of run off at the end of the corners. To show you the best lines around the different track set ups, instructors are out on the same 125cc bikes you are. They pull in front of you and signal for you to follow them and they'll adjust their speed to only slightly faster than you think is achievable. This and the one on one GoPro footage review between group outings proved to be the most helpful for me.

After two days at American Supercamp am I going to go pro? That's an easy question to answer. NO! No, I'm not going to be making my flat track debut next season. How much did I learn? More than I can put into words. I truly believe that this school can make anyone faster, and safer. Maybe that's why elite motorcycle racers attend the racer-camp as students. The non-racer class had students ranging from "I'm not old enough to buy beer" to "retired", and our lone female rider showed everyone in group three what a proper racing line is. From a practical application standpoint this school is second to none for any type of riding or racing. The only way to know what to do when a motorcycle slides is to understand the theory behind it and to actually slide a motorcycle. American Supercamp gives you the right bike, the know-how, and the safe environment to loose traction and regain it. Just sign up, show up, and learn.

Classes fill up early with return students who understand the value of this school. So head over to AmericanSupercamp.com to sign up for one of their upcoming camps nearest to you. $600 per person for the non-racer 2 day course is less expensive than learning to ride fast the hard way, and worth it just for the laughs and memories.