The Dakota 600
No bandits plague the
Dakota 600
. Riders don't have to worry about jungle fever, or starving if a broken bike strands them on the side of a mountain. In short, there isn't a lot of drama on the four-day ride through the Black Hills of western South Dakota.
But the
Dakota 600
, which wrapped up on July 20, 2017, offers a mix of challenging single track, two-track trails, gravel roads and twisty pavement through some of the most stunning yet accessible mountain scenery in the country. And it offers riders a way to help add to the number of trails available in the Black Hills in the future. More about that later.
The 40 riders who took part could choose each day from 17 mapped routes with titles suggesting their level of difficulty, ranging from "EZ-PZ" to "Rocks and Ruts."
There are no grizzly bears to worry about, but riders saw buffalo, deer, elk, Bighorn sheep and two mountain lions. And their riding days ended not at a primitive campsite but a comfortable resort in the tourist town of Keystone, S.D., where the sweaty, dirty riders would find a note on their bed: "You rode hard today. There's a cold one in the fridge for you."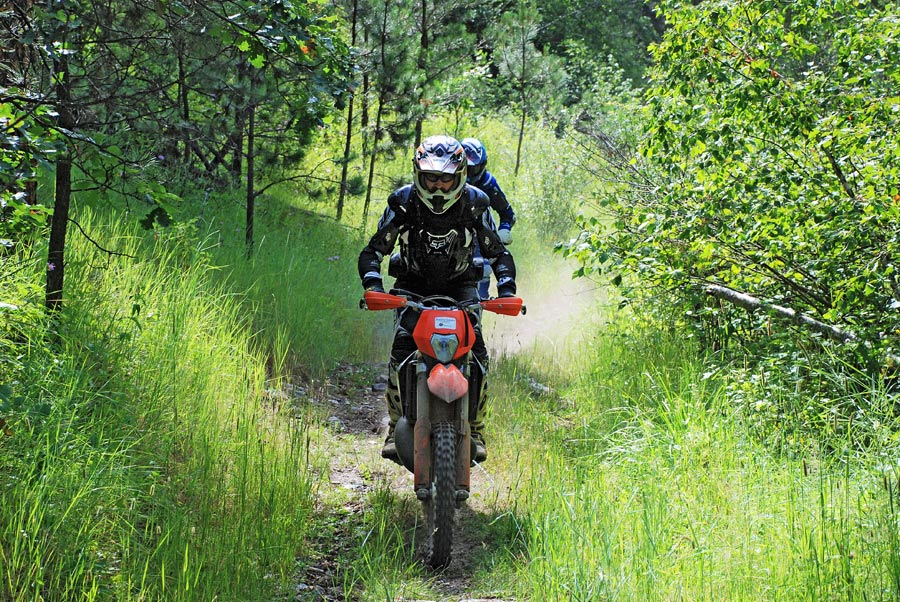 For riders such as Shannon Sawyer of Fort Collins, Colo., the ability to choose the level of difficulty of the route each day is a big reason he likes the
Dakota 600
. Back for the second year of the event, Sawyer, 52, chose to ride single track each of the four days on his
KTM 300
, where there was plenty of challenge, if not drama.
"The trails are spectacular," Sawyer said. "We had a few hairy climbs and descents." On one crawl down a steep hill, he found himself sliding on both the front and back brakes. "You're on single track and on the side of a hill where it curves and they're hoping you keep it in the groove. It brings your adrenaline up and makes you feel alive. I don't see that a lot at my desk at work."
Sawyer is an electrical engineer who designs integrated circuits. He has a bachelor's degree from Cal Poly and did further course work at Stanford. But he also has been riding motorcycles since age 6, much of it racing enduros. He likes the laid-back pace of the
Dakota 600
and the fact that each group is accompanied by a Local Experienced Rider (LEM).
Sawyer said his roommate did all street riding during the four-day event. His friend, Rod Swanson of Windsor, CO, rode a mix of trails until he got hurt on day two on some single track. Swanson hit a rock, which kicked back to his rear wheel, spinning him down onto a broken tree branch that punctured his shoulder, requiring stitches at an emergency clinic in nearby Rapid City.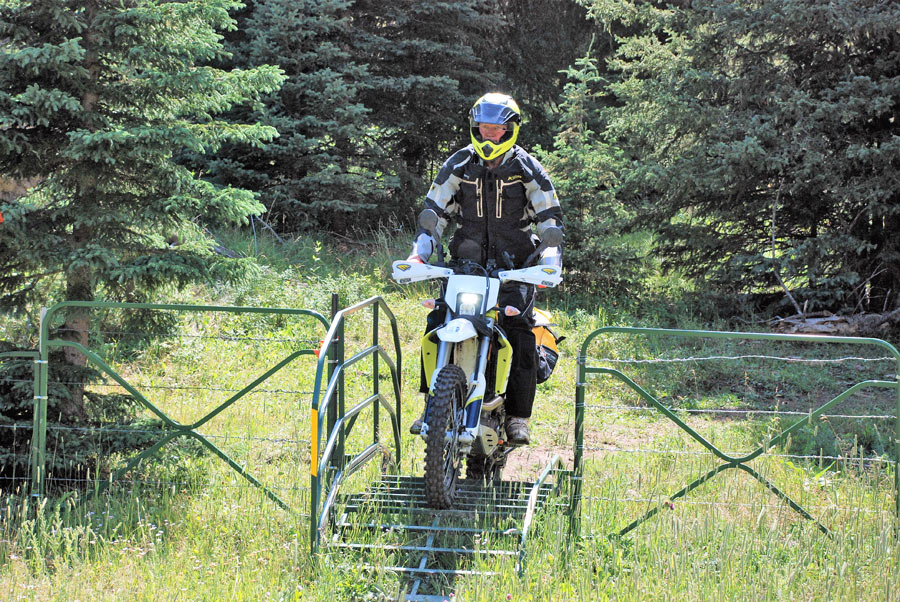 Sawyer has also enjoyed riding the
Colorado 500
. But that's a different ride, with longer days ending at a different town each day. There, he said, you hope to find other riders to talk to at the end of the day.
At the
Dakota 600
, the riders come back every night to the same motel where they take part in an evening riders' meeting and a group dinner, where they draw for prizes ranging from tools to tires. The comradery is obvious as the riders joke and needle each other about falls and flats. "This is more personalized," Sawyer said. Hundreds of riders do the
Colorado 500
. "Here you're with a real small group."
On day three of the
Dakota 600
, Sawyer and LEM Al Barry comprised a group of two that plunged up into the single-track trails of the Victoria Creek area west of Rapid City. "There aren't many huge egos," Sawyer explained. "It's all about having fun. There are no trophies."
Ride organizer Bill Hearne agrees. Virtually all of the 40 riders accepted each year are experienced riders. Hearne formerly owned and operated a motorcycle dealership in the northern Black Hills. He'd organized another, more adventure-oriented ride a few years ago, but says the
Dakota 600
is not for novice riders. "The guys who come are old-time moto heads. Many of them have raced hundreds of enduros all over the country, all over the world, which is good because this ride is not for pilgrims."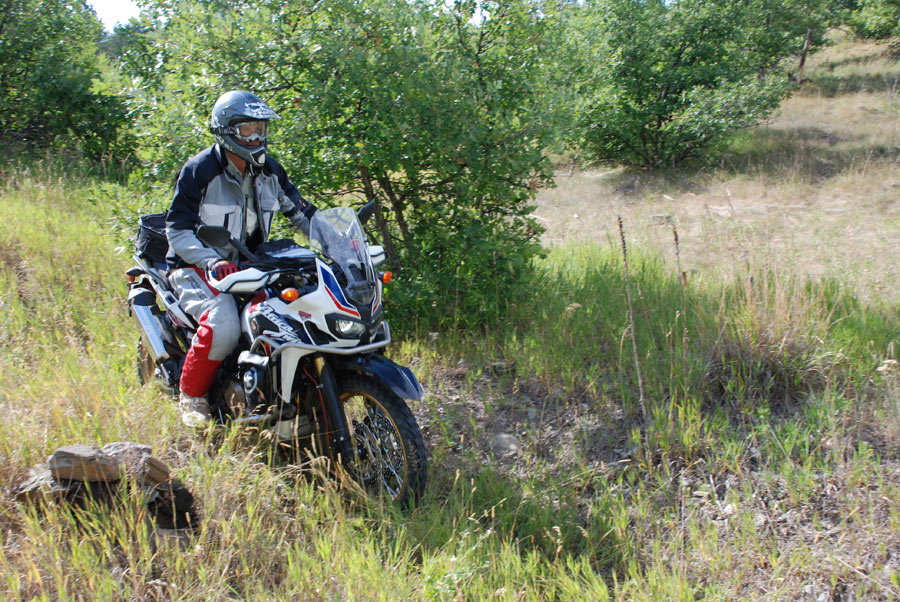 The
Dakota 600
offers trails as difficult and technical as any in the Black Hills. "You can make it as hard or as easy as you want," Hearne said. "You can change that day by day. That's kind of unique for the moto rides in this country. I don't know of any that do it to the degree that we do it."
Some riders, including Michael Madsen of Presho, S.D., brought two bikes. Madsen rode a Honda
CRF250
on the single-track routes and a
Yamaha Super Ténéré
on the adventure-style routes.
Most of the
Dakota 600
riders, including a few in their 70s, had decades of riding behind them. The youngest, Joe Lake of Iowa, is 15. One rider, Jason Hearn of Charleston, West Virginia, who looks like a linebacker, carried his girlfriend, Jodi Cogar on his
KTM 690
, with no trouble.
Praise for organizer Bill Hearne was unanimous. Don Leonard, a dentist from Rapid City and one of the volunteer local experienced riders, called the four-day event, "Professional level fun. The way Bill puts it on he takes care of everything and everybody."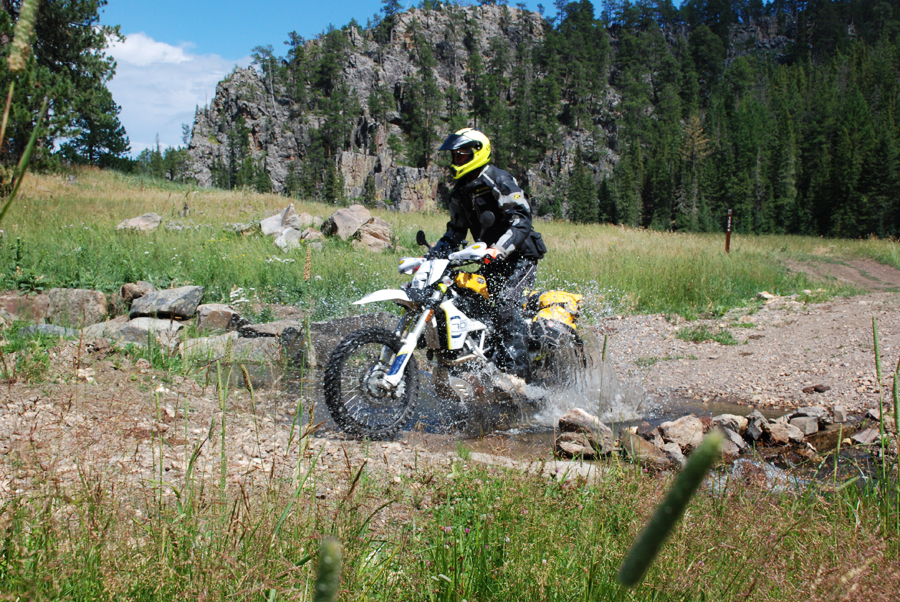 Hearne is motivated by his passion for off-road motorcycling, including its future. That's why the
Dakota 600
is a fund-raiser. Each rider pays $1,595 to take part in the event. Of that, $595 goes for the motel, meals and Forest Service trail permits. The remaining $1,000 is a tax-deductible donation to South Dakota Trails Development Corp., a non-profit group that funds efforts to add motorcycle trails to the Black Hills National Forest system.
When the forest issued a new OHV plan seven years ago, it had only 40-plus miles of single track. Hearne goes to the Forest Service and offers to provide money and labor to develop more single track. "Last year we added nine miles. This year, we will add 12," he said.
Last year, Hearne's group purchased six single-track rollover gates. And they're adding more of the 36-inch-wide gates this year.
Steve Auen of Missoula, Montana, who brought two
KTM
s to the ride, praised the trails and the accessibility of the Black Hills. "We're having trouble in Montana with access," Auen said. "I like the Black Hills a lot. I'm thinking about moving here."
To find out more about the
Dakota 600
, visit the site listed below, call Bill Hearne at (605) 787-4156, or email him at
This email address is being protected from spambots. You need JavaScript enabled to view it.
. Registrations for next year's ride will open next February on the
Dakota 600
website.
Dakota600.com