24 Hours of Perry Mountain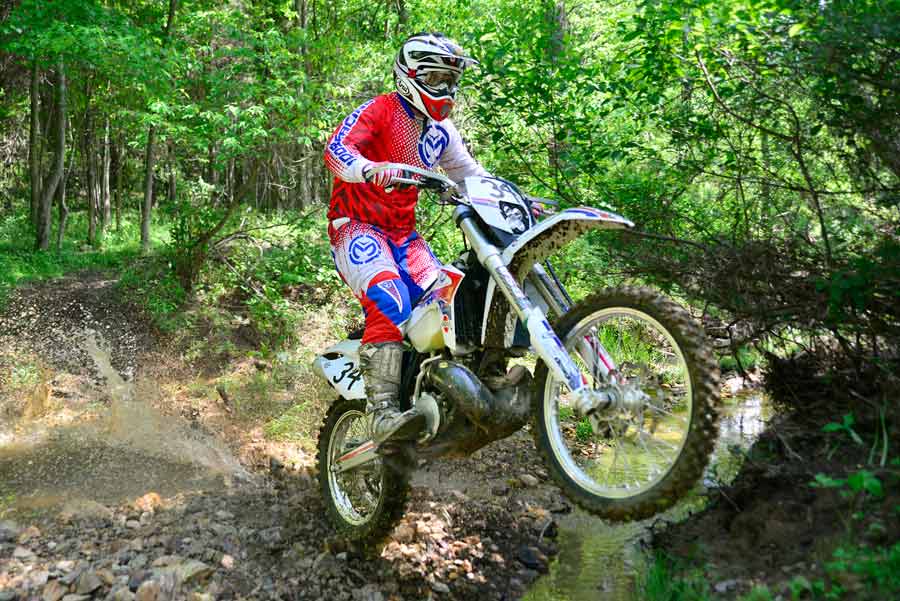 Not all racers are wired the same—some are just a little different. Team ADVMoto Racing just happens to be the latter. Every June, the Perry Mountain Motorcycle Club hosts the "Perry Mountain 24 Hour Challenge" off-road race in Maplesville, Alabama, and we decided to assemble six riders to participate in this year's event.
Racing is always an adventure, and most times the adventure starts with the people you meet. While walking around getting acquainted with the folks we'd be spending the next 48 hours with, we met a couple of interesting teams.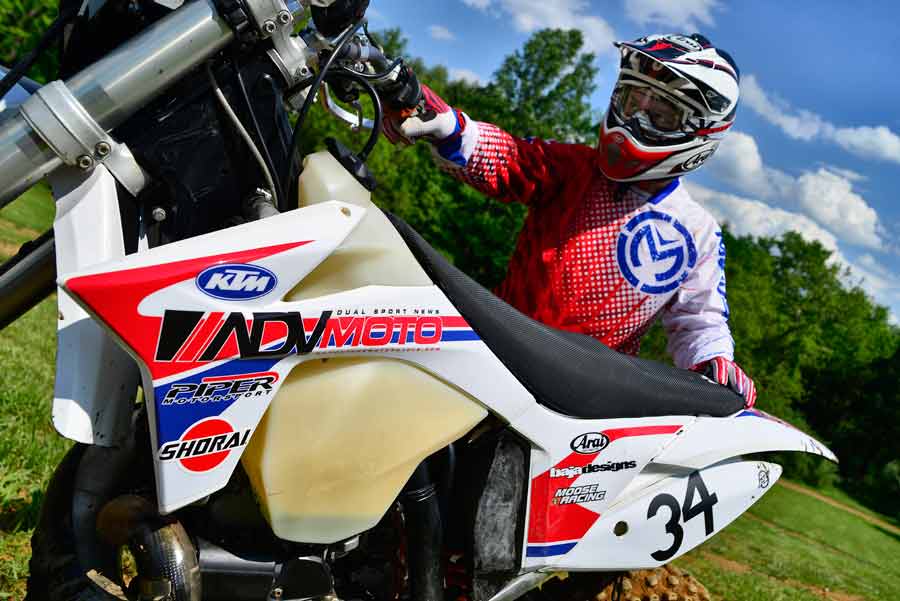 The youngest member of "Team G.R.I.T.S" (Girls Racing in the South), Jessica DeLee, is only twelve years old and rides a full-on Beta 250 two-stroke. Jessica's Mom, Angie, said her daughter has always had an infatuation with her dad's motorcycles, and that's how it started. Jessica has been competing since the age of four, and has no problem showing the boys how it's done. The other team members are Kallie Donovan (14), Kathryn Hyde (16), Kaitlin Hagamaker (19), and the oldest member of the team, Ashton Pope (23). Team G.R.I.T.S. managed to win their class, and finish 44th overall.
Also sporting a name we just had to ask about was team "Cowboys & Indonesians," with James Hines and the Situmeaug brothers Danny, Carlin, and Mathew, who grew up together racing with their father. James has competed in the Perry Mountain in the past, but this was the team's first 24-hour race. Having only a four-man team, Cowboys & Indonesians did a great job and managed to make it to 5th place in class, and 25th overall.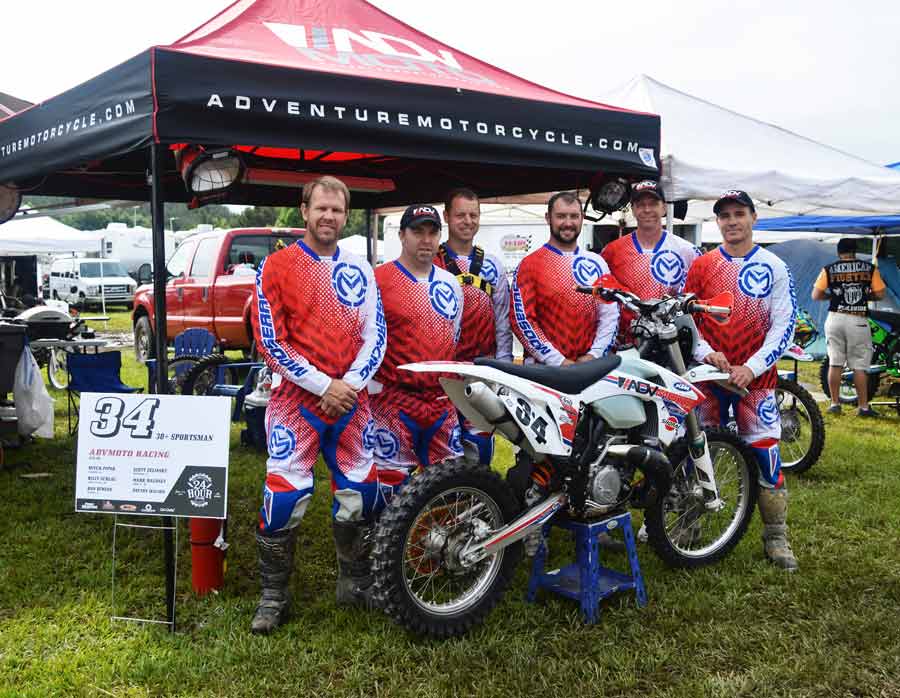 For team ADVMoto Racing, the weapon of choice was a 2012 KTM 300 XC-W that had received the works—a fresh top-end, re-valved suspension, new plastics, and fresh custom graphics with sponsor logos. The team was confident the bike was ready to run for 24 hours straight, and it did! Team member Billy Schlag pulled the hole-shot, getting us into the Top Ten overall in the first session. We stayed within the Top Ten going through the rotations until the race was delayed more than six hours when a massive rain storm dropped buckets of water for well over an hour.
After the storm cleared, course marshals scrambled through the night to re-route parts of the course, avoiding newly washed away sections. Finally, around 4:30 a.m., we got the news: Re-start will be at 5:30 a.m. The marshals had things underway on schedule and we started off the line. I struggled with a few sections on the new shortened course but collectively we managed to pound out laps until we landed on the podium with second place in class and 16th overall out of eighty-four.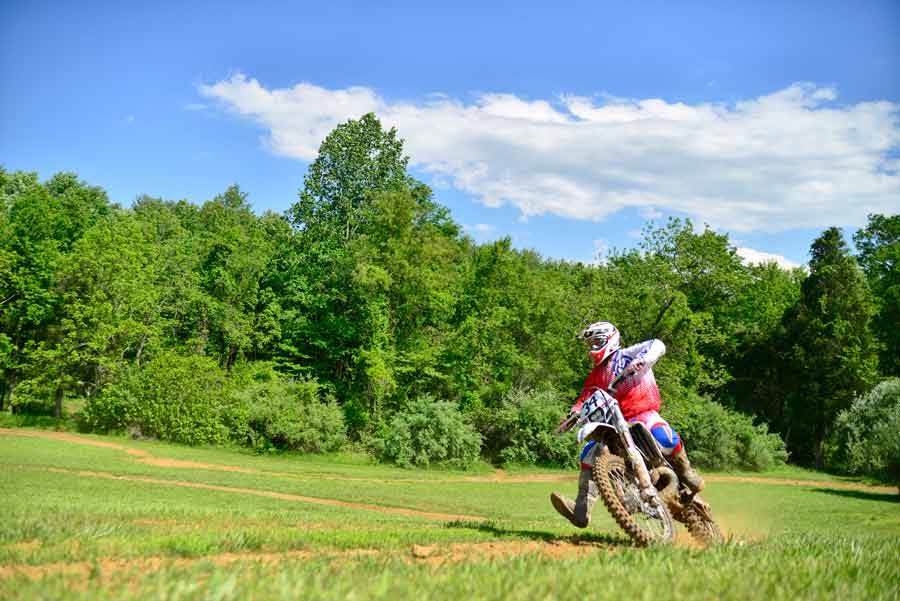 Competitive racing is an expensive endeavor, so we looked to our industry partners to strengthen our efforts. We'd like to thank all of our sponsors: Arai Americas, Moose Racing, Shorai, Baja Designs, BG, Piper Motorsport, Trail-Pros, MFI, Ride PG Graphics, JZ Signs and Dual Sport Armory. We had a great time, and can't wait until 2015 for the 14th running of the Perry Mountain 24 Hour Challenge for another shot at first place! For registration and information on next years event go to PerryMountain.com.