2015 ADVMoto Rally
Article Index
https://www.youtube.com/watch?v=Rj7wi2E519c
ADVMoto Rally 2015 kicked off in the brilliant sunshine at a new venue near Romney, West Virginia. The September setting at the Wapocoma Campground offered adventure motorcyclists just about every facility they could ask for, including great camping under the trees along the Potomac River, and hot showers.
Attendees rode in from as far as Canada and Mexico, and at least eight U.S. states. Many tagged extra days onto their rides in order to explore along the way to and from the rally.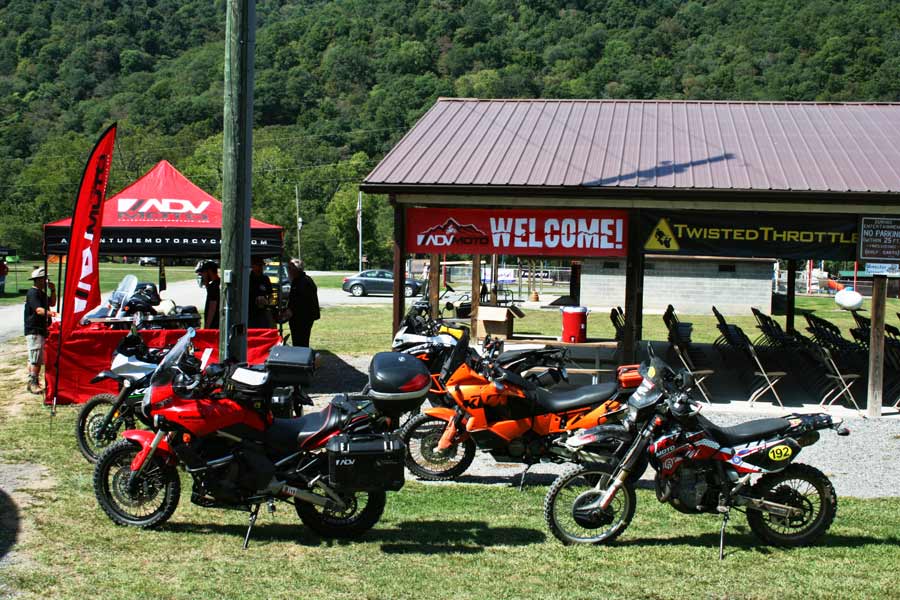 Around the campground old friends linked up and new friends were made—while others took advantage of the river for a cooling plunge. I listened to the buzz of advice being swapped and information exchanged. There's something very special about a bunch of people who have a common passion. I felt as if I was in the midst of a band of brothers—sisters, too—as plenty of women riders were part of the mix.
The location offered a blend of trails that gave riders of every ability level a route to challenge themselves, or simply to ride with a smile. The now-famous Boyer Farm was the hub for several of the trails and home to training sessions led by Bret Tkacs of PSSOR.com fame. What many didn't realize was just how entertaining his advice-packed sessions would be.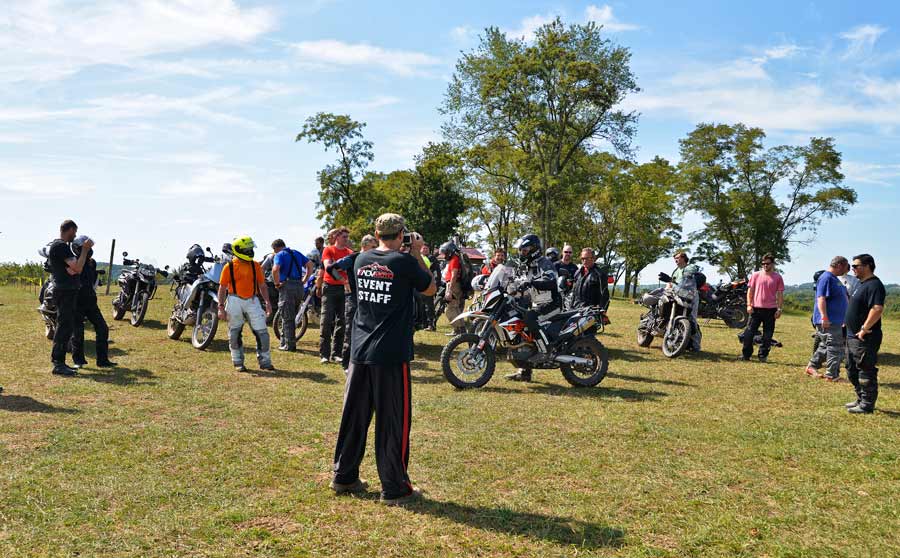 One of the highlights of the ride opportunities was the Poker Run. Participants had to navigate their way to a series of checkpoints where they'd collect playing card hands. And, like last year, the slow bike race gathered a crowd along with a bunch of riders who found out the hard way that being the slowest was a real challenge. Bikes of all sizes entered, but many fell by the wayside. Surprisingly, the size of bike didn't seem to affect who was going to win. Congratulations to Ed Lyon for being so slow!
Meanwhile, some sat around campfires yarning, while a few worked on their bikes. That Murphy fella had been up to his ol' tricks again, but if you're going to break down, there can't be many better places than at an event where plenty of useful advice and tools were on hand. Having said that, one of the guys got divorced over the weekend—that's right, his bike had let him down one too many times.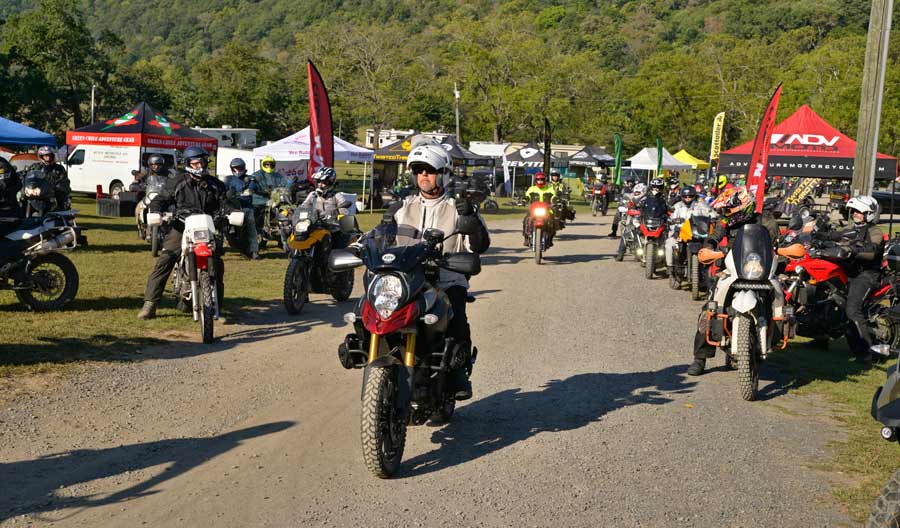 For seminars and talks, a diverse set were in the line-up. On Friday night, top class presentations were kicked off by Bret Tkacs discussing his ride through South America, preparing for such a trip, and a raft of extremely useful tips for being on the road; some of which were hard earned along the way. His off-the-wall style had the audience both enthralled and laughing. Brad Barker from The Ride of My Life (TheRideofMyLife.net) then took the stage to show one of his fine films, this one about riding the Continental Divide with a bunch of guys from the U.S., New Zealand and South Africa. The film represented a perfect example of the possibilities that lay before us on our own doorsteps.
That evening's presentations were rounded off in two ways by Eric Stephens, from Twisted Throttle (TwistedThrottle.com). His first session covered the different types of auxiliary lights available, including what's best suited to various riding styles. The second section was his ever-popular "Headlight Shoot Out." Whose lights were the most powerful, and who failed miserably? The "winner" of the worst lights was Pete West. The evening wrapped with a party complemented by a few cold and frothy kegs from local boutique breweries.
Throughout the event, food was laid out in BBQ style with plates of riding fuel piled high—prepared by Gourmet Central (BigGriggs.com). And an endless supply of free gourmet coffee was on tap from Crazy Fox (CrazyFoxCoffee.com). One of the things I love about our ADV community is their awareness of and willingness to help out others in need. After his wife's serious illness, Crazy Fox's Kevin Fox is facing huge medical bills; it was truly inspiring to see so many digging deep to lend a hand.
A fine mix of vendors of adventure motorcycling goodies supported the rally. There was plenty of time to have in-depth conversations with them, too. They included REV'IT!, KTM, Moose Racing, Vee Rubber, Twisted Throttle, Scottoiler, Klim, Continental, Firstgear, Forma, MotoMachines, Green Chile Adventure Gear, Moto Skiveez, MachineArtMoto, Mosko Moto, Sena, The Ride of My Life, and a host of supporting sponsors.
Saturday's presentations began at 2:00 p.m. Perfect timing for those returning from shorter rides and looking for a place to cool off while taking in some interesting tales. First up was Paul Pelland (LongHaulPaul.com), who's been on an Endless Road Tour with a mission to ride "One million miles with MS (Multiple Sclerosis), for MS." His presentation was appropriately called Life's Bitter Lemons and Long Shots, the entertaining and informative story of his mishap-plagued Ural ride in the Iron Butt Rally—which he took on precisely because they said it couldn't be done.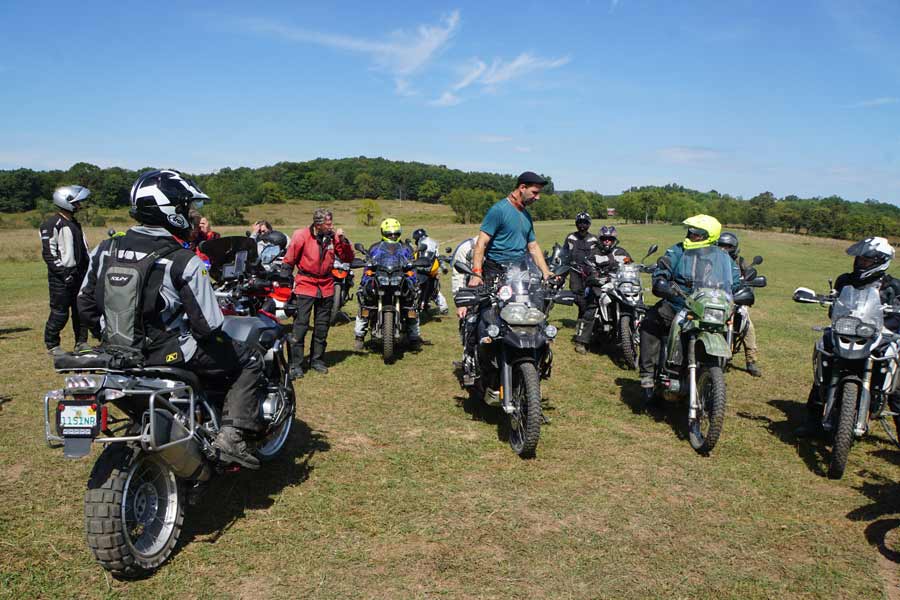 After a series of breakdowns requiring Herculean amounts of patience, cursing, frustration, and some brilliant roadside "bodger" repairs, he still had a chance… that was, until, a significant accident. Was it all over? You'll need to see the full presentation to know just how rugged his ride actually was. Paul is a victim of MS determined not to let the mysterious disease prevent him living life as fully as possible. When not riding, he educates others about the illness while raising funds for the MS Society and inspiring the inflicted with the courage to not give up
After another tasty BBQ buffet dinner, I was up to bat (Sam-Manicom.com). My two-hour talk on Africa described a journey through what I feel is one of the most stunning and surprising continents on earth. Having ridden a bike for the first time just three months before reaching the Sahara Desert, it was the beginning of a year-long ride from Cairo, Egypt, to Cape Town, South Africa. But as a disaster magnet, the journey saw me shot at twice, arrested three times, thrown in jail, nearly dying from malaria, and dealing with numerous accidents while crossing the desert in Namibia. The experience was so intense that when I finally made it to South Africa I decided not to go home as originally planned, rather carrying on around the world for another seven years. [Ed. Note: Sam also signed copies of his four bestselling adventure motorcycle travel books: Into Africa, Under Asian Skies, Distant Suns and Tortillas to Totems.]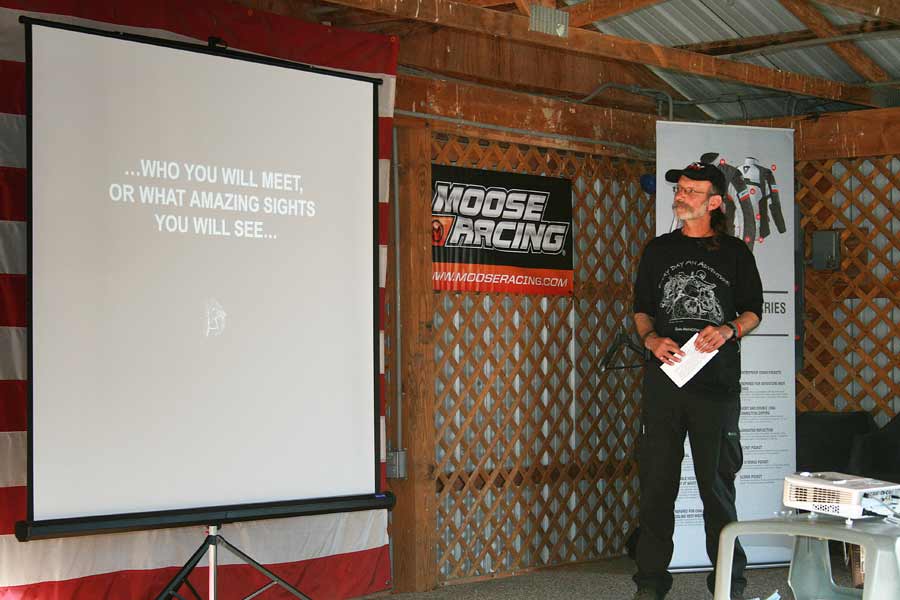 Next were the giveaways—over $16K worth! Manufacturers, touring companies and equipment suppliers from the world of adventure motorcycling were superbly supportive, and extremely generous with their prizes, including riding suits, tours, helmets, tires, lights, gift certificates, tank bags, base layers, dry bags, and riding jackets. I suspect that not many left the event emptyhanded.
As the final evening cooled down, the stage heated up with Jake and the Burtones (BurtonesBand.com) playing their hard drivin' Appalachian Old Time Music. And yes, people danced, though some restricted themselves to significant toe tapping.
Event feedback to date is that everyone had a great time and many already put their names down for next year! See you then. AdventureMotorcycle.com | ADVMotoRally.com
Sam Manicom rode for eight years around the world, covering 200,000 miles. He is the author of four bestselling motorcycle travel books. All are available in paperback with free worldwide shipping from The Book Depository. His books are also available as e-books on Kindle and his first two books, Into Africa and Under Asian Skies, are available for download as audio books. Sam-Manicom.com