Dust to Dawson 2014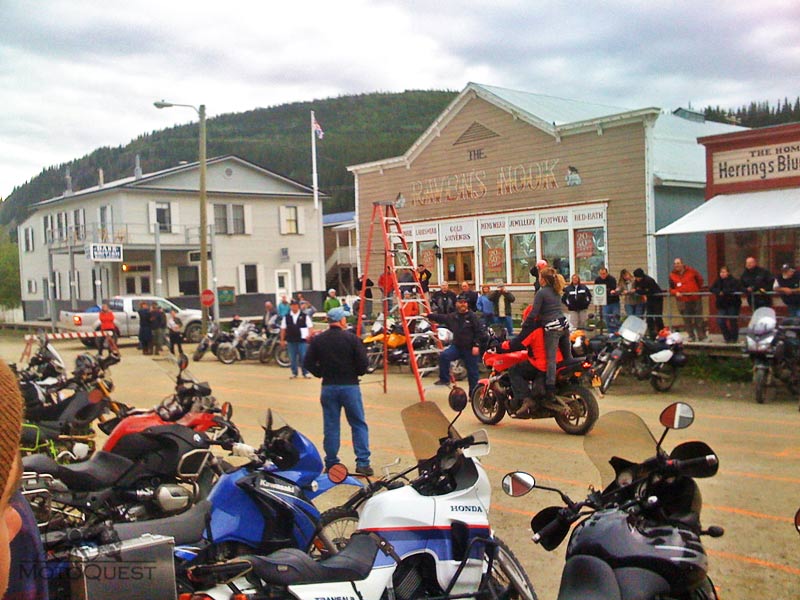 There is a very special motorcycle gathering that happens once every solstice in Dawson City, way up in the Yukon in Canada. It is known as "Dust to Dawson."
This is no normal motorcycle rally - NO! There are no vendors, there is no "registration." It is NOT A RALLY. You can just show up and meet hundreds of Alaskans, Canadians and others enjoying the pure form of adventure motorcycling. The goal: getting together for the heck of it!
This gathering, on June 20th 2014, is featured on MotoQuest's Dawson City Gold Rush Adventure that takes you through the Glenn Highway, Top of the World Highway, Dawson City and Whitehorse, Yukon Territory and more. There has been a last minute cancellation on this tour, so MotoQuest is able to accommodate a group for the Gold Rush Adventure ride. If you have a group, give MotoQuest a call now.
Accommodations for this event have been made a year in advance. The town of Dawson City is turned upside down with motorcycles. Add to this the Poker Run, Banquet and Biker Games on Main Street, and you have a unique familiar event to share with friends, new and old.
For more information about the Dust to Dawson gathering and the Gold Rush Adventure event, go to MotoQuest.com.