Crossing Egypt & Arabia Challenges
Article Index
Page 1 of 2
Coming this summer and fall are two scooter rallies that will take you throughout the toughest tracks of Egypt and Arabia.
CROSSING ARABIA CHALLENGE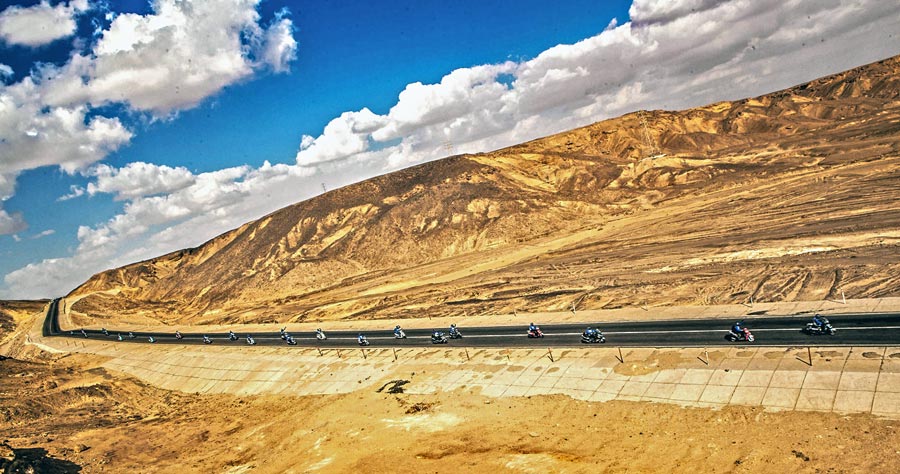 First up is the Cross Arabia Challenge, a series of cross-country endurance motorcycle and scooter rallies. June 13, 2014 will mark the kick-off of the new rally series starting from the capital of Egypt, Cairo and run until June 20th for 2300km between Egypt and Jordan.
The route of the 2014 season of Cross Arabia Challenge will start from Egypt's capital and pass by the Sinai Peninsula before crossing the Gulf of Aqaba to Jordan to ride between 6 of Jordan's top destinations: Aqaba, Petra, Karak, Amman, Jarash and the Dead Sea. After completing the Jordanian part of the route, the participants will head down to Egypt's Sharm Elsheikh en route back to Cairo where Cross Arabia Challenge concludes under the Great Pyramids of Giza.
To date, there are participants from five different countries, including Egypt, United Kingdom, Romania, Brunei and Germany, and the final count of participating countries is expected to increase as we get close to the registration closing date.
Ahmad Elzoghby, the official spokesperson of the challenge said: "Cross Arabia Challenge is a unique adventure for both athletes, and adventure travellers as it combines the best of the two worlds concept in a cross-country rally format. The route of this year's challenge, although shorter than some of the other rallies we have created, but is very challenging and has been carefully planned to over a diverse riding experience for participating riders.
To access the challenge website, please visit: CrossArabiaChallenge.com or their Facebook page: Facebook.com/CrossArabiaChallenge