Following the World's Greatest Race
The Dakar Rally is one of the greatest spectacles on earth—period. For thirty plus years it has stood alone as the ultimate motorsports adventure. And, as the story of the Dakar Rally has grown, so has its mystique. Now the word Dakar is synonymous "Adventure," especially to those of us in the motorcycle world.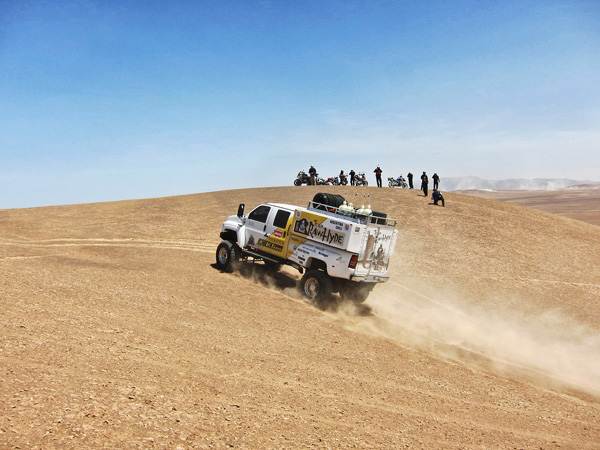 When terrorism forced the rally to move from Africa to South America in 2009 a new opportunity came to us with that change in venue. RawHyde's involvement in the Dakar is the result of an email that came to me in mid-2009 (after the first South American Dakar) from a guy named "Nacho" in Buenos Aires, Argentina.
When Nacho learned that RawHyde was the official BMW off road training center in the United States, he wanted to know if I could organize a group to come to South America in January of 2010 and let him be our guide to "chase" the Dakar Rally along its route.
The Big Gamble
Our first attempt at the Dakar was full of unknowns… I had never met Nacho, I had never been to South America and I was responsible for the wellbeing of the ten American riders. On top of all this, I had wired over $100,000 into an "off shore" account. Therefore, I took a deep sigh of relief as I saw an attractive Argentine woman approaching us with my name on a cardboard sign. The gamble paid off, and now our Dakar Rally Adventure is the crown jewel in RawHyde's portfolio of tours.
So what's it like to ride a BMW motorcycle through Argentina, Chile and Peru during the Dakar? I can only describe it as that Rock Star feeling. It's impossible to explain the sensation of having thousands of people screaming in adoration as you ride along the highways and narrow streets of towns. Although the rally runs through the most rural and therefore poorest parts of Argentina and Chile, the people of these South American towns love Dakar because it brings color and excitement into their lives.
We actually share the road with all the racers during what is called the liaisons. A liaison is sort of a connection between the competitive sections of the event, where the race vehicles must use regular roads to get to the next stage. It's on these liaisons that hordes of cheering people line up to watch us go by. Our big BMWs seem exotic to these folks, and our special riding suits must look very much like the race guys, so they scream, clap, take pictures and cheer us on, too.
Getting Up Close to Dakar
The really great thing about the race is how close you get to the action. There are no rules for bystanders, except at checkpoints, so if you want to get really close to the action you can. But, you have to be smart about where you choose to stand, because every now and then a car or truck goes off course… and that's when bad things can happen.
Paso de San Francisco, Serious Altitude and Coca Leaves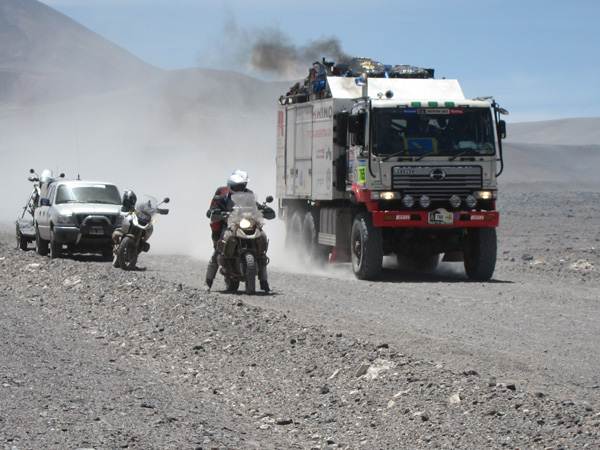 Each year that we've ridden Dakar we've had the opportunity to ride over Paso de San Francisco, which at 15,600 ft., is one of the highest mountain passes in South America. What to do about the possibility of altitude sickness? This becomes a serious consideration because there is a real chance of getting sick at that altitude. Coca leaves... that's the solution... just like the indigenous people have done for thousands of years. Although cocaine is the primary use of coca leaves, in its native form coca leaves are considered a mild stimulant with properties that minimize the effects of altitude sickness.
Coca leaves are just plain nasty to chew, but they calm you so that the effects of altitude just don't seem to hit you. What you do is take a "lump" of the leaves about the size of a half dollar, fold them up and put them in your mouth and start chewing. Once the leaves become mushy you put the lump between your cheek and gums and just let it sit there. The juice provides the needed effect, however if you cannot stand the taste (like me) you can make a tea from the leaves for the same results.
---
How do you wrap up an experience like the Dakar? Chasing the Dakar is the real deal—not a watered down soft trip for the casual tourist. It's tough... it's exhausting… it's fraught with challenges and risk.
But, all in all it's a hell of an adventure, AND everyone with us gets to fully experience the Dakar! Yes, we usually have a couple of busted bikes, and many challenges to resolve along the way, but what would you expect when you are 6,000 miles away from home? It's a definite challenge, although not for everyone, and it's an authentic adventure in a time where many folks choose to insulate themselves from such things.
We're going again in 2014—anyone want to tag along?