Horizons Unlimited Meeting, Cambria 2013
Article Index
Page 2 of 2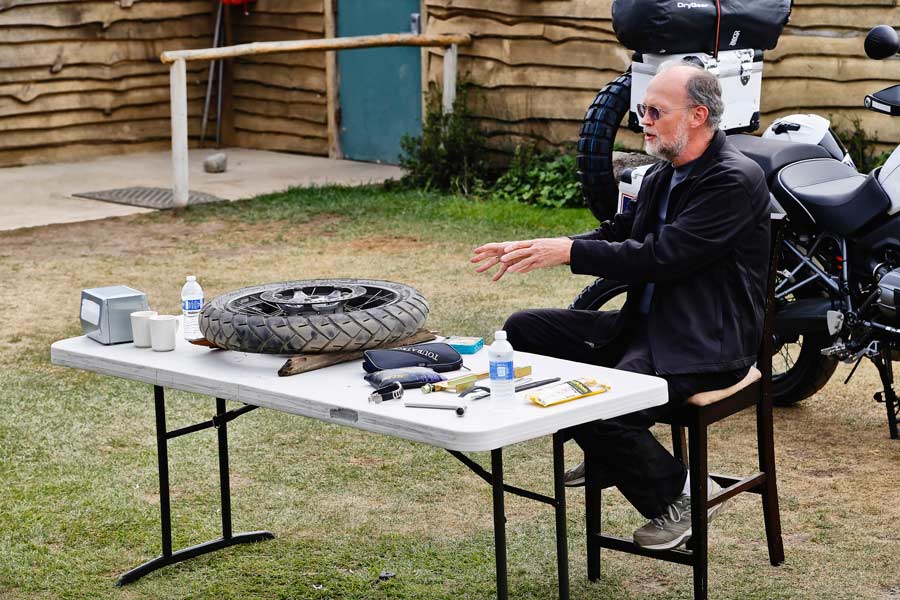 The last three years have featured talks by Ted, and once again, we sat mesmerized by his presentation—vicariously reliving his powerful journeys through newly released historical photographs that placed a more youthful author within a world of transition in the late '70s.
In a moment filled with modesty, Ted revealed that he'd finally come to the realization that his writing had struck a universal chord that influenced so many riders. His contemplative delivery, as always, set the tone of one of the best Horizons Unlimited California events, yet.
Also on the list of heavy hitters was Sam Manicom, who delighted the tightly packed outdoor amphitheater crowd with tall tales of wild African adventure, highlighted in his book, Into Africa. I peered back into the audience as Sam reached the climax of one of his more harrowing stories.
Their eyes grew larger as he recounted how he'd dealt with being thrown into a dark jail cell with some unsavory characters—reaching as deep as he possibly could for the courage to scare his way out of this uncompromising situation. It was a reminder that previously unimaginable on-the-road experiences often build strength and character in unexpected ways.
Hearing these and many other colorful presentations brought the participants even closer together. Following the official talks, demonstrations and seminars, we lit up the trail back to the camping area with our headlamps in search of after-hour gatherings filled with drink and road tales of our own.
With the moon high in the sky, and the sound of barking sea lions echoing from the ocean bluff below, some found warmth in the dining commons. The camaraderie tightened as the wee hours slipped by. New friends were made as the old friends list grew larger. For some reason this event draws the cream of the crop from our already amazing adventure riding community.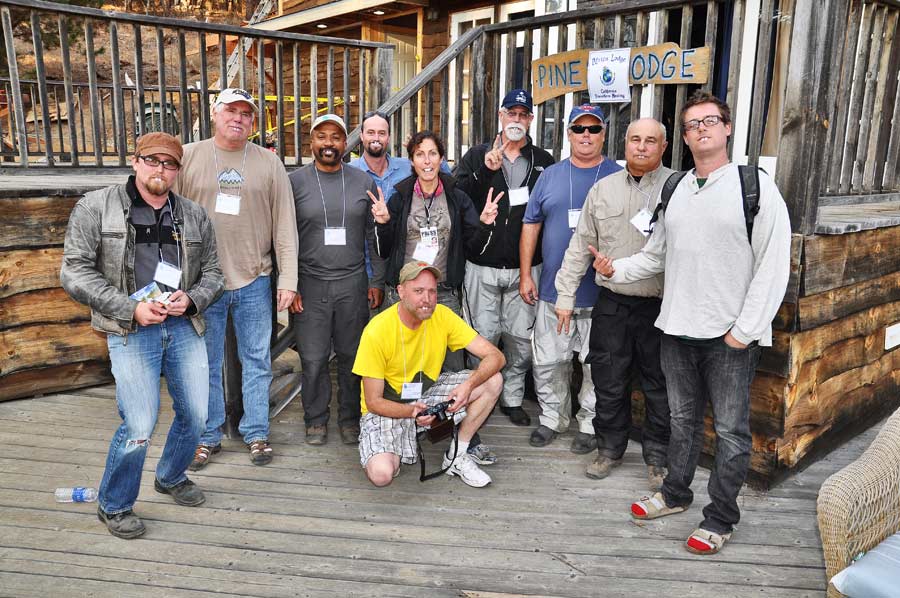 They rise to the top through their compassionate yearning to present to others a meaningful journey and a piece of themselves, igniting in others that spark for living. There is also the desire to share gems of road wisdom with others through demos and classes such as "Tire Changing," "Bike Recovery," "RTW Packing," "Camp Cooking," "On the Road Photography Archiving," and the like.
Speakers, vendors, and participants alike seemed to have a common thread of living more fully. These are the folks that I personally want surrounding me—a gentle reminder to keep the vision up and on our dreams.
Some of the most fun I had was cruising the parking lot and the campsites, soaking up the ingenuity of deliciously modded-out bikes and two-wheeled camping setups. From small 250ccs to the big enduros with stickered-out panniers boasting of worldly travels, it didn't matter what type of motorcycle got you out there—just as long as you got out.
And I wasn't alone. There was a constant buzz of onlookers ogling over the various makes and mods as an exchange of contact info solidified mutual respect. That exchange continued into mealtime where round dining tables encouraged opencrosstalk, weaving us into an even tighter tapestry.
The coup de grace came as the last presenter took the stage. It was none other than my new friend Jeffrey Polnaja from Indonesia, who lit up the entire event with his beautiful presence. His hugely uplifting, poignant and humorous presentation painted his Ride for Peace across the world as not only a personal journey of deep self-discovery, but also as a movement that could change the world.
From country to country, Jeffrey was spreading the awareness that more and more people want to live in a peaceful world. These are the grand dreams we can all get behind. Thank you for the inspiration, Horizons Unlimited.