Monster Energy Amageza Rally
Article Index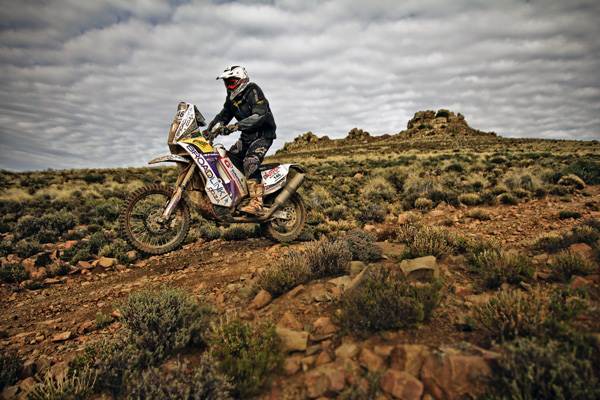 The Monster Energy 2012 Amageza Rally, powered by KTM Cape Town and Leatt Corporation, brought 70 dual-sport motorcyclists from across Africa, and abroad, to Sutherland (South Africa) from April 27 to April 29.
Similar in style to the Dakar and Baja 1000, the Amageza Rally consists of numerous "liaison" and "special" legs that require a high level of navigation skill and endurance. Riding road-legal, dual-sport motorbikes, from 450ccs and up, participants are required to navigate their way through a combination of public roads and vast sections of grueling off-road virgin territory using rally road books and GPS waypoints. Clearly, it's no coincidence that "amageza" means "crazy" in Xhosa (a local South African language).
Managing Director, Alexander Nel, explains where it all started: "The Amageza was born out of my dream to compete on a motorcycle in an event similar to the Dakar Rally. I would like the Amageza to be a vehicle to build dual-sport motorcycling from being a hobby to being a competitive sport—to boost the local rally accessory manufacturers, and provide a financial boost to the towns we travel through."
2012 marks the Amageza Rally's second year. "We've attempted to develop a unique motorcycle event that delivers local and international off-road rally enthusiasts an unforgettable experience—high on African thrills and low on costs. In addition, our media team creates multi-layered exposure for our kind sponsors: Monster Energy, KTM Cape Town and Leatt Corporation—providing wonderful value for all concerned," said Marketing Director, Wayne Harrison.
KTM Cape Town Assistant Manager, Charl Steyn, participated on the new affordable 690 Oryx Rally bike, which has created a new off-road motorcycle segment within KTM. The bike is just as comfortable tackling technical sections, as it is cruising long open roads. "We have developed the KTM690 Oryx, which is basically the 690 Enduro R with extra fuel tanks and a rally fairing kit… it can ride a greater distance and has a more rally type feel to it. Great piece of machinery… better performance, better suspension—it's doing really well—comfortable ride; and it goes over 500 kilos on full tanks, which is great," said Steyn.
With sponsors of this caliber, the rally is growing by leaps and bounds. Monster Energy's Head of Marketing for the Western and Eastern Cape, Greg Miller, explains their involvement with the event. "We're stoked to be associated with the Monster Energy Amageza Rally for 2012. We have been involved with athletes and teams competing at the Dakar this past year with the Monster Energy MINI team winning the Dakar—so this really ties in with what we're doing overseas and works great for South Africa."
Since 2011's one-day event, the Monster Energy Amageza Rally more than doubled its participants. "Starting small last year with only 25 entrants, it proved that there were like-minded individuals. This year a multi-day event was tested with 50 entrants, that escalated to 70," said Alexander Nel. Darryl Curtis, who came 22nd in this year's Dakar and recently won the 2012 Marrakech Rally, was among the entrants. "This is the first time that I'm here at the Amageza Rally, just came back from Dakar 2012. Going to the Dakar for the first time was quite a big learning curve—it's all about the road book; and that's what I like about the Amageza—they have developed a road book for the guys who want to go out and do their first Dakar—they can get a little bit of experience and find out what the Dakar is all about," said Curtis.
Known as "the gateway to the universe," Sutherland proved to be the perfect location—with a dramatically varied terrain pushing riders to their limits. About 700km of mountain trails, high-speed gravel roads and rocky, washed-out farm roads were covered over two days, which offered a spine-tingling gateway to adventurist heaven. But, aside from the terrain, Sutherland also offered the Amageza crowd true small-town hospitality. The police were involved with maintaining security and the school made its sport premises and hostels available, which were used for the bivouac, parc fermé (closed park area for a race), crew accommodation, sit-down meals and briefings. In addition to this, the local farmers were more than willing to open their private ground to the organizers to work out the route.
Riders who could not make one of the national pre-qualifying events had the opportunity to show the officials what they are made of during the final qualifier early Friday morning. The route turned out to be quite challenging with Thursday's rain transforming dry riverbeds into deep crossings that got riders wetter than expected.
In total, 70 participants registered during the course of Friday, all of whom went through scrutineering and a medical examination at the hands of the Emergency Medical Operations (EMO) team. The only female participant, Renette Rauch, came back for her second Amageza Rally on her BMW R1200GS—the biggest bike at the event. This year the rally also attracted two participants from other countries—Attie de Jager from Namibia, and Neil Ringdahl from Peru. Neil finished the infamous 4500km Dos Sertões Rally across Brazil on his Springbok-adorned Yamaha WR450 last year—the same bike he flew over to South Africa for the Amageza.
The riders started heading down to the main street just after four o'clock for the official rider announcements on Friday. Locals gathered—curious to watch the roaring group arrive. Aside from the gigantic Monster Energy-branded Dodge truck, two gyrocopters (utilized to provide aerial communications relay and contribute to filming the action during the event) added to the extraordinary sights and sounds. But, the activities were delayed due to a rider slipping around a gravel corner and breaking his collarbone, which forced him to quit. If this didn't put a damper on spirits, Alexander Nel's description of the next day's mountain trail descending into "the cauldron of hell" during the briefing must have had a mild unnerving effect on some.
But regardless of whether the nerves, or the pinching cold kept some awake for a little longer—Saturday arrived, and with it, a noticeable excitement in the air. After being woken at 4 a.m. by the "Amageza Chicken Wake-up Call" (AC/DC's Thunderstruck), a very early breakfast at 5 a.m. and a quick 20km liaison leg to checkpoint one, the participants waited in anticipation for the timed special stage to start. Despite the chill in the air everyone was fired-up and ready to wring the throttle. The 80km special kicked off upon a glorious sunrise—like only the Karoo can conjure up, which was followed by a 320km liaison leg via Laingsburg.
As expected, the rain turned the normally dry and dusty terrain into a slippery challenge, testing riders to their limits as they manoeuvred down treacherous mountain drops, across rocky river beds, riveting river crossings and up steep climbs. Darryl Curtis quickly worked his way to the front—laying tracks for the rest. Another top South African rally rider, John Webb, caught up with Curtis, giving him a serious run for his money. Two bikes were recovered—Gabriel Kroes' KTM950 Adventure broke down, while Robert Adams crashed his Honda XR650. The on-sight EMO crew attended to him, but he was unable to finish having sustained a few cracked ribs.
Overall, the riders did better than expected for the wet conditions, with the first few reaching the second checkpoint in around two hours. The frontrunners included John Webb, Darryl Curtis, Koos van den Heever, Attie de Jager, Gideon Joubert, Roger Scheffer and Dewald Huisamen. Renette turned out to be quite a legend among the riders—despite smashing her face on her bike's handle bar she refused to quit. Her fellow riders gave her a cheering welcome as she entered the dining hall after the first day of blood, sweat and tears. Although exhausted, everybody was all smiles—eager to exchange their war stories, and hungry for more.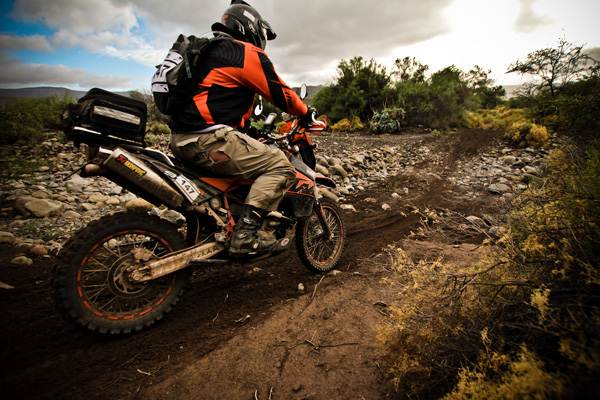 The second day entailed a shorter, but just as challenging route, which started with a 45km liaison stage that took participants to the summit of the Ouberg Pass overlooking the Tankwa Karoo 1000m below. Reaching checkpoint one, the 60km special leg started, leading them down a daunting descent, onto a fast flat section, and up a private rocky 4 x 4 pass—on which some rider commented he would be embarrassed to take a mule along. After battling up a very tricky step-up, scattered with rocks the size of cooler boxes, riders reached the top of the mountain plateau looking out over a valley as far as the eye could see, which made all the frustration in getting there worthwhile. For some, however, the frustration lasted a little longer. On her way up, Renette smashed a hole in her sump. But, refusing to throw in the towel, she fixed the hole with the help of her riding companion, Lukas Bekker, and managed to get some oil in order to finish the rally.
Reaching the second checkpoint, the riders were treated with a quick "boerie roll" (a South African hotdog) before finishing the last 60km liaison leg taking them back to the bivouac. The weekend's action was concluded with a prize-giving ceremony at The Jupiter, a local restaurant, where 54 riders received trophies. Tiaan van Heerden was awarded the Dirty Harry prize; Mike Schmucker received the Biggest Airtime for a Classic Bike prize, and Renette walked away with the Amageza Spirit prize.
With the riders loading their bikes to leave the next day there was a hint of disbelief that the weekend had come to an end. The only reassuring thought was that, come 2013, there would be another Amageza Rally; and this one would be even more action-packed, as Alexander Nel explains: "Thanks to our sponsors and especially the riders, this event was a great success. The next challenge will be to extend the Amageza to either a three- or five-day event for next year." Wayne Harrison invites those who'd like to come back for more, or those wanting to do their first Amageza: "Look out for the 2013 Amageza Rally. It's gonna deliver a whole new level of crazy rally adrenalin."
For further information on this unique southern African motorcycle rally visit Amageza.com or email This email address is being protected from spambots. You need JavaScript enabled to view it..