Motorcycle Travellers Meet 2013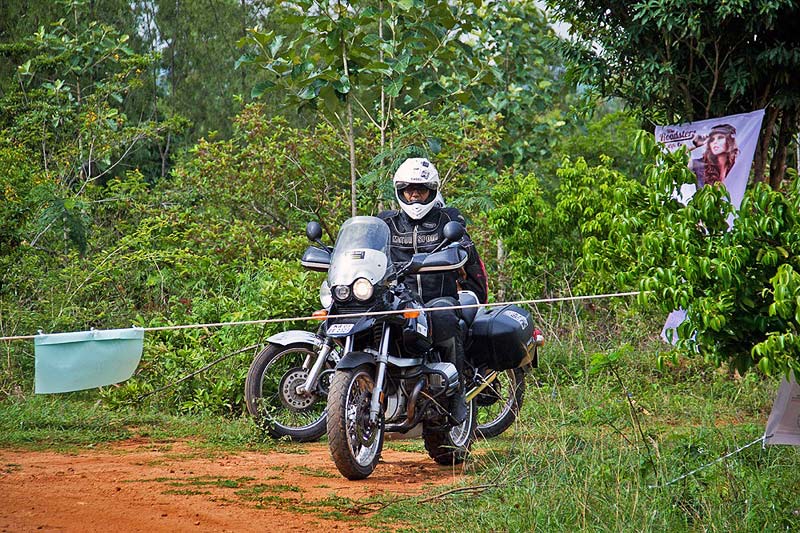 In July of 2013, a new kind of motorcycle gathering took place in India. The brainchild of Santosh Kumar, Motorcycle Travellers Meet brought together motorcyclists in India who had made significant journeys on two wheels. It also called out to those who were about to embark on journeys or were in need of inspiration to start realizing their dreams.
The two day event held at Camp Shristi, 40 miles outside Bangalore, was the perfect mix of thrilling presentations by world travellers, practical workshops on motorcycle maintenance and enough free time to mingle and connect. The headline speakers were Jay Kannaiyan, who rode 64,000 miles from Chicago to New Delhi on a Suzuki DR650, Avinash Thadani, who rode a KTM 640 Adventure all around South America, and Bharadwaj Dayala, the first Indian to ride around the world on an Indian motorcycle. All three world travellers gave captivating presentations. Everyone was in awe when Jay shared his experience of riding with his eyes shut on the Salar de Uyuni in Bolivia. Avi's fast-paced story felt like an action movie with bike troubles in Colombia, getting robbed in Argentina and then finally ending up at La Higuera in remote Bolivia, where Che Guevara met his fate. Bharadwaj was extremely entertaining with his deadpan style of truly comic encounters with visa officials and cultural shocks along his journey.
Besides these three, there were many others who recounted their tales from the road: veteran journalist Navroze Contractor gave an exciting talk about his ride in the 70s on a BSA Goldstar from India to the UK; Wing Commander RSR Murti revealed how the army is full of motorcycle enthusiasts and he shared a pioneering ride he did in the 80s into the Himalayas of Uttarakhand; Sangeetha Jairam and Malvikaa Solanki shared their experiences of what it meant to be a woman rider in India and Ashish Kumar gave a passionate appeal to travel with a purpose as he shared his journey that was focused on tiger conservation.
All the speakers and participants were amazed at the quality of the talks and the caliber of the travellers present. MTM succeeded in its goal of creating a platform around motorcycle traveling in India that encourages riders to share, learn and inspire from each other.
Since the first meet, MTM has been active by putting together traveller presentations and panel discussions at India Bike Week 2014 and Social Media Week 2014. Next up is the second annual Motorcycle Travellers Meet that is taking place from April 11 - 13, 2014 outside Bangalore and a mini meet taking place in the hills of Uttarakhand in May.
If you are riding through India on your overland journey or just flying in for a ride about, get in touch with the guys at MTM and share your story. A few words from someone that has done it can be just the ticket to get another dreamer on the road.