PSSOR's Adventure Camp
Article Index
Page 1 of 2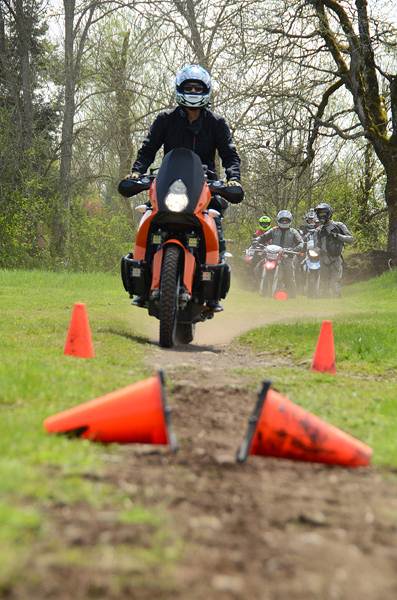 "I have a bike problem," said Candace. Huddled together in a small group, steaming coffees in our hands, we nodded our heads in acknowledgment. Some of us chuckled. We understood her problem. We were all here to face this same dilemma, and to hopefully do something about it. We were all motorcycle addicts. At that moment, in my heart of hearts, I suspected I was a training addict as well.
It was Sunday morning, the third and last day of Puget Sound Safety's Off Road (PSSOR) Adventure Camp. Eighteen of us had ridden in from near and far away to work on low speed control of our motorbikes, practice our off-road skills, and learn about all aspects of adventure motorcycling. It was to be an action-packed weekend, with every non-riding moment filled with travel tidbits and informative clinics.
As with any twelve-step program, we were all at different levels of understanding and acceptance of our addictions. The common thread between us all was that we wanted to improve our riding skills and comfort levels in a variety of riding conditions. My motorcycle addiction compels me to try to be the very best rider I can possibly be, in spite of my inherent clumsiness and inclination towards large adventure motorcycles.
Most of us arrived in time to dine together Friday night. We had a get-to-know-you session around the bonfire at base camp after dinner, then each of us took off to our tents early in anticipation of Saturday's sessions on our bikes. On-range instruction is from 8–5 Saturday and Sunday. As in any good adventure, we pitched our tents on the training grounds and slept next to our motorcycles.
Eager to get started on our fix, we met bright and early on the range. After a brief warm-up we got down to business and started working on technique. Balance, counter-balance, grey zone. We broke into smaller groups to practice individual lessons, and to receive some one-on-one coaching. We worked on our core position, felt the balance of the motorcycle, and worked on our confidence.
I was particularly impressed by how well the PSSOR instructors worked together. Seamlessly, like a well-tuned machine, instructors Bret, Gary and RJ guided us through their curriculum. I thought they worked extremely well together, and did a brilliant job of bringing the group together as a whole. They created an environment of camaraderie and togetherness that I've not experienced in any other training.
On the range, each new skill was thoroughly explained, demonstrated, and then practiced, each instructor adding to the toolbox of other skills they'd already taught us. Soon, the PSSOR instructors had each of us beaming in our helmets, eager for the next challenge, and marveling at what we could do on an adventure bike when we applied the right technique.