PSSOR's Adventure Camp
Article Index
Page 2 of 2
Every minute of every day was packed with information. The lunchtime break included healthy food and a discussion about protective gear while we ate. Bret, Gary and RJ each wore different gear and had different protective apparel theories, and it was enlightening to listen to each of them and understand their personal gear choices. For many of us it was great to be able to see and touch and try on a neck brace or a knee brace, and to get tips on where to purchase such items.
After the mid-day session of range work and riding the challenge course over logs, through obstacles and around cones, we had a breakout session on packing. Dave Sweze, über experienced moto traveler and General Manager of Ride West BMW in Seattle, took us on a tour of his panniers and taught us how to pack a lot of travel essentials in a very small space. Again we got tips on where to find gear, and what to look for in highly-packable, lightweight travel accessories.
Rain moved in late in the day, and our "Famous Dave's" catered barbecue was held inside the barn. There was a rowdy trivia contest for a variety of donated items, followed by a slide show presentation on riding in Alaska. We then entertained ourselves with the Mondo Enduro riding film and trials videos, until the day's exercise caught up with us all and we wandered off to our tents exhausted and happy. Does anyone but a motorcycle addict spend all day riding, and all evening watching motorcycle movies?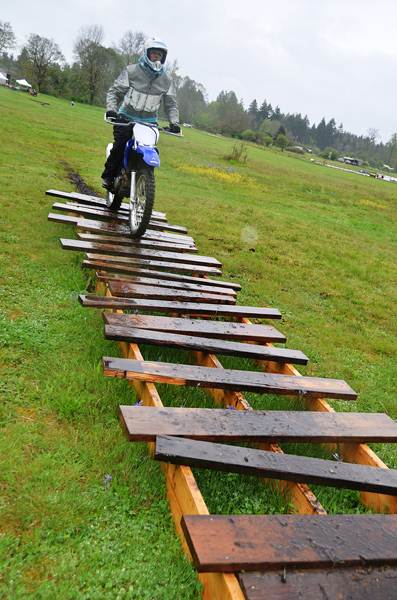 Sunday dawned cold and wet, punctuated by excited instructors that were overjoyed at being able to provide us training in truly slippery conditions. The morning's exercises included braking and swerving, generally challenging gravity and Mother Nature, as well as several more runs through the challenge course. Instructor Bret cackled with glee when he had us practicing riding through a narrow, muddy trench almost a foot deep.
It was perfect weather to practice water crossings, and PSSOR devised the ultimate challenge to teach us about them. The stones in the rock box were slippery and treacherous, simulating a real-life-on-the-trail water crossing. Circling around, we'd come back through the dreaded sandbox, then over the wooden loose-plank bridge. It wasn't my favorite exercise, but it was necessary to master it because real-world adventure riding demands it.
PSSOR had some smaller bikes on hand for us to try, and at times they were a welcome relief. In the extreme slippery conditions my KTM 950 Adventure was a handful, and PSSOR suggested I master the basics of the sandbox on the smaller bike, then move back up to the big bike. Indeed, I was grateful for the smaller weight bike, and thus mastered the exercise and left the range with a feeling of accomplishment.
Two and a half days of non-stop information, range exercises, hill work, and recovery demonstrations, and I felt my addiction satiated. Every aspect of adventure riding had been covered—riding, gear selection, bike selection, accessories and packing. Training with PSSOR was quite a rush, and it felt good. My riding improved, my technical skills ratcheted up a notch. And for the moment, I felt that perhaps I wouldn't need another training fix for a while.
PSSOR Adventure Camp:
2½ day camp
$405.00 riding your own motorcycle (bike rentals available)
Must wear full protective gear
Must provide your own camping gear (tent rentals available)
AdvCamp.com
Puget Sound Safety's Other Courses
Street
Basic Rider Course
Intermediate Rider Training
Experienced Rider Course
Advanced Experienced Rider Course
Total Control Training
Motorcycle Care and Maintenance
Suspension Theory and Tuning
Private Training
Off-Road
Basic Dirtbike Training
Intermediate Dirtbike Training
Experienced Dirtbike Training
Private Training