Horizons Unlimited Mountain Madness Appalachians 2017
A bright sun peeked out from behind retreating rain clouds, ready to dry the clay, rocks and the thoroughly soaked riders. Doing their best through heavily fogged goggles, team One More Time scooted along the soaked forest roads, racing the clock to avoid any overtime penalties.
ADVMoto
's Lukas Eddy tagged along to see what tales of conquest and glory would materialize during the event. They were coming off a trail, having just bump-started Lukas's
DRZ
, and were aiming to make good time, but for some reason Ken Anderson, Chris Bean and Dave Fleck were pulling over. Staying true to their team name, they wanted to find "just one more" tag on the way back to base. This was about the time when Chris's
KTM
could start leaking gas again… and the
DRZ
wouldn't start again… and someone would get a flat tire right before the time limit….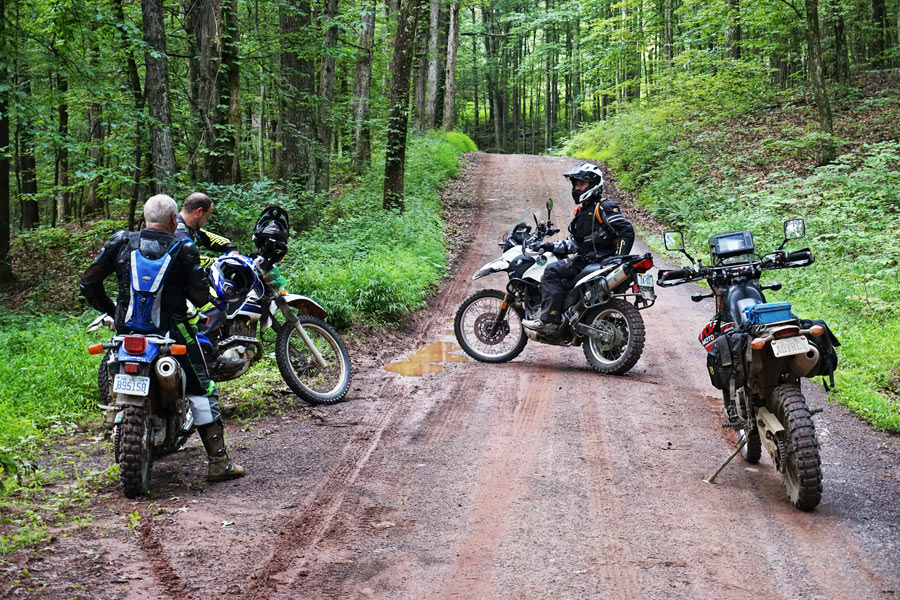 Horizons Unlimited
founders Grant and Susan Johnson host the
HUMM
events, which are a global series of navigation challenges held in Europe and Africa since 2007, and more recently in British Columbia. Having finally made it to the United States for the first time, the 2017
HUMM Appalachians
was sanctioned by both the
Federation Internationale de MOTOCYCLISME
(
FIM
) and the
American Motorcyclist Association
(
AMA
).
FIM Touring
and
Leisure Commission Director Damiano Zamana
monitored the event for the international organization.
At
HUMM
events, riders receive topographic maps at the start of the event with each tag location marked, an opportunity for developing route strategy. Teams are awarded points based upon tags found and recorded, with each tag is assigned a difficulty value. For example, a tag involving a gnarly water crossing has higher scoring value than one along a roadway. And, strictly enforced time limits assure a level playing field for all participants.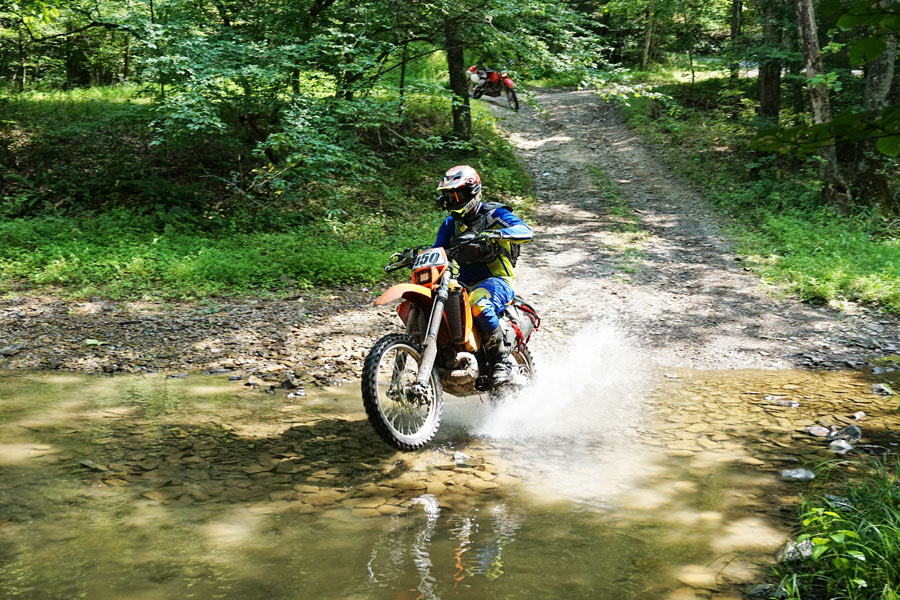 With 80 tags to find, there were more than two days' worth of mid-August scenery and roads to explore around Green Ridge State Forest in Maryland, and in Pennsylvania's Buchanan State Forest. It's an interesting take on the usual adventure rally, because all riders have not only a common goal and shared challenges, but also a dose of good old-fashioned competition. The diversity of bikes was also refreshing, from two-up riders on a big
KTM
, to a barely legal two-stroke and everything in between—riders of all kinds showed up for the fun. There's actually no "best" bike for this event, because the varied terrain lets riders experience the merits and drawbacks of whatever equipment they have.
The question is, how can hundreds of miles of dirt roads and 80 tags get dispersed across Maryland and Pennsylvania? One would expect at least a small team of riders to have scouted, photographed and mapped all 80 tags. In reality, it was up to Nick Zacker of
Zacker Adventures
, who spent two weeks solo riding and camping on an
R1200GS
to set up every single tag. He rode it all on the
GS
to ensure a skilled big-bike rider could make it through.
For the event, each team received a
SPOT
satellite tracker providing location and situational information for any riders in distress. On the morning of Day One, Jim Cowgill and Carl Parker of team
ADVMoto Maniacs
zip-tied theirs to a backpack and, like many others, didn't give the tracker a second thought. Event coordinators could monitor team locations from behind the scenes, but no one hoped the real utility of a
SPOT
tracker would come into play.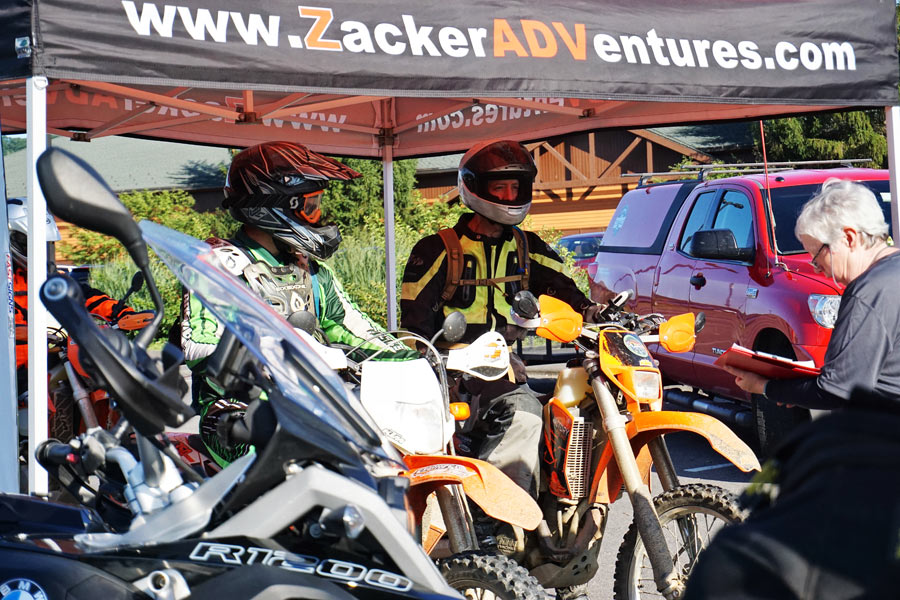 After a successful first morning,
ADVMoto Maniacs
made plans for lunch. Springing to his parked
KTM 690
, Jim Cowgill raised his right leg over the saddle, but fell as he slipped on the loose gravel surface. His elbow connected squarely with the ground and he cried out to the team leader, "I think I broke something, Carl!" Later X-rays would confirm he grenaded his shoulder and parts of his upper arm. He was NOT riding out of the woods. Carl and passing riders made him as comfortable as possible, moving him beneath a signboard shelter and shielding him from summer rain. Carl pressed the "Medical Assistance/Non-Life-Threatening" button on the
SPOT
; while Jim wondered if and when help might arrive.
Within half an hour, the
Zacker Adventures
rescue team of Nick and Todd Zacker, with Mark Carrera, arrived with a pickup truck and trailer. Nick waited with Jim at the emergency room for his examination, X-rays, diagnosis and pain medication. Then Jim was released to visit his orthopedic surgeon, where he received partial shoulder replacement surgery.
Fast and effective, the
SPOT
satellite tracker vectored rescuers to the exact accident location in the midst of a vast woodland. The conscientious efforts of staff/riders/medical personnel, along with
HUMM
's foresight in issuing each team a
SPOT
tracker, made the best of an unfortunate situation.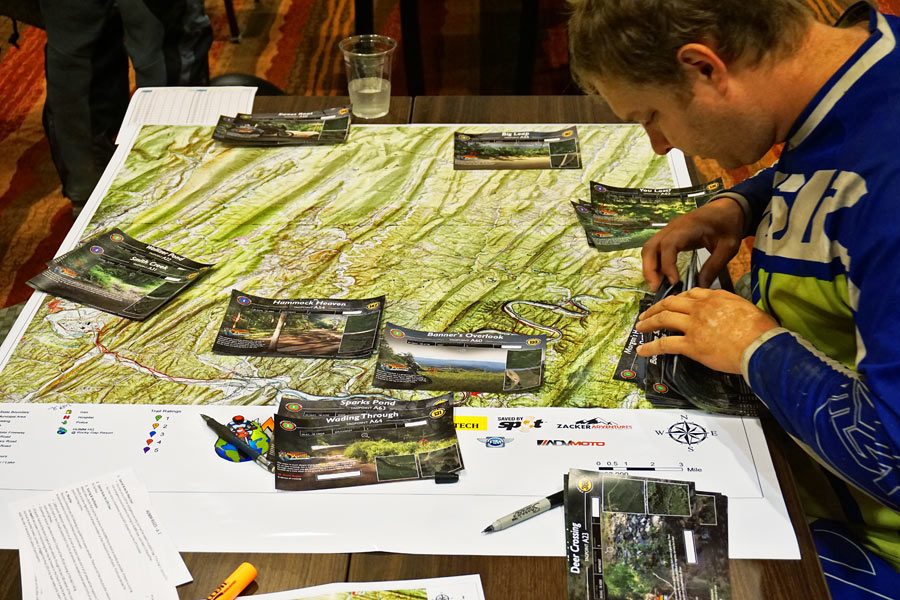 Battling the odds of irony and Murphy's Law,
One More Time
would make it back on time that first day without issue, as they would on the second day. Competing in the GPS Singles class, they pulled home a class victory despite this being their first
HUMM
event. However, the overall winners were a pair of
Map Singles
riders who had competed in the
HUMM Monashees
(British Columbia) earlier in the year, enjoying it so much they drove halfway across the continent for this event.
Gather your friends and join us for
next year's HUMM Appalachians, Sept 14-16, 2018
!
Basic Overview of HUMM Rules:
• Contestants come as teams or are teamed up as they arrive.
• The four classes are: GPS Single-Cylinder, GPS Multi-cylinder, Map Singles and Map Multis.
• Teams must use their chosen navigation method exclusively, but all teams get the same topographic map and booklet.
• Booklets are provided with pictures of each tag area, GPS coordinates, trail difficulty level, compass heading of the picture, Google Earth view, tagpoint number (to match with tag ID number), point value (based on distance and trail difficulty), and the tag name.
• Competitors face point penalties for not returning to base by the time limit.
• Bikes need USFS approved spark arrestors.
• Small, orange tags are hidden out of sight from the roads to keep passers-by from removing them.
HorizonsUnlimited.com
|
ZackerAdventures.com
|
FIM-LIVE.com
|
AmericanMotorcyclist.com



Tags: horizons unlimited, rally