24 Hours at Starvation Ridge
Article Index
Page 2 of 2
Despair was about to overcome the team. But by pulling double duty as a racer and suspension guru, Alex was able to restore hope and soon the issues with the bikes were behind them and the race was back on.
The team fought hard all day long. By afternoon they had moved into first place in the Sportsman's class. These guys just kept pounding out laps. The pit crew of Whitney Koeberle, Jonathan Blundt, Ovidiu Puia, Heather Martins, Sandra VanNieuwenhuise and Bob Williams tracked rider changes, maintained the bikes and kept the team well fed.
As the sun set, the team bolted on their new Cyclops Extreme long range LED lights and began the long push through the night. Excitement was in the air and the pits were lit up like a carnival. Around 2 a.m. a heavy fog set in, slowing most competitors to a crawl.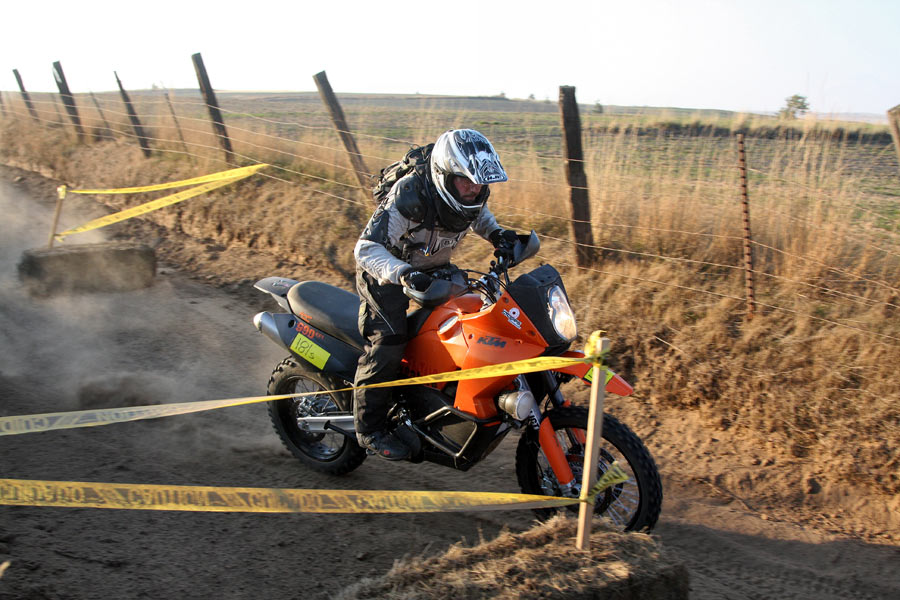 The Heavyweights installed amber filters on the new LEDs and rallied through some extremely tough conditions. Darryl came in laughing that he had lost count of how many racers he had passed.
When the sun came up the transponders were still showing the team first in class and within the top 20 overall. However, the second place team was catching up, and with three laps to go the Heavyweights dropped to second. It was time to pull out all the stops. Radek went out for what would be his fastest lap, followed by Jason, piloting his 990 at blinding speed. He lost a little time when he fell into a hole in a barn, but then sent Darryl out, who pulled the team's fastest lap. As Darryl came through the traps the transponder was telling the team they were back in first. Alex got the final lap of the race, he wasn't about to be responsible for giving up any time or positions. He went out and gave it everything he had, ending up pulling off his goggles mid-lap and coming in looking like he had just gone through a war zone.
The team had taken first place in the Sportsman class and showed 17th overall. They could not have been happier, but the celebration was short-lived, as the second place team put up a protest. It was discovered there was a sweep rider who had the same transponder number as the Heavyweights. They were docked two laps and lost to the first place team by 15 seconds, also dropping them to 36th overall.
These guys didn't waver! They put up a great fight, did something that few would ever entertain, and definitely raised some eyebrows. Keep an eye on the Heavyweights, it won't be the last time you hear about this team racing big KTMs in a sea of real dirt bikes.