Overland Expo 2015
So here it is, an expo that says if you make an appearance you're an adventurer… or so you'd like to think. Sure, you can wear the right clothes, ride the right bike, or talk the right talk—but when it comes down to it, when the snow hits will you run to a hotel? Some did, but those aren't the ones I'm here to write about; rather, it's the diehards, the troopers, the down and dirty few who say, "Bring it on!" Those of you who survived "Snowverland Expo 2015" stand up and take a bow!
For Overland Expo founder and organizer Roseann Hanson, her steadfast husband Jonathan, and her tried-and-true staff, the 10-day forecast looked grim for OX West in May of 2015. They braced for bad weather and, as predicted, conditions at the Mormon Lake Campground near Flagstaff, Arizona worsened from rain to snow, testing each and every soul who dared take on the event. But through all the struggles to stay warm and dry with wits intact, there was an outcome that only the insightful saw coming: We became a much tighter family.
When you bring together individuals with guts and heart, and challenge them with a common hardship, you get the most electric results. The common goal of surviving a weather-beaten event brought out the best in participants and vendors alike. It also inspired some fun marketing ideas that garnered pre-orders for club mentality T-shirts reading, "I survived Snowverland Expo 2015."
Aside from the weather, this event shone like no other. From four wheels to three wheels to two, there was something to satisfy everyone's taste for adventure and get them better equipped to chase their dreams. What's really fun about the people this event attracts is the fact that the lines of interest remain blurred. You may see participants' and vendors' garages housing the gamut of 4x4s, adventure bikes, and sidecars. So, the event's entire acreage was covered by everything imaginable to make vehicle-based adventuring possible.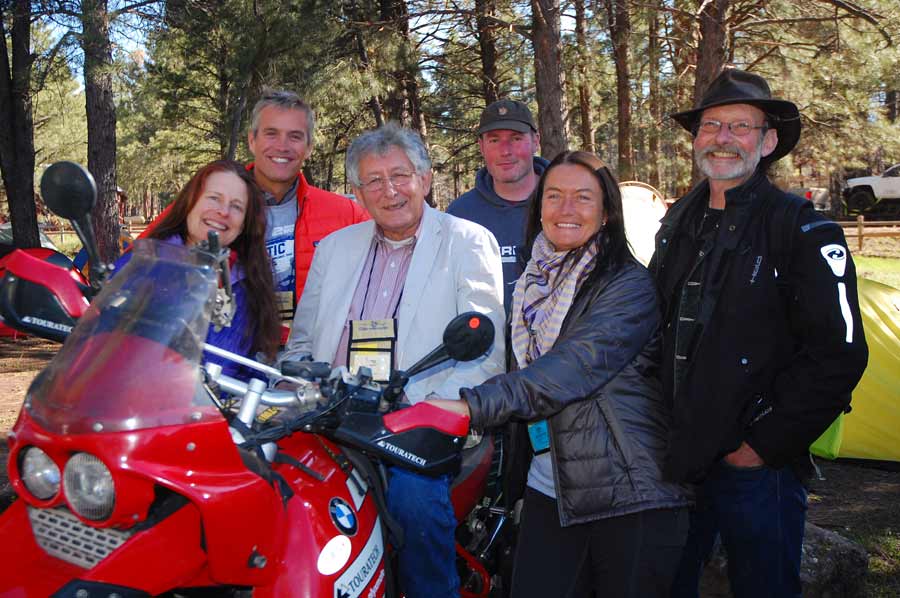 I actually welcomed the weather, because I had a vehicle that thrived under these circumstances—a 2015 Ural cT. A big thanks goes out to Mark Tetreau of Scooter and Auto Source ScooterandAutoSource.com of Prescott, Arizona, for lending me his latest to test its new features of fuel injection, and a lower, lighter, faster build. Even though this baby is designed for the city, I was thoroughly impressed with its performance in the deep road "lakes" and multiple mud bogs. And, the quick and easy start-ups allowed me to immediately grab photos of the annual Ural ladies ride.
What really made 2015 stand out was the invasion of the Brits; our cousins from across the pond are some of the most legendary in the industry. We were lucky to have Tiffany Coates encourage loose lips with her Pimm's concoction for the best storytelling from her cohorts Ted Simon, Sam Manicom, Simon and Lisa Thomas, and Iain Harper. The sweet melody of these global tales seeped out well into the night, with snowfall bearing down after a fun group camp dinner and Bill Dragoo cleaning the last of the dishes before we were all covered in the white stuff.
We poured paths of pine needles to find the way back to our tents more easily by nightfall after the weather continued into the morning hours. And a tight camaraderie waged on in the laundry room as we pumped quarters into the dryers to warm our souls and keep the conversations lively.
By morning, the sun was shining to encourage some bustle to the higher ground vendors in Moto Village while the weather god was smiling. As usual, Pete Day, owner of Mosko Moto MoskoMoto.com, had a packed house of customers-to-be ogling the latest innovation of his popular line of soft bags. Also in rare form, was RawHyde RawHyde-OffRoad.com, leading local rides and the arena whoops skill course to test riders' big enduro prowess under the adverse conditions resulting from the previous night's weather. And with over 180 classes, demos, presentations and activities, OX West had all the ingredients to prepare every adventurer for their next journey.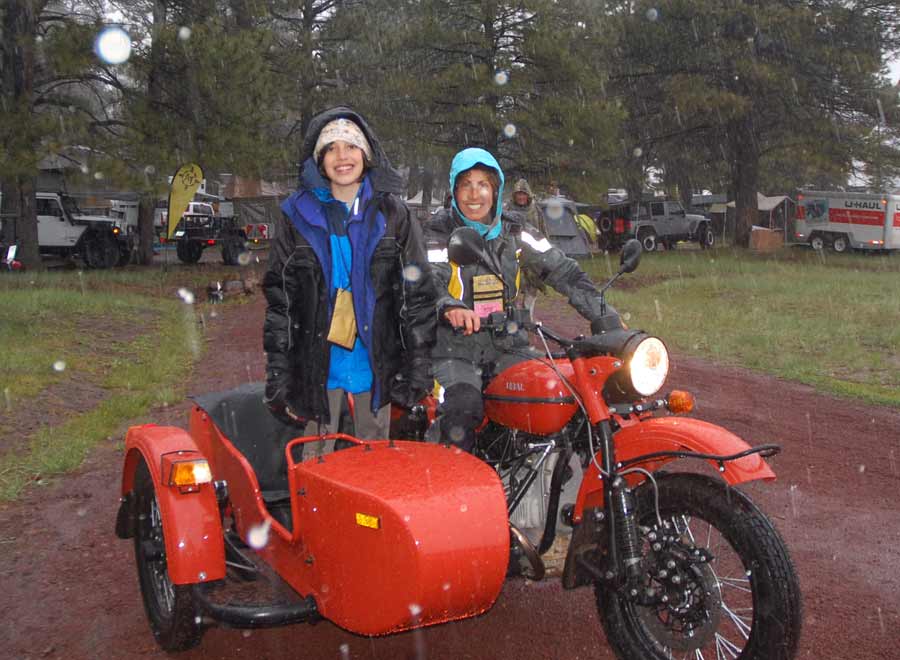 From sand skills and front wheel lofting to DIY hack fixes and how to add electronics to your bike, there was new ground to cover for every interest. It was fun and enlightening to help Carla King lead the all-women open platform class in the cozy quarters of the Mormon Lake Lodge. To our surprise, the conversation steered directly to tips for the men on how to maintain their ladies' interest in a trip while on the road. Cutting travel days shorter to enjoy the surroundings while not pushing them past their skill levels and comfort zones topped the list. Spending a part of the budget on hotels once in a while to enhance both romance and hygiene also had everyone chiming in. And lastly, including gear and apparel to help keep them warm and comfortable under varying travel conditions. So men, if you want to woo a lady to join you on the road, or keep the one riding on two wheels beside you, these tips are free for those who like company.
Just a zip in the Ural away from the ADVMoto booth was the delightful presentation of Guinness World Record contender Danell Lynn DanellLynn.com in the midst of her "Black Tie 2 Black Top" ride stretching over 30,000 miles through all 50 states and Canada. She shared intriguing and colorful stories from her trip of interactions with people from all walks of life. Also warming the audience was her philanthropic outreach to the children along the way, as she stopped at schools to donate her cultural coloring books. Her 2006 Triumph 790 named "Amelia" showed the wounds of a road warrior, while Danell shined like the adventure goddess that she is throughout the entire weekend.
These types of riders are the pillars of our community. And Overland Expo is the event that celebrates them. Whatever tests the road may bring, you know that those who survived OX15 will be ready for them. They'll meet obstacles with a thoughtful and good humored approach, and will set an example for others to come. OverlandExpo.com