The Rally Connex Dacre Challenge: ADVMoto and RevZilla Go Rally Racing
Want that feeling of being a real-life rally racer? Waking up at 3 a.m., packing your tent in 40°F temps, grabbing a granola bar while donning your riding gear as you rush to the start line with GPS waypoints loaded and live laps bracelet scanned. You're off in the dark, chasing down teams who left before you, running from those behind you.... This is the exact scenario you can live.

The Dacre Challenge is an 800-kilometer "challenge concept event" and not an adventure/dual-sport ride. It's technically not a race, either, but don't let that stop your competitive juices from flowing, because you can finish first. Two classes with separate routes (ADV and DS) compete in this simulated Dakar Rally-style one-day event. GPS routes and navigation are done by waypoints, not routes. So, you get to a point displayed on your GPS as the next place you have to be, but there's no specific route to get there. You then run over this waypoint and your GPS records the data.
Picking teammates (2–5 man teams are mandatory, no solo riders) to spend 72 hours with over the course of the weekend is incredibly important. Team #DunRad was formed at AltRider's Conserve the Ride (AltRider.com) in Woodward, PA, just two weeks before the event. ADVMoto's field specialist, Steve Kamrad, and RevZilla's fast guy, Spurgeon Dunbar, joined forces on Triumph Tiger 800s to take on Canada as the only American team to enter the ADV class.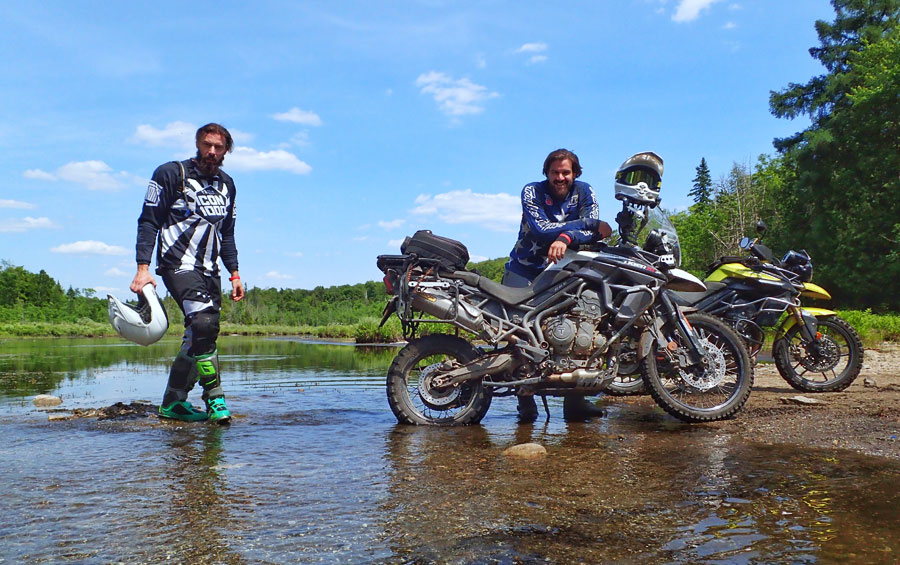 Rally Connex does all its events based on GPS navigation. Adding a few more degrees of difficulty to the event with the GPS's built-in features, they enforce a 100 kph top speed rule on the entire course, which you record along with the "tracks" (bread crumbs), successfully running over all the waypoints to prove you did the course in full; similar to the style of racing in the Dakar and other rallies.
The Dacre Challenge allows you to use support trucks (you don't have to bring a support truck but it's advisable), rejoining your driver at predetermined points during the day, which makes life a little easier. Water, gas, gear, spare parts, tools and encouragement can all be stored in the vehicle, but it's up to your driver to get to you when and where you need it most.

Somewhere around the eight-hour mark the sun is in fact at "high noon" (summer solstice) and you're third gear-pinned through the Canadian scenery. With your attention split between rocks, logs, gravel, mud, water crossings, your teammate, the speedo, oncoming trail traffic and the GPS, this style of "racing" is grueling for the eyes and mind. Personally, my eyes gave out long before the muscle and mental fatigue set in. You'll need to know how to deal with these things as the day progresses because much like in space, in Canada no one can hear you scream! And at that point we still had 10 hours left to our day.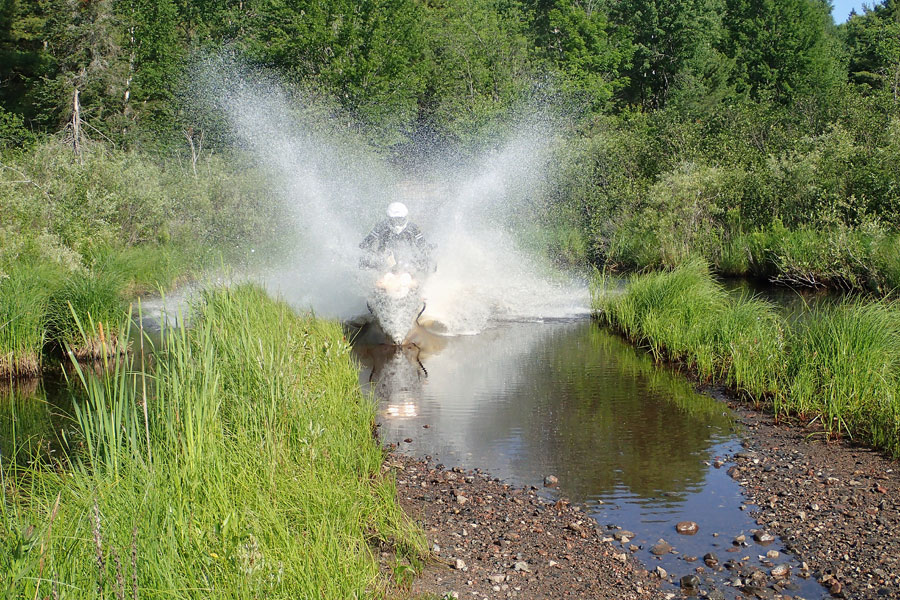 Amelia Kamrad piloted our TRD Pro 4Runner with trailer. Acting as a full support team she navigated unfamiliar territory with GPS coordinates and met her riders at predetermined support truck stops. Gas, food, water, and Red Bulls were delivered with precision. After the goggles and Spurgeon's dusty face received a good wipe down, our trusty support truck driver would be off to the next gas station to fill up the cans before heading on to the next meet-up location.

Canada was made for adventure riding. If it weren't for Rally Connex, only the local inhabitants (the Ontario Dirt Grippers) would know the ample beauty this ride offers. It's so perfect you almost want to keep it a secret. The DS route is nearly all off road and very gnarly; only two full-size ADV bikes have ever completed it; it's a job better left to dirt bikes with big gas tanks. The ADV route is 30/70 on/off-road with gravel roads, power-line trails and maintained multi-use trail systems. Water crossings are plentiful but not deep, hill climbs are short and sweet, and the roads are twisty enough to keep you in third gear or less.
It only took 14 hours for everything to go sideways. I had conveniently run over my own foot 180 miles before and now with 120 miles to go Spurgeon had managed to eject and scatter all the tools, tubes, and snacks out of his unzippered tail bag over the course of eight miles. Doubling back for the items in a massive game of search and rescue, team #DunRad was passed by the second-place team, "The BMW Guys." We finally had a race on our hands.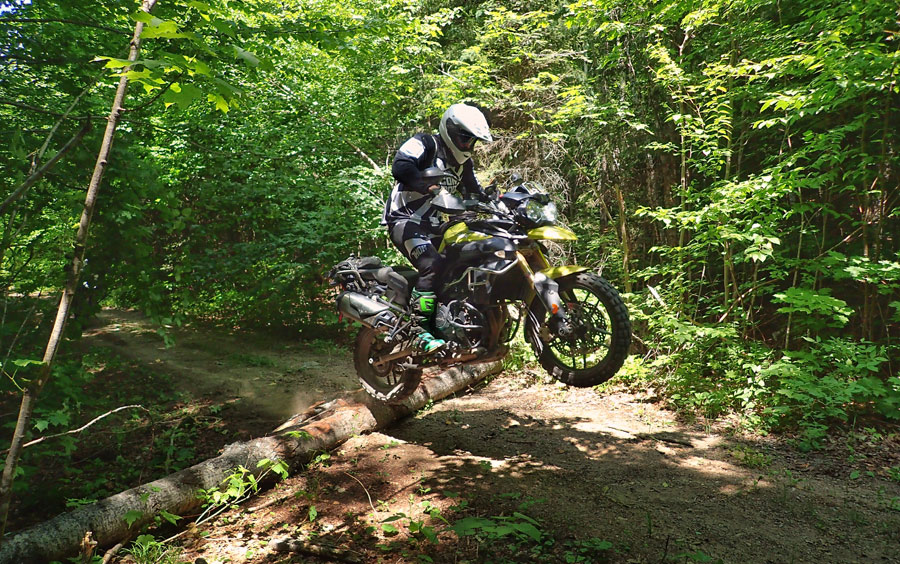 Turning around and blasting through the section again, team #DunRad made short work of the "Germans." It should be noted some of Spurgeon's tools remain lost forever, and their sacrifice will never be forgotten. Aboard their allied Triumph Tiger 800s, the "Americans" had taken back the lead and set a blistering pace to the next support stop. Meeting with Amelia, with no instruction or explanation of the situation needed, we loaded up on what would be our final resupply of food and fuel. As we remounted our Tigers, covered in the stealth of our 4Runner, we saw "The BMW Guys" pull in. In a moment of psychological warfare, we waited 'till the they took off their helmets to refuel. Zee Germans never knew what hit them as we blasted out of the shadows and down the road as if to say "Good luck catching us!"
At 17 hours and nine minutes into "The Longest Day," two Americans pulled their Tiger 800s across the finish line to claim victory in the Dacre Challenge, victorious in a race that wasn't. Met by their support driver with open arms, the two stood atop the Tigers and sprayed victory champagne into the air, backlit by the setting summer solstice sun—sans the hordes to celebrate their momentous victory.

There's no first-place trophy for this event. Just a medal that says "I Have Completed the Longest Day, the Dacre Challenge 2016." Crossing the finish line first was driven home best by Spurgeon looking at his teammates and saying "I've never won anything in my life!"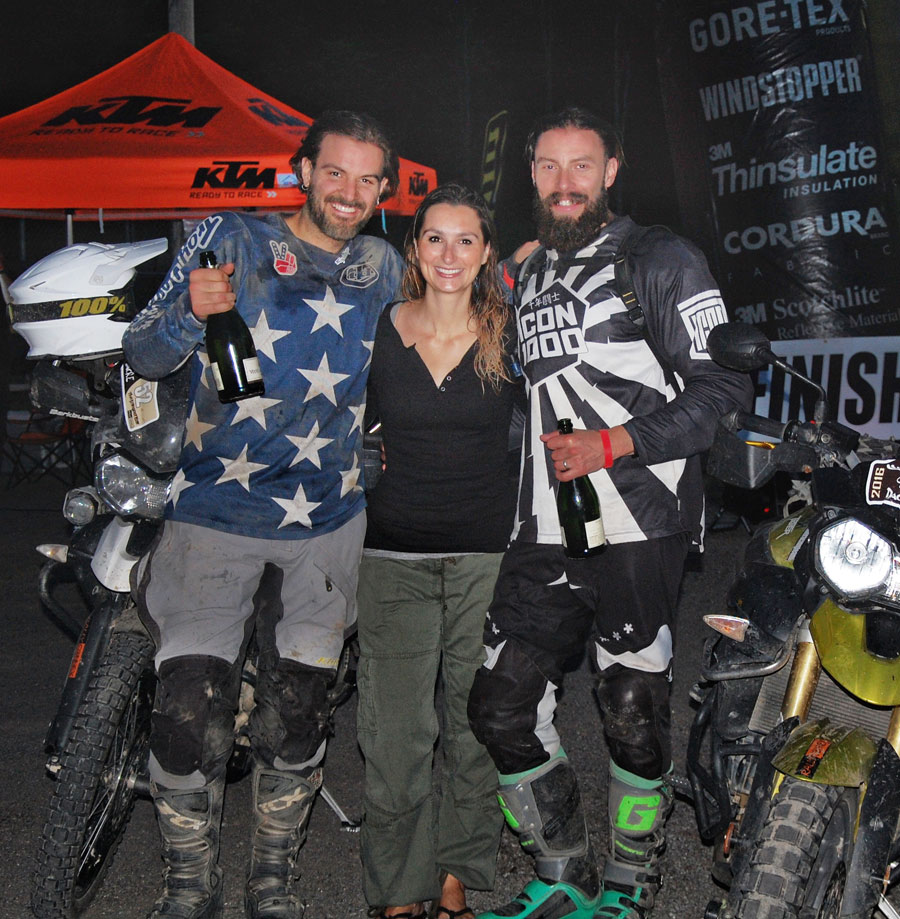 A very sincere "Thank You" to Rally Connex, KTM Canada, and Twisted Throttle Canada for holding an event that is second to none in many ways. Check their sites for their many upcoming events, tours, scavenger hunts or training classes with Youtube sensation Chris Birch. The Dacre Challenge is held once every two years. All challenges accepted by the undefeated Adventure Class Champions #DunRad. See you in 2018.

RallyConnex.com | TwistedThrottle.ca | KTM.com/ca