Touratech Rally East 2017 Event Report
Just like their products, satisfaction at
Touratech
's events are guaranteed! This year's
East Coast Rally
, held on August 17th–20th in Huntingdon, PA, was a mix of greasy off-road riding, hilarious camp-side jokes, and an intense storm that had people running around like Forest Gump, or expelling war cries like Lieutenant Dan ("You'll never sink this boat! Come on! You call this a storm? Blow, you SOB, blow!").
ADVMoto
looks forward to the Touratech Rally East every year, and in its third year, Touratech-USA saw a growth in attendance despite the dubious weather.
The event coordinators focused heavily on having entertainment for those who decided to stick around at the campground instead of riding, a format that we think will become popular at future events. It's also becoming a family-friendly venue, and those who are "tagging along" will get something out of the event even if they aren't riding. The handful of female presenters that took the stage not only emphasized the growth of our community, but also provided a fresh perspective in a relatively male-dominant industry. Among them were rally racer Brigitte Lancombe, instructor Heather Lewis, and the adventurers of
SheADV.com
.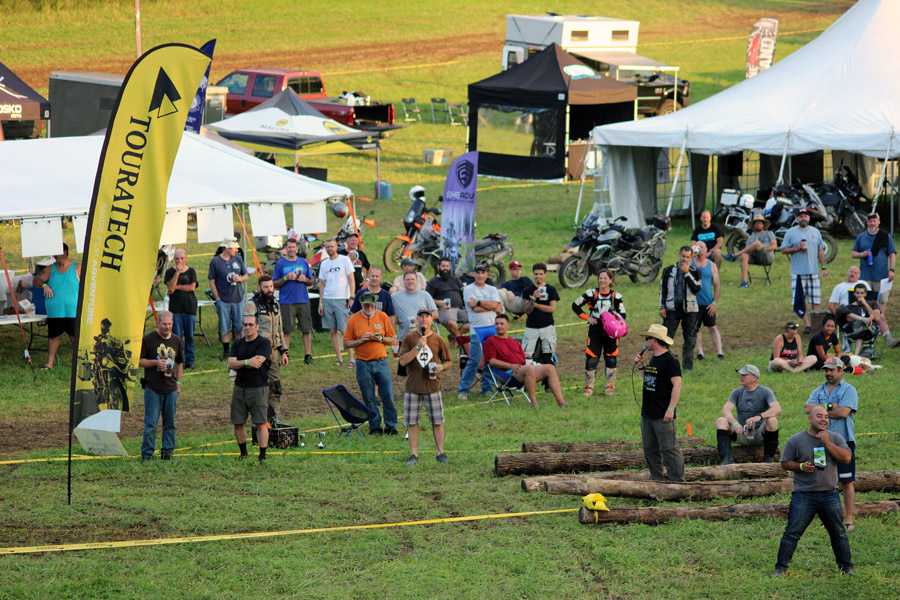 ADVMoto
and others on the sixth route of the seven
Touratech
had organized. The routes varied in difficulty, with Ride 1 being the easiest, and 7 the most difficult. Even through the rain and technical mishaps, Casey maintained a positive attitude, bringing up the spirits of riders who might've considered the ride to be dreadful.
The ride started off at a comfortable pace, but then dwindled to a skirmish to escape the rain. Branches, weighed down with water, constantly whipped us in the face as we tried to navigate greasy two-track trails as our goggles and visors fogged, limiting our vision. Eventually the technical path and weather got the best of us. Our buddy, Doug Miller, collided with a fallen tree that lay across the trail, launching him over the handlebars. Fortunately, Doug was not seriously injured, which is more than we can say for the
KLR
that had a puncture in the gas tank. We debated to come back with a truck, but Casey's "leave no man behind" attitude kept us in unison. With a little team work, we all made it back to camp in time to laugh and joke about the ride during supper.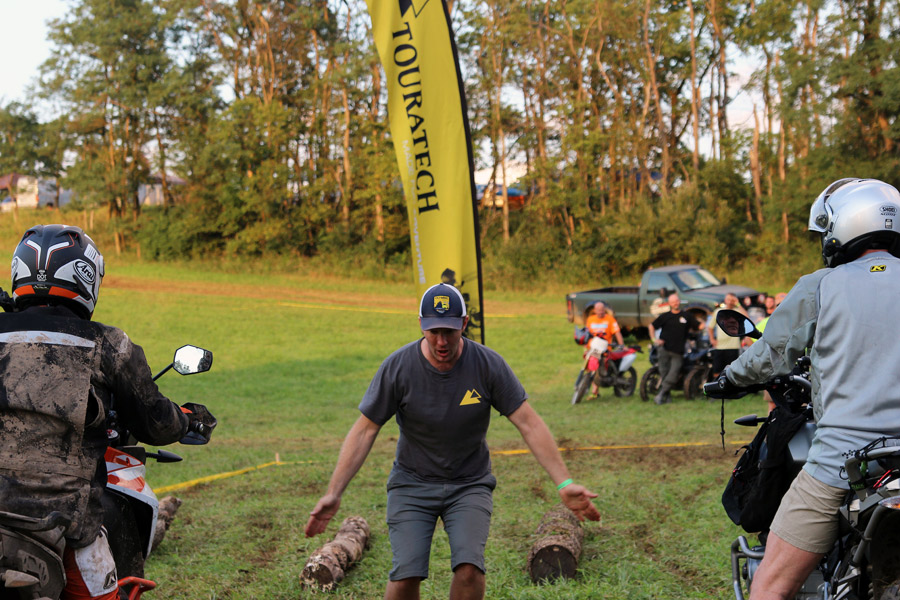 Pine Barrens Adventure Camp
.
Dirt 101
and
Advanced Adventure
classes were both all-day affairs, and students got to learn a full spectrum of techniques that trained the body and mind for extensive adventure riding.
The slow race is always a spectacle, bringing out array of techniques and riding styles. The
Final Challenge Course
was canceled due to a violent storm that barreled through the campground, blowing over canopies and trapping Bob (our imaginary attendee) in an overturned
Porta-Potty
. One attendee was unfortunately injured in the storm, but attendees, Hans Koeller and Heather Chipman, were quick to react, escorting him to medical aid. Marketing manager, Matt Lewis and Paul Guillien,
Touratech-USA
's CEO, handled the situation like pros, keeping the event alive while taking everyone's safety as their first priority. The storm left as fast as it came, and before we knew it, the
Touratech Rally East
forged ahead.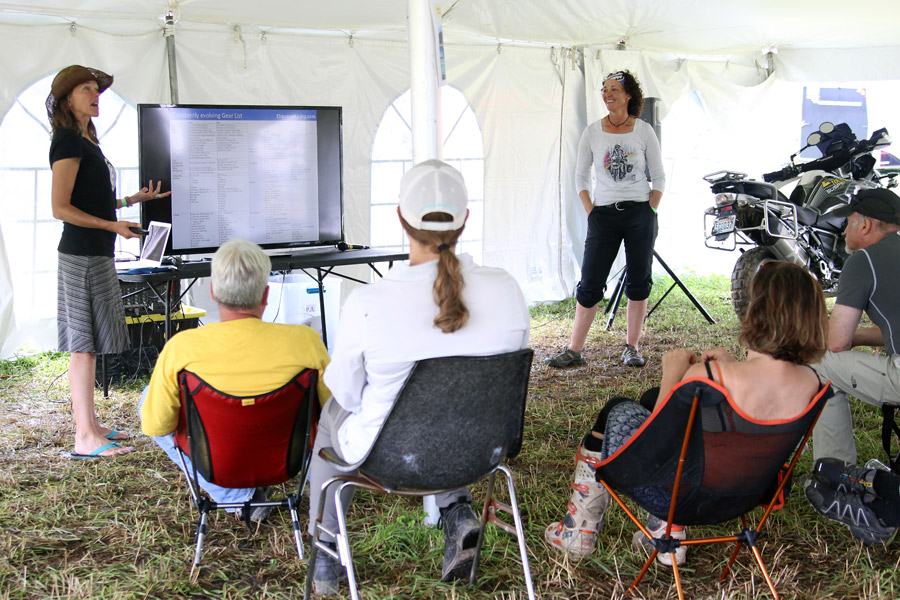 Final Challenge Course
was transformed into
Touratech
's first (and hopefully annual) footrace. Contestants sprinted up a steep, muddy hill, leaping over obstacles and each other to reach trophies at the top. This was serious business for Beau Sullivan, the "Moto Fly Fisherman" (wearing mud as war paint), who dodged and weaved his way to winning the first place
Challenge Course
trophy. The runner up, Sergio Lisboa, vaulted over an opponent to receive the second largest trophy. Humbly disappointed as his excitement was shut down after realizing he'd won the
SheADV.com Trophy
.
The hilarious contest was set up for a second run and contestants lined up to race for
Touratech
credit vouchers and a grand prize—an awesome Touratech Aventuro Carbon Helmet. The event organizers did a wonderful job turning a messy situation into a fun and engaging event, and continued with a prize ceremony featuring a variety of prizes.
Touratech Rally East
was a success. The event gives us an opportunity to reconnect with old friends and make new ones. Thanks to the vendors and guest speakers who made the trip—
Mosko Moto
,
Nitron Shocks
,
KTM
,
Jimmy Lewis Riding School
,
SheADV.com
,
Backcountry Discovery Routes
(
BDR
),
SilverSteed Adventures
,
Motoscreenz
,
Magura USA
,
Brigitte Lacombe Racing
,
Cinebike
,
Pine Barrens Adventure Camp Riding School
, and
Purple Lizard Maps
. A special thanks to everyone who stopped by the
ADVMoto
booth to renew subscriptions, grab some swag, or just to hang out with us. The venue was beautiful, the riding was fun, but the crowd at
Touratech Rally East
is what keeps us coming back every year, and we can't wait to see you at the next event!
Touratech-USA.com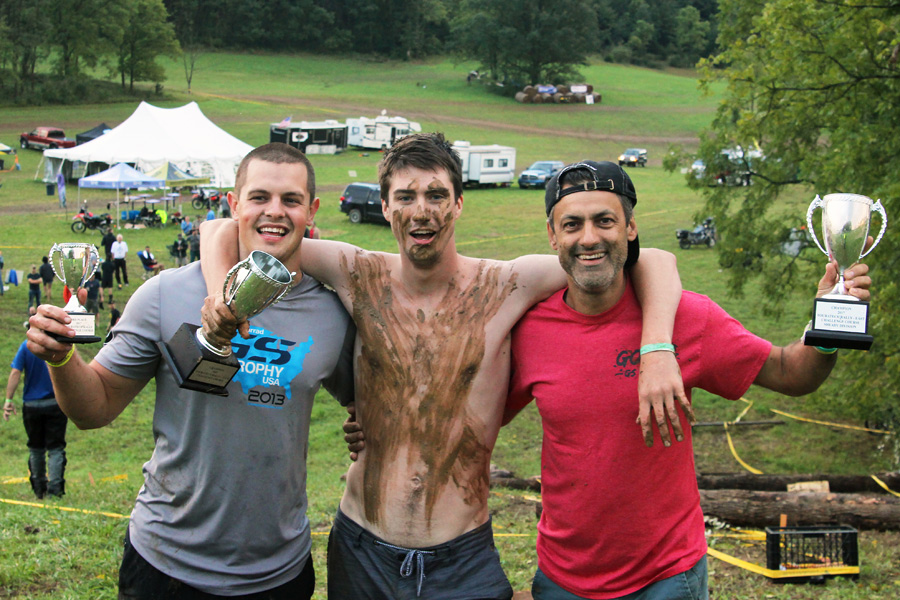 Tags: event report, rally, touratech