Wine, Dine, and Rally!
We got a call from Ned Suesse a few months before the start of the FIM Sardegna Rally. It was essentially an interview during which we discussed everything from social media to motorsports, before being asked if we'd like to join him in Italy. All we heard were the words "Italy," "motorcycle," and "race." And that's all it took.
Sardegna is, for those as unaware as we were, an island off the west coast of Italy. It's considerably larger than Corsica, although it receives far less notoriety. A summer vacation spot for Italians, Sardegna's landscape is a mix of Arizona desert, California coast and Colorado mountains. Beautiful is an understatement, and with its rich geographic diversity, Sardegna makes a great place for a rally race—in our case, the 2015 FIM Sardegna Rally, one of many stops on the World Championship circuit—the last of which is the infamous Dakar Rally.
Our call concluded with a conversation about a winery called "If You See Kay." Having supported Ned's efforts while racing the Dakar, they'd agreed to fund him in Sardegna, where he would be one of just two Americans participating. Why would a wine company want to sponsor a motorcycle racer? Traditional advertising is dead. Spots in magazines, banner ads on websites or boosted Facebook posts only go so far. So why not spend some of your marketing budget supporting something awesome? And look, here we are talking about wine when we should be talking about racing. Now that's what I call ROI.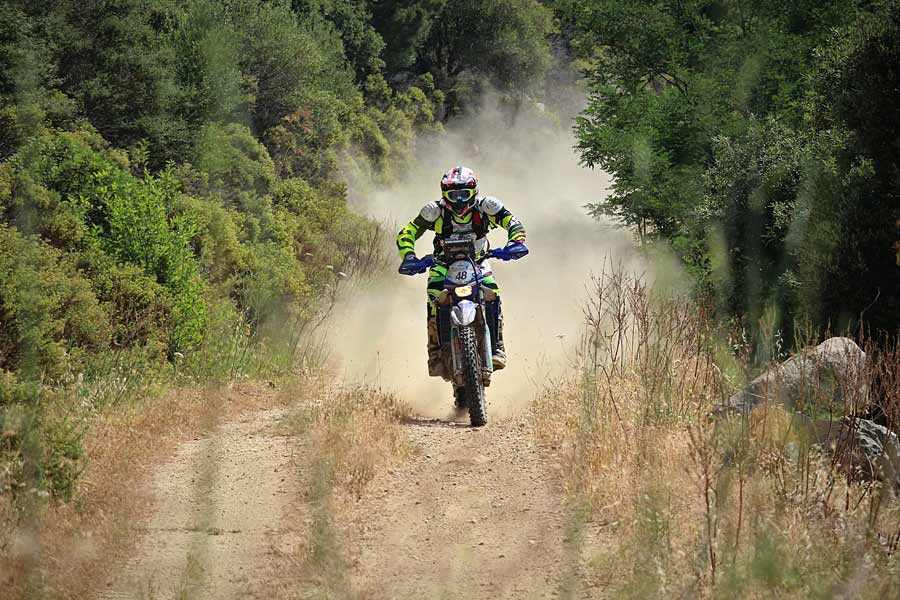 Arriving in Sardegna, a short flight from Rome, we were greeted by Ned and the rest of the "If You See Kay" rally team, including serious go-fast-guy Scott Bright, his wife Cindy, and a young Italian rally racer and two-time Dakar veteran, Manuel Lucchese (also a fast fella). A few days later we also met Dave Peckham from Rally Management Services. A damn fine team.
Ned had rented a house on the south coast of Sardegna, about a half hour from where the rally would start. We spent the next few days prepping the bikes, swimming in the sea, and generally enjoying the down time before things got serious. The race, which would last six days and cover hundreds of miles from one end of the island to the other, would be a brutal test of man, machine and everyone else involved.
The first day of the rally featured a Prologue, sending racers around a local motocross track to determine the starting order. The following day saw the participants depart their hotels at 8:00 a.m., riding more than 100km in the first Special Stage. As luck and good friends would have it, we managed to snag some seats aboard a Land Cruiser piloted by two veteran rally journalists. Without their help we would have been in bad shape, as Sardegna is not an easy place to navigate, nor was our rental wagon worthy of its roads. The Land Cruiser allowed us to crawl our way into places we could have only imagined, edging cliff sides and sliding down steep embankments looking for the best place to shoot photos. Our adventure in the truck was epic, but we'll save that for another story.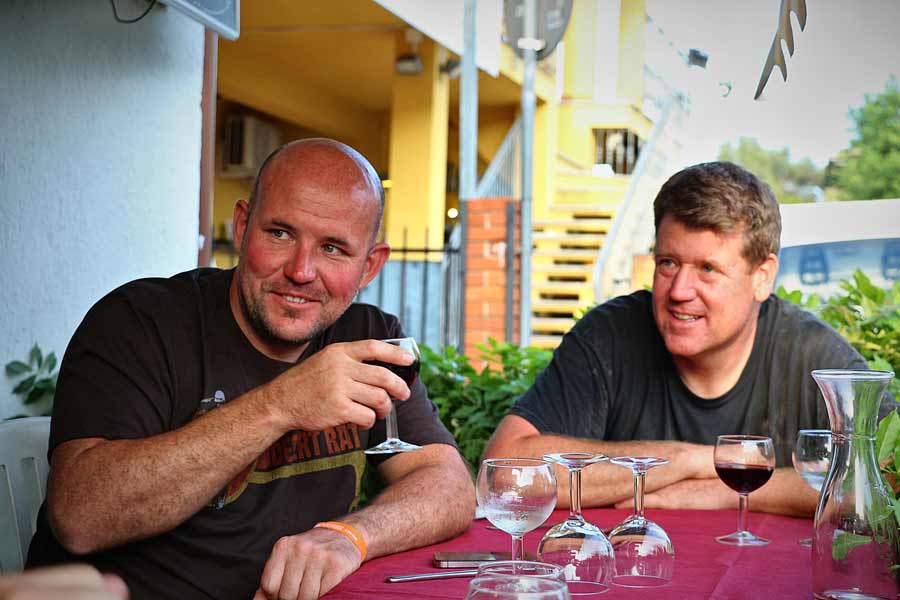 As the rally progressed, day by day, Stage after Special Stage, something became increasingly apparent: The hashtag we'd created to curate our collection of images from the event (#WineDineRally) was right on the money. We stayed at four-star hotels across the island, all of which had been arranged by Bike Village, the Italian rally organization. We ate fire roasted pig at long tables in the courtyard of an ancient monastery, and soaked up the views from our room high above the Is Molas Golf Resort. At the end of each day, we watched the racers tirelessly prepare their road books for the next Stage—highlighters of varying colors strewn across the dinner tables. Oh, and we drank wine… lots of it!

https://www.youtube.com/watch?v=d1rN8l_mgJc
The race concluded in San Teodora, a small ocean-front town on the east side of the island. After six days, all of which featured a variety of terrain, an abundance of elevation, and as Scott described them "turns that could kill you," it was a young KTM pilot, Matthias Walkner, who took home the trophy. As for us, Manuel finished 16th, Scott a solid 22nd, and Ned rounded out the effort with an ever consistent 29th place finish.
How do you describe an experience like this? Words fail me. Italy, in particular Sardegna, is a beautiful place filled with beautiful people and fantastic food. The ocean sparkles a cool blue, and the tree-lined trails provoke your inner dirt biker to explore. But the trip home—like any from Italy—was a sad one. Neduro.com | RallyRaid.net
Kyra Sacdalan and Justin Coffey are the co-founders of WESTx1000.com, a multimedia company creating unique editorial and photographic content for the adventure motorcycle community. Follow them on Instagram: @WESTx1000