2 Sun Adventure Rally 2016
The 2 Sun Adventure, Dual Sport and Adventure Bike Event is a two day non-competitive, self-guided motorcycle rally. There are 100 miles of riding each day through desert (Saguaro cactus, Ocotillos, Prickly pear, etc.) and 7,000 foot mountains around the Tucson area. The trails are a combination of dirt roads, jeep trails, and winding pavement with plenty of challenges and photo opportunities. The best riding in Tucson is from September through April. The weather is perfect. Riders from colder areas may be socked in by snow and cold, but riders in Tucson look forward to this cooler time of year. You might say the winter is our primary riding season. That's why the 2 Sun Adventure Rally on March 19th & 20th is so appealing.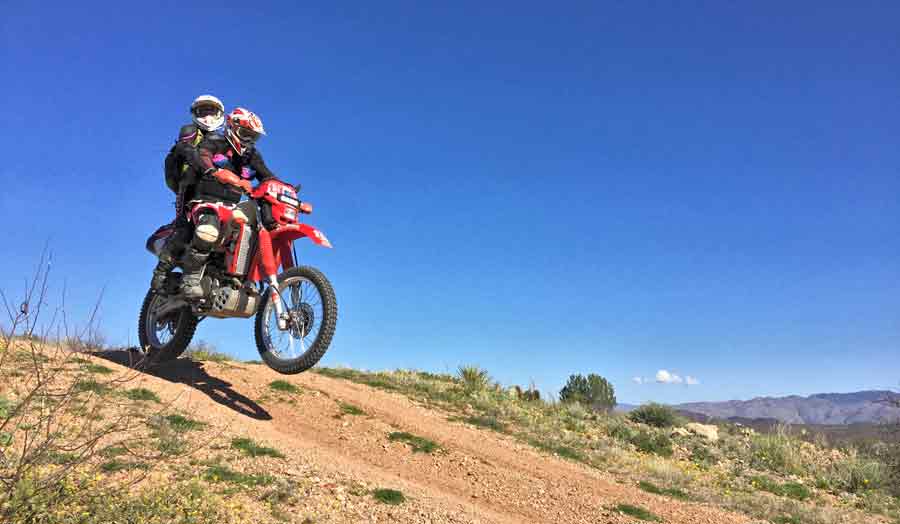 I have been riding in the desert, mountains, canyons, and washes around Tucson for over 20 years. I love the desert, the solitude, the scenery, and even the rocks and sand. There is a lot of public land here within minutes from my home and with a Dual Sport (street legal dirt bike) I can access these places without even having to trailer my bike. I am fortunate enough to have a son who enjoys riding dirt bikes with me. We have ridden all around the state of Arizona and especially enjoyed the experience of riding with groups of dirt bikers in AMA sanctioned Dual Sport events. These Dual Sport events are very similar to racing an Enduro: you ride with large groups of people on preselected routes, follow GPS or roll charts, and sit down together after the ride to enjoy a meal and discuss the day's excitement and challenges. The main difference is there is no pressure to win a race. For details go to TucsonDualSport.com
The rally offers three levels of riding to choose from. Each group includes some dirt roads and pavement with the following differences:
A – Expert. Toughest route with rough jeep trails.
B – Intermediate. Moderate jeep trails. Expert for Adventure riders.
C – Novice & Big Adventure bike friendly. Maintained dirt roads, some short jeep trails, and pavement.
All groups converge for lunch and there is a banquet Saturday night. There will be plenty of opportunities to socialize with fellow riders from across the United States. The rally is not a race; it is a self-guided adventure. Tucson Dual Sport hosts the event and provides GPS routes and Roll charts to participants.