Event Report: The Flying Monkey Adventure Rally 2017
Autumn, my favorite time of year. The air turns crisp, we gear up and head off into the backcountry to explore roads and trails adorned with beautiful hues of orange, red and gold.
When seeking spots to appreciate the stunning colors of the changing fall foliage, several American locales traditionally come to mind: Upstate New York, the Great Smoky Mountains, the Missouri Ozarks, and Southwestern Utah.
Wait… what? Southwestern Utah? Utah is typically known as cowboy country. Red dirt desert country. Vast, monument-strewn landscapes sprawl as far as the eye can see, interrupted only by the occasional deep canyon carved by any number of untamed rivers. Utah is an adventure rider's paradise—epic vistas, massive buttes, and rock formations that could be conceived of only by the great architect in the sky.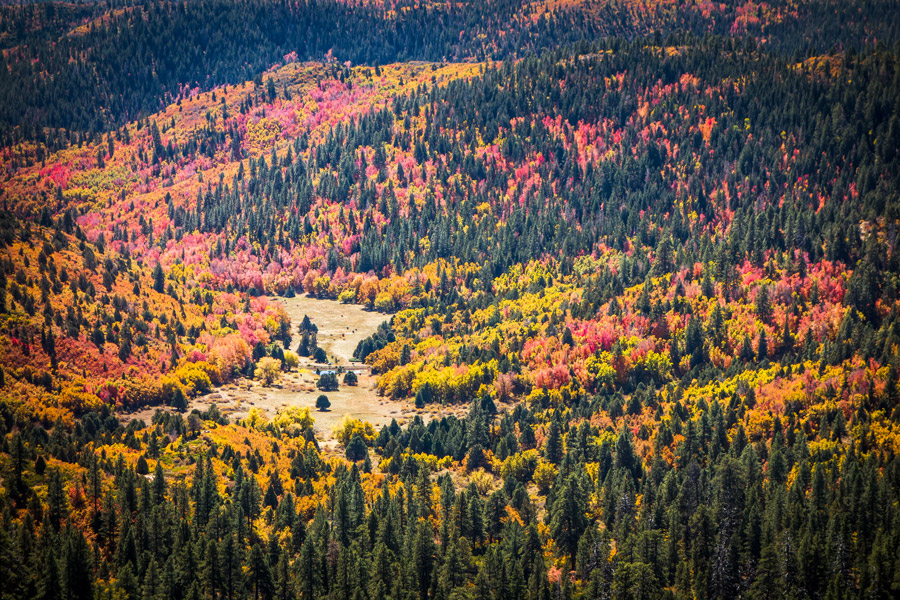 But beautiful fall colors emblazoning the mountain landscape—this was one of many pleasant and unexpected takeaways from attending the incredible
Flying Monkey Adventure Rally
(
FMAR
) outside of Zion National Park in Southwest Utah. The mountains and forests are covered in gorgeous autumn foliage!
In its seventh year now, the
Flying Monkey Adventure Rally
is the brainchild of Jesse Kimball, a youthful, fun, and passionate adventure rider who really knows Southern Utah and really knows how to put on a great event.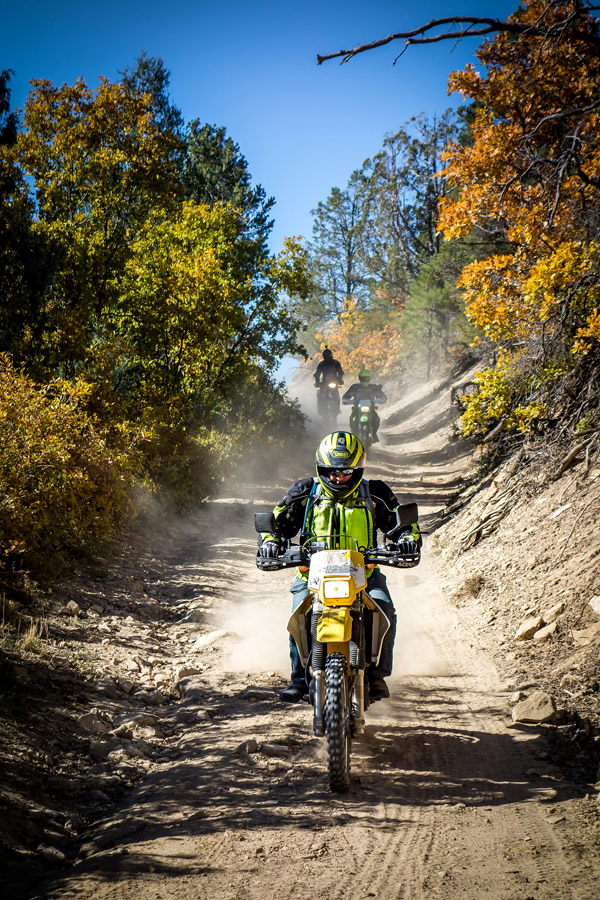 The rally's name was inspired by Hurricane Mesa, AKA "Flying Monkey Mesa," a huge land formation overlooking the town of Virgin, Utah. Hurricane Mesa got its nickname from the U.S. Air Force when they tested supersonic ejection seats there in the 1950s. But the
Flying Monkey Adventure Rally
is actually based at the Zion Ponderosa Ranch, a rustic resort on the eastern side of Zion National Park. Jesse says he originally wanted the rally to take place near Hurricane Mesa but once he discovered Zion Ponderosa Ranch, he couldn't pass it up. The ranch provides ample, comfortable camping with a clean, spacious bathroom facility and free hot showers. The ranch also offers cabins for rent (if sleeping outside is not your thing), a restaurant, a lodge selling essentials/snacks and a pool/jacuzzi for relaxing after a hard day on the trails.
Speaking of trails… they are really what the
Flying Monkey Adventure Rally
is all about. Jesse and his friends, including Lonny from
KLRDash
(
KLRDash.com
) and Tyler from
Everide
(
Everide.org
), have come up with some of the most epic rides through the Utah/Arizona backcountry that you can imagine, including routes to several different lookout points on the North Rim of the Grand Canyon. (If you are unfamiliar with the North Rim, it is far more rugged and remote than its southern counterpart.)
Each day there were at least three large group rides varying in difficulty, all of which included breathtaking scenery. Jesse also had his friend, Deb Marsolini, a professional cartographer with great knowledge of the Utah backcountry and a passion for dual sport riding, on site to provide custom GPS tracks for individuals and smaller groups that wanted to explore more technical terrain on their own. And, there were paved routes to stunning Bryce Canyon and Zion National Parks.
Though the
Flying Monkey Adventure Rally
started as a mostly
KLR
event, it developed over the years to include all bikes from all manufacturers, big or small. I felt welcomed and comfortable hitting some of the more rocky trails on my
1200GSA
with other riders on
Africa Twins
,
WR250R
s,
DRZ400
s, etc.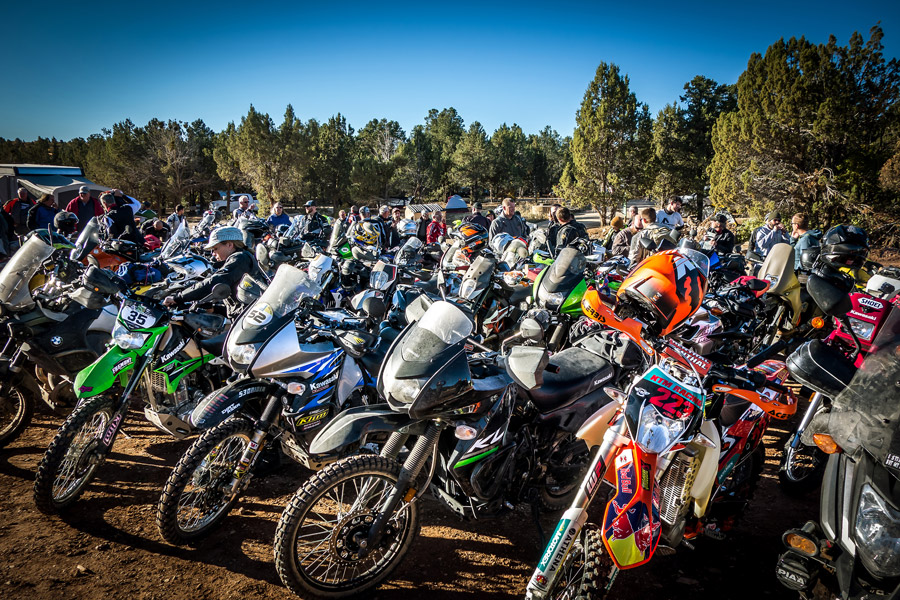 Friday the intermediate ride took us up some fun, rocky hill climbs and through stretches of deep sand up to Mammoth Cave in the Dixie National Forest. Formed by flowing lava, Mammoth Cave is one of the largest lava tubes in Utah. The mouth of the cave is wide and inviting to climb down in, take a look around, and grab some pictures. A few of us more adventurous explorers decided to shimmy through the small caged opening leading deeper into the cave and venture through the entire dark, quarter-mile passage to the other side. That was a lot of fun and very satisfying if you like to explore, but I don't recommend it to anyone who might have issues with claustrophobia.
At the end of the day on Friday,
Rocky Mountain ATV/MC
(
RockyMountainATVMC.com
) provided a massive shrimp boil for everyone in attendance. Piles of shrimp, vegetables, potatoes, corn on the cob… all to be enjoyed with a beer and conversation with fellow riders about their adventures during the day while watching some cool
Everide
videos projected onto a big screen.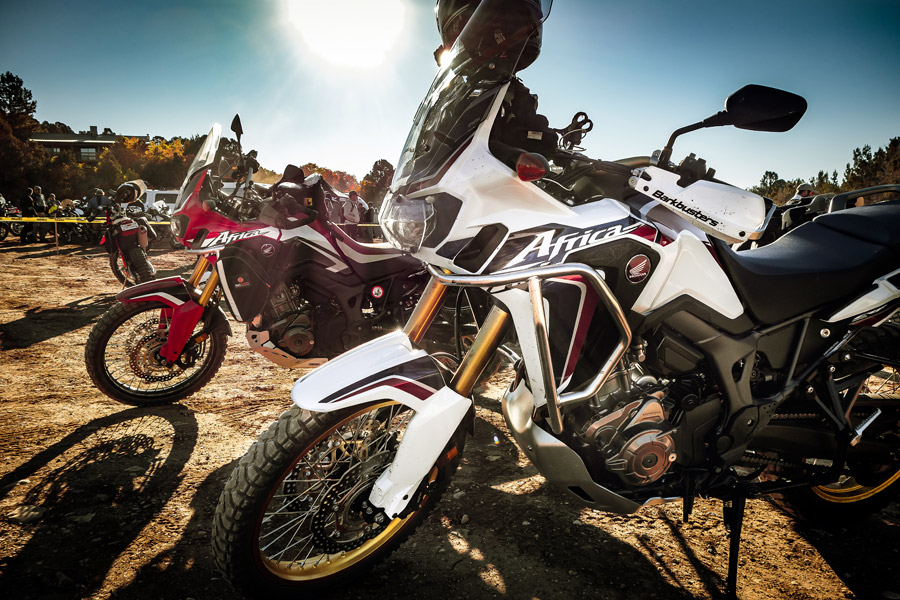 After that we all hit the hay, ready to rinse, repeat, and do it all again on Saturday. (If you're camping, make sure to bring plenty of layers/blankets/sleeping bags to keep you warm. October nights get plenty cold in Southern Utah.)
Saturday, we were up and ready to go at it again. I chose an intermediate group ride that took us down some dirt roads and into Arizona. Other riders chose easier routes into Zion National Park or more difficult single-track routes to a North Rim overlook called Crazy Jug Point. My group grabbed some sandwiches, headed over to the Indian Hollow Trail and had lunch overlooking the Grand Canyon. The views were spectacular. After that we hit some awesome paved twisties, making it back in time to enjoy the included, catered dinner from Zion Ponderosa Ranch while hoping to win one of the many raffle prizes provided by companies like
Butler Maps
,
Rev'It
and
Rigg Gear
.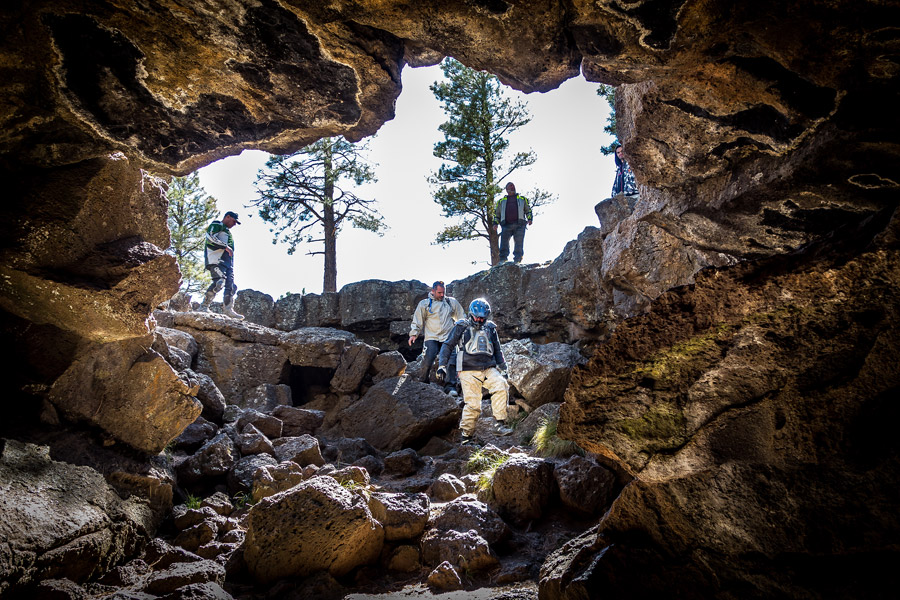 FMAR
attracts riders from all walks of life: women, men, families, young, old, beginners, and experts. Hundreds of riders rode or trailered in from Massachusetts, Arkansas, Colorado, Wisconsin… even from as far as Northern British Columbia and Belgium!
This is a can't-miss event. Wherever you are, next year do yourself a favor… take the week off… get out and see some fall foliage. But this time do it in one of adventure riding's premiere destinations, Southern Utah, at one of adventure riding's premiere events, the
Flying Monkey Adventure Rally
.
---
---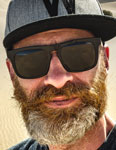 Stephen Gregory
is a veteran filmmaker/photographer from New York City's School of Visual Arts. Born and raised in Missouri, he has lived, worked, ridden and explored the country doing stupid stuff on his oil-cooled R1200GS Adventure. He now calls Southern California home.