Horizons Unlimited Indonesia: Adventure in Paradise
It was a melting pot of splendor, inspiration and excitement as presenters and participants gathered in one of the most beautiful tropical venues Horizons Unlimited (HU) has ever presented.
With event organizer Jeffrey Polnaja orchestrating, it was an
HU
like no other. Held at the surfing and diving paradise of Sumbawa Island, just east of Bali in Indonesia, it was a powerful celebration of diverse cultures, motorcycle travel, and the vision of world peace, demonstrating the role many overlanders can and do play in promoting global harmony.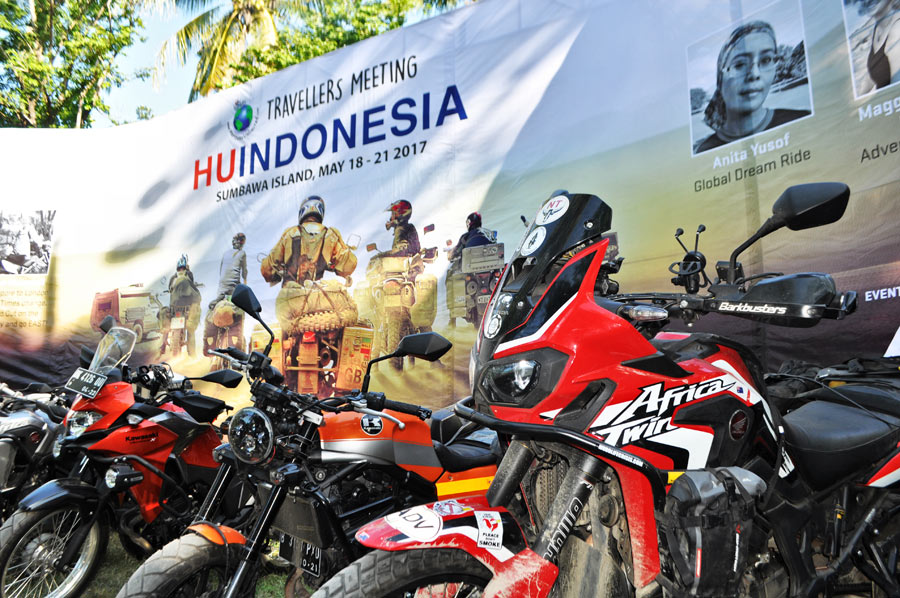 The intimacy of bare feet on warm sand, set against the backdrop of a tropical fantasy, brought the attendees together in a delicious sun-drenched atmosphere of brother- and sisterhood. The event rallied a huge number of volunteers who proudly helped with the infrastructure, while local riders from Sumbawa and neighboring islands came in support, as did lucky overlanders whose timing for crossing Indonesia on their world tours couldn't have been more perfect.
Speakers from far and wide filled out a stellar line-up, giving support to Jeffrey and founders of
Horizons Unlimited
, Grant and Susan Johnson. Jeffrey had just completed his nine-year ride around the planet, calling it the
Ride for Peace
. He teamed up with
Eiger
(an Indonesian adventure equipment manufacturer), who shared in the local fervor over Jeffrey being the first Indonesian to circumnavigate the planet via motorcycle. In celebration, Eiger presented a new adventure motorcycling suit line named after their world peace spokesperson.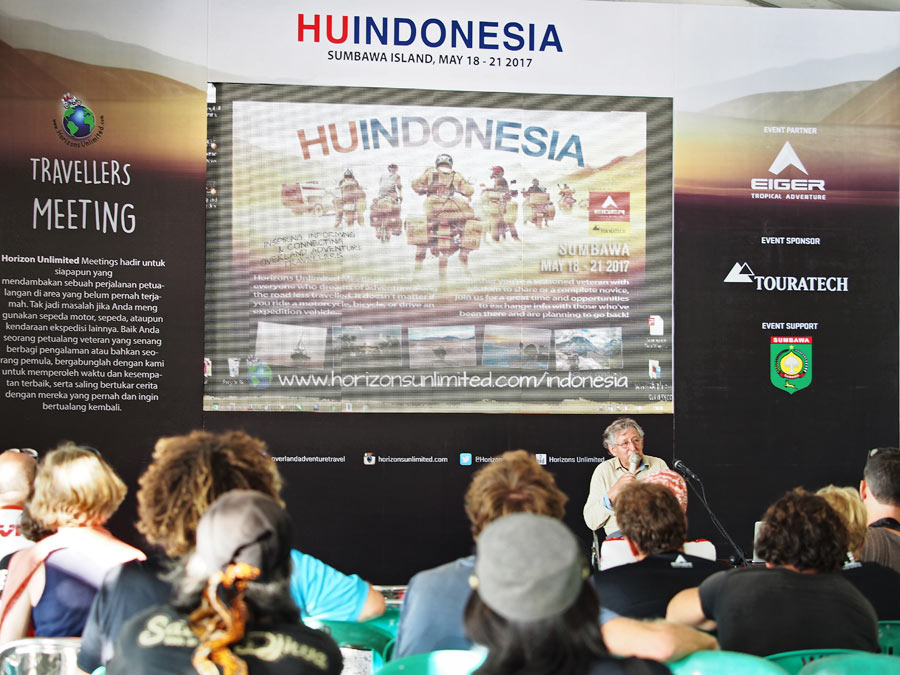 Multiple flags were unfurled, and inspirational quotes by legends such as Ted Simon dotted the event landscape amidst the calming palms and deep red hibiscus. Meanwhile, the entertaining glue that bound the gathering was the MC team of Eddy Brokoli and Mia Alexia, a dynamic celebrity duo who kept the event flowing seamlessly with their fun banter and quick wit.
Under the big top, views of the calm, lapping shores of the Kancana Beach lent the perfect backdrop for well-traveled speakers to paint stories of their overlanding masterpieces. The event line-up included: Ted Simon with insights of his
Jupiter's Travels
, Anita Yousef and her harrowing RTW solo, Steve Campbell and his Singapore-to-London adventure in '73, Mike and Shannon Mills in their very entertaining journey through Latin America, Norman and Maggie Magowan and their eye-popping U.K.-to-Indonesia tour, Jeffrey Polnaja's mesmerizing RTW
Ride for Peace
, and my own Africa and Egypt adventure in which I helped Lorraine Chittock film
Rallying for a Wild Life
, which followed three unsupported gals on bikes, including Tiffany Coates, through Eastern Africa in support of local wildlife, culture, and landscape.
The jubilation of global riders coming together in this beautiful location culminated in a great beach BBQ that boasted local seafood and cultural dishes to delight the senses. The warm buzz of conversations floated through the ocean air, punctuating the final evening with the feeling of a tight family. The following morning we departed unified and uplifted—a welcome reminder that there is beauty to be had in all corners of the world.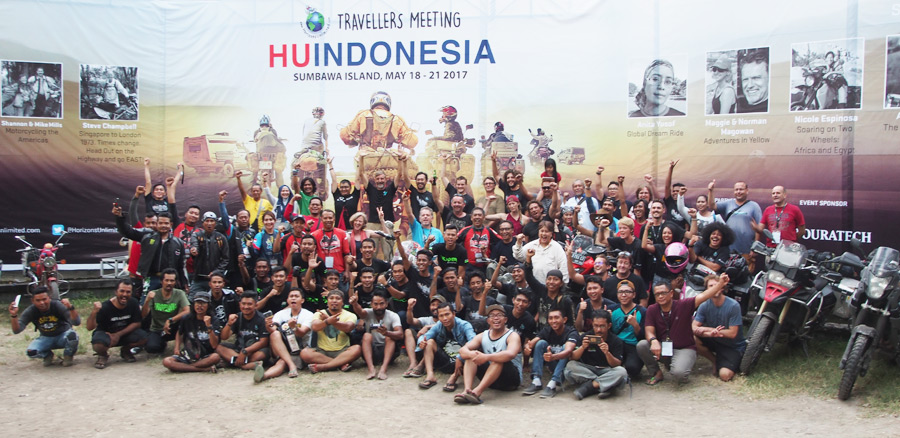 Nothing is Impossible:
Dedication to Jeffrey Polnaja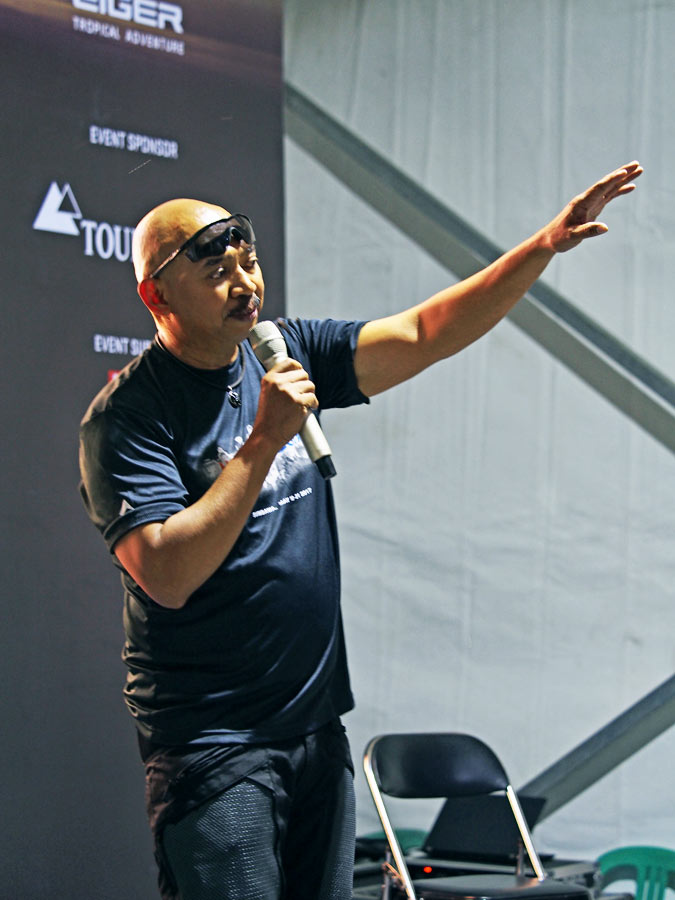 In the opening ceremonies of
HUIndonesia
's launch, it was important for Jeffrey to infuse Indonesia's culture into the rich experience. Enter H. Mahmud Abdullah, the Regent Deputy of Sumbawa, who called a group of recipients forward to accept the gift of the Sapu Alang, a traditional hat that he tied on each head personally. It was a gesture of the heart that was a symbol to greet recipients with open arms if and when they returned to this beautiful part of the world.
All felt the inclusion of this country, and the big success of this event, by the end of the third night. Everyone could feel the momentum rolling forward in a way that would become an inspirational template for other
HU
meetings around the world. Even founder Grant Johnson chimed in with huge support, "Jeffrey, you've done an amazing job. We're super pleased. I look forward to the Indonesia event becoming a model for others. We really want to be there next year."
And with that, we walk away with one of the most important pieces of wisdom derived from nine years of road travel around the world from a person whose journey quest is to help humanity, that attitude and mindset can overcome all odds. When in foreign countries that take us out of comfort zones and challenge us with unrecognizable languages, difficult terrain and weather, and breakdowns, what is the go-to wisdom in Jeffrey's kit that gets him through it all? That with positive thinking, gratitude, patience, and enthusiasm for life, nothing is impossible.
HorizonsUnlimited.com
|
EigerShop.com


---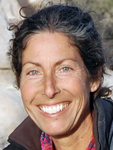 Living on the road on her
DRZ
has launched Nicole into projects of global travel, from raising awareness for animals in Eastern Africa in the film
Rallying for a Wild Life
, helping the
Good Care Orphanage
build a school for further education in Uganda, to spreading focus on peace in areas like Egypt and Indonesia. Traveling solo affords her the time and energy to document her road life journey for her
YouTube
channel (search for
Nicole Espinosa
).
Tags: indonesia, horizons unlimited