MotoVermont's Training Tour with Bill Dragoo
Adventure riding can be one of the few outlets allowing modern man or woman to truly feel free. But unless you have a knowledgeable friend with adventure riding experience, learning can be both expensive and dangerous. You wouldn't set off on any adventure without the proper gear, would you? With a sea of reviews available to help choose the right gear and motorcycle, the only part left is training.

MotoVermont is a motorcycle rental and tour company located in South Burlington, Vermont, just south of the Canadian border. Vermont's riding and terrain are among the most robust and diverse on the east coast and stack up well against any in the entire U.S. MotoVermont offers a variety of tours ranging from adventure sport touring into Ontario to full on dual-sport rides with plated dirt bikes. Eric Milano, owner and one of the tour guides, added training to his tours after noticing that lack of skills left a hole in some riders' preparation. Last June, I joined one of those training tours.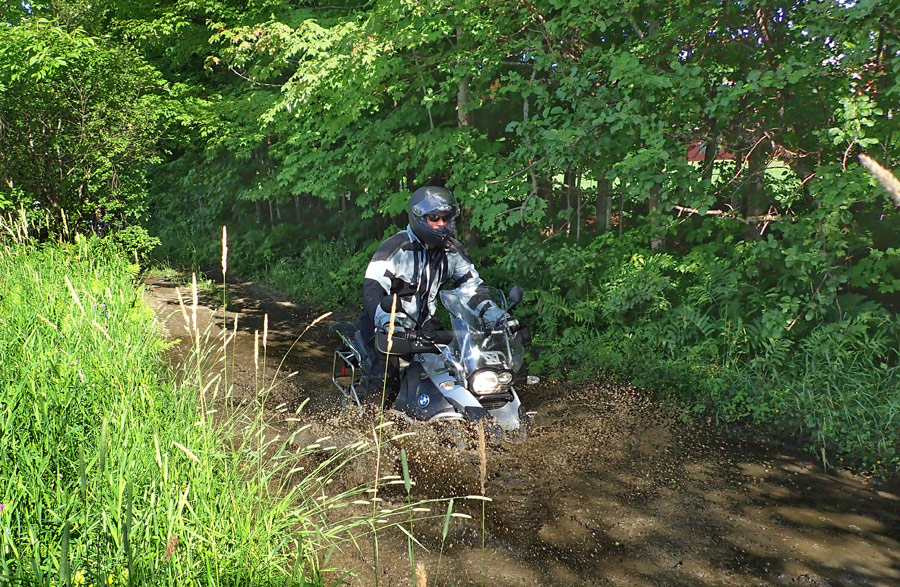 Rather than relying on an in-house coach, MotoVermont flew Bill Dragoo (BillDragoo.com) out to the Jay Peak Resort, located at the northern tip of Vermont. Bill's reputation usually precedes him, but if not I'll bring you up to speed. Although his list of accomplishments is much longer, Bill comes from an old-school motocross and trials bike background. In 2008 he applied his skills to a borrowed KTM 950, winning the RawHyde Adventure Rider's Challenge in Southern California. In 2010, this time on a BMW R1200GS, Bill placed second in the BMW GS Trophy qualifier and went on that year to compete in the International GS Trophy as part of a three-man team representing the U.S. against 12 other countries in South Africa. Learning from a master of this caliber is priceless.

Training during our tour consisted of two days of practicing skills and drills at different locations on the ski mountain followed by an off-site tour over local roads and trails. The techniques taught by Bill were shared with a gradual release of responsibility to the riders, and implemented in a safe and realistic manner. The way he explains and demonstrates before having students try each drill is well thought-out and extremely productive, building confidence and success. The combination of Bill's cool-calm, mentoring nature and the vast array of challenges over varied terrain on the mountain kept the energy and excitement up, even though we were traveling at less than 6 mph much of the time.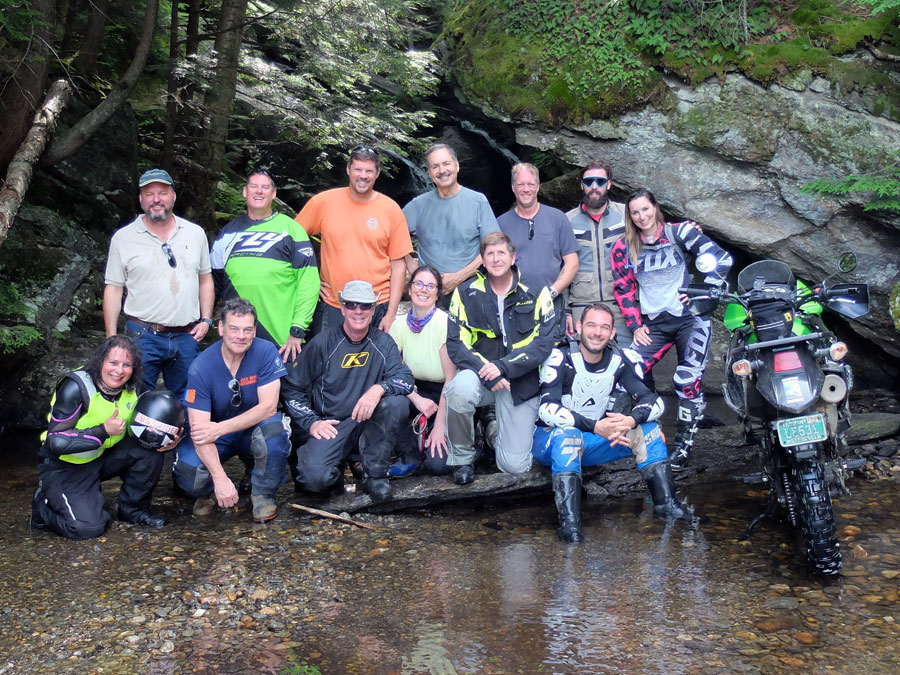 Things got real on Day 2 after lunch as the tour part of the training began. Going from the mountain to the surrounding trails, we got to apply our newly gained adventure riding skills to real life situations. Not only was it rewarding to practice our skills, but the lush Vermont landscape was a treat for the eyes and soul.

MotoVermont does all the routing for their tours. Eric began by mapping trails and roads for his own enjoyment. Later, he turned his passion for adventure riding and knowledge of the area into a business. That altruistic feel is part of every aspect of the experience. A refreshing bonus of MotoVermont's Training Tour is that it is all-inclusive, with most meals, lodging (deluxe accommodations at Jay Peak Resort with late check-out), and airport shuttle (if you need it) included. It's a breath of fresh Vermont air.

Should you find yourself looking for an adventure that includes professional training, make sure to bookmark MotoVermont.com to stay up-to-date on the 2018 Off-Road Training Tours. At $799 for either (excluding bike rental) it's the best farkle you can buy. If you are satisfied with your skills and only need a motorcycle, a guide and/or a route to do your own ride, MotoVermont will be more than happy to set you up for your next northeast adventure.


---
Bill Dragoo's instructors will be at the
2017 Overland Expo East
at the Biltmore Estate in Asheville, NC, Sept 29th - Oct.1st. If you're planning to attend the event, be sure to check them out to pick the brains of some of the best in the business.
MotoVermont
will be announcing an exciting new tour for 2018, and
ADVMoto
got to help them scout the route! Check out our Ride Report in the November/December issue of
Adventure Motorcycle Magazine
and stay tuned for an online photo gallery and promo video, coming soon! Note - this one's not for the faint of heart!
MotoVermont.com


Tags: bill dragoo, training, tour, motovermont