Monster Energy Amageza Rally
Article Index
Page 1 of 2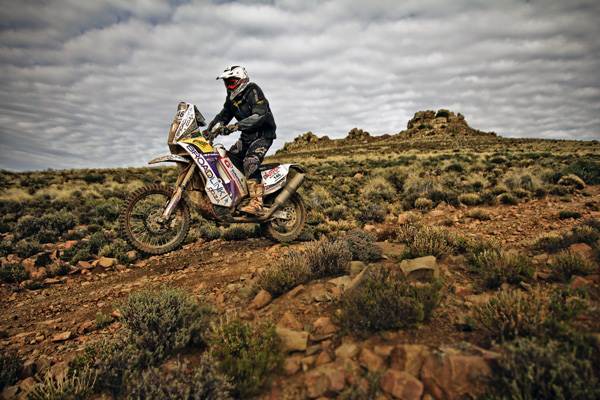 The Monster Energy 2012 Amageza Rally, powered by KTM Cape Town and Leatt Corporation, brought 70 dual-sport motorcyclists from across Africa, and abroad, to Sutherland (South Africa) from April 27 to April 29.
Similar in style to the Dakar and Baja 1000, the Amageza Rally consists of numerous "liaison" and "special" legs that require a high level of navigation skill and endurance. Riding road-legal, dual-sport motorbikes, from 450ccs and up, participants are required to navigate their way through a combination of public roads and vast sections of grueling off-road virgin territory using rally road books and GPS waypoints. Clearly, it's no coincidence that "amageza" means "crazy" in Xhosa (a local South African language).
Managing Director, Alexander Nel, explains where it all started: "The Amageza was born out of my dream to compete on a motorcycle in an event similar to the Dakar Rally. I would like the Amageza to be a vehicle to build dual-sport motorcycling from being a hobby to being a competitive sport—to boost the local rally accessory manufacturers, and provide a financial boost to the towns we travel through."
2012 marks the Amageza Rally's second year. "We've attempted to develop a unique motorcycle event that delivers local and international off-road rally enthusiasts an unforgettable experience—high on African thrills and low on costs. In addition, our media team creates multi-layered exposure for our kind sponsors: Monster Energy, KTM Cape Town and Leatt Corporation—providing wonderful value for all concerned," said Marketing Director, Wayne Harrison.
KTM Cape Town Assistant Manager, Charl Steyn, participated on the new affordable 690 Oryx Rally bike, which has created a new off-road motorcycle segment within KTM. The bike is just as comfortable tackling technical sections, as it is cruising long open roads. "We have developed the KTM690 Oryx, which is basically the 690 Enduro R with extra fuel tanks and a rally fairing kit… it can ride a greater distance and has a more rally type feel to it. Great piece of machinery… better performance, better suspension—it's doing really well—comfortable ride; and it goes over 500 kilos on full tanks, which is great," said Steyn.
With sponsors of this caliber, the rally is growing by leaps and bounds. Monster Energy's Head of Marketing for the Western and Eastern Cape, Greg Miller, explains their involvement with the event. "We're stoked to be associated with the Monster Energy Amageza Rally for 2012. We have been involved with athletes and teams competing at the Dakar this past year with the Monster Energy MINI team winning the Dakar—so this really ties in with what we're doing overseas and works great for South Africa."
Since 2011's one-day event, the Monster Energy Amageza Rally more than doubled its participants. "Starting small last year with only 25 entrants, it proved that there were like-minded individuals. This year a multi-day event was tested with 50 entrants, that escalated to 70," said Alexander Nel. Darryl Curtis, who came 22nd in this year's Dakar and recently won the 2012 Marrakech Rally, was among the entrants. "This is the first time that I'm here at the Amageza Rally, just came back from Dakar 2012. Going to the Dakar for the first time was quite a big learning curve—it's all about the road book; and that's what I like about the Amageza—they have developed a road book for the guys who want to go out and do their first Dakar—they can get a little bit of experience and find out what the Dakar is all about," said Curtis.
Known as "the gateway to the universe," Sutherland proved to be the perfect location—with a dramatically varied terrain pushing riders to their limits. About 700km of mountain trails, high-speed gravel roads and rocky, washed-out farm roads were covered over two days, which offered a spine-tingling gateway to adventurist heaven. But, aside from the terrain, Sutherland also offered the Amageza crowd true small-town hospitality. The police were involved with maintaining security and the school made its sport premises and hostels available, which were used for the bivouac, parc fermé (closed park area for a race), crew accommodation, sit-down meals and briefings. In addition to this, the local farmers were more than willing to open their private ground to the organizers to work out the route.
Riders who could not make one of the national pre-qualifying events had the opportunity to show the officials what they are made of during the final qualifier early Friday morning. The route turned out to be quite challenging with Thursday's rain transforming dry riverbeds into deep crossings that got riders wetter than expected.