Event Report: March Moto Madness USA 2018
It's madness… with motos… in March… and it's been a tradition for more than a decade. Last year, the weather treated us so nicely with sunny days in the 60s that this year we had to pay the price in frigid temperatures with snow at upper elevations. You better believe it didn't stop the off-road and adventure crowd from coming out for a big show in southeast Tennessee. Frost, rain, sun, wind, snow, stuck bikes, drowned engines, water crossings, hill climbs, singletrack, barrel racing, a giant bonfire… almost anything was available at this year's
March Moto Madness
.
This is what's known as the
Mother Rally
for the
March Moto Madness Worldwide Adventure Rally
series of events. Since 2006, committed off-road and adventure riders have taken to the hills of southeast Tennessee for full days of riding between nights around bonfires and fun campground activities.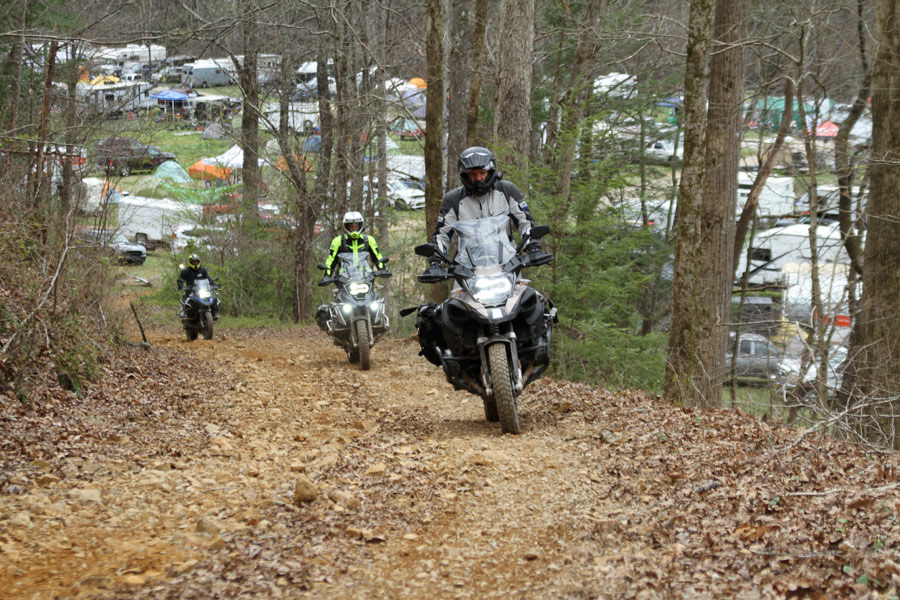 Those who've previously attended the
MMM Mother Rally
know it's not just about the great riding nearby, the fresh-cooked breakfasts and dinners, the bonfire, or the door prizes. The playful Bike Limbo, rowdy Barrel Races, the Hill Klim (climb, get it?), Trials Challenge and Slow Race are all opportunities for competitors and armchair specialists alike to gather for a show. The mud pits and sloppy conditions didn't fail to entertain, and the wranglers did an excellent job of getting competitors out of trouble when needed. Small, medium and big bike competitors typically run similar but different courses and they're all completely acceptable to run what ya brung. Seriously, from an
R1200GS
to a
300XC-W
, to a
Grom
to a
Harley
, it's all fair game. In fact, if you brought a
Harley
with the
Hugo Moto
conversion kit, you'd be in luck because that's exactly what won the big bike Hill Klim challenge!
As if there weren't enough activities around camp, the organizers put in still more effort to provide all sorts of riding options in the surrounding area. A variety of rides were available, tailored for twisty paved mountain roads or knobbies-only singletrack and everything in between. There were also guided rides for those who don't want to follow a GPS or a turn-by-turn printout and a map.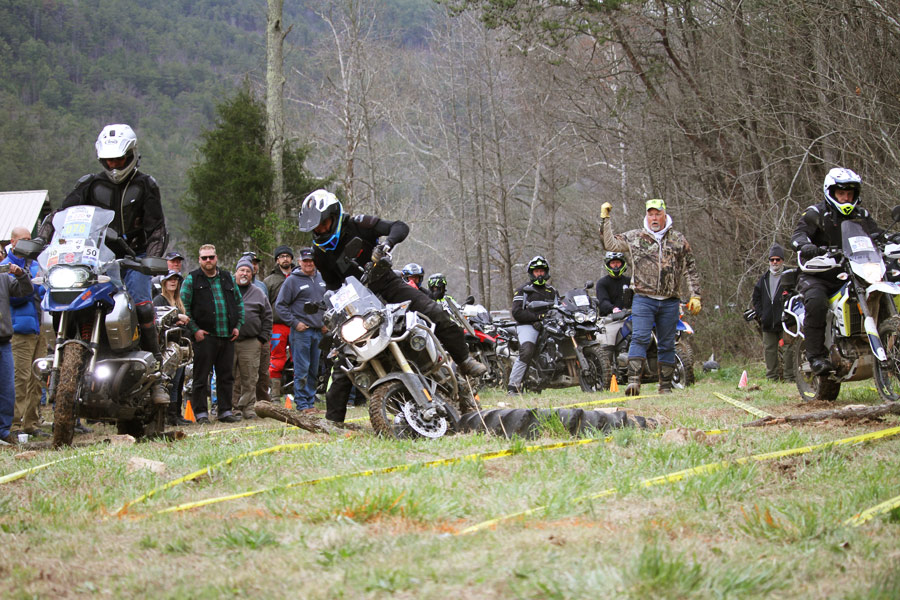 A solid group of us from Michigan had just completed the annual ride down Trail 82, one of the nearby singletrack options that's still wide enough for big bikes. During the short section we helped a stuck
R1200GS
and a
KLR
that needed an extra push. Throughout the day, riders would find themselves facing challenges and needing a hand, or in the position to lend a hand for those in need. Exiting the singletrack and looking to head to Trail 81, we stopped to check GPSes and take appetites into consideration. There we met Dennis, who had been following his turn-by-turn printout and a big paper map all morning. Being his first time at
March Moto Madness
, he asked if he could join our group. After a quick once-over and superficial judgement of his well-used riding equipment and loved
KTM 625
, I said it'd be no problem. I hoped I was right.
When our group split up for lunch and headed for
Flip Flop Burgers
on the Hiwassee River, Dennis, my friend Bruno and I opted to hop back on the trails instead. We inhaled some delicious pulled pork sandwiches and compared Dennis's map to our GPS routes. The rest of our day was spent riding the singletracks and messing around on the twisty gravel mountain roads. Dennis proved to be a very competent rider who knew how to have a good time yet stay within his limits, no doubt a byproduct of his background racing mountain bikes.
That's the thing about
March Moto Madness
and off-road adventure rallies in general. The point is to join like-minded riders looking for a fun time, whether you've come as a solo rider or with a big group. Imagine this: You'll make new friends, hang out with old ones, discover new riding spots, or revisit old areas to see how they've changed.
March Moto Madness
should be on your calendar not as a one-time event, but as a yearly tradition.
Catch the rest of the story in the July/August 2018 Issue of Adventure Motorcycle Magazine!
{
youtube
}
ii4titqPjWI
{/
youtube
}
" frameborder="0" allow="autoplay; encrypted-media" allowfullscreen="allowfullscreen">