Making the Easy Things Hard
We frequently hear that "rider training is one of the best investments anyone can make." But I imagine that, like me, many riders ignore this advice. Reasons vary from being turned off by the cost, a preferred set of shiny new panniers, or scoffing at the time commitment or distance to a training class. It took me four years of riding to get myself to an off-road training class, and I can now confidently say I should have done it years ago.
I was recently given the opportunity to attend the
Intermediate Adventure Rider Training
at the
Touratech DirtDaze Rally
in North Haverhill, NH, an abbreviated version of the
Level 2 DART (Dragoo Adventure Rider Training)
curriculum. Coaching the training were Ben Dragoo and
SHEADV's
Shalmarie Wilson. Normally when attending a full two-day
DART
class, the
Level 1
would be a prerequisite to
Level 2
training. Had I been a little wiser, I would have taken both
Beginner
and
Intermediate
classes to get the most out of the day.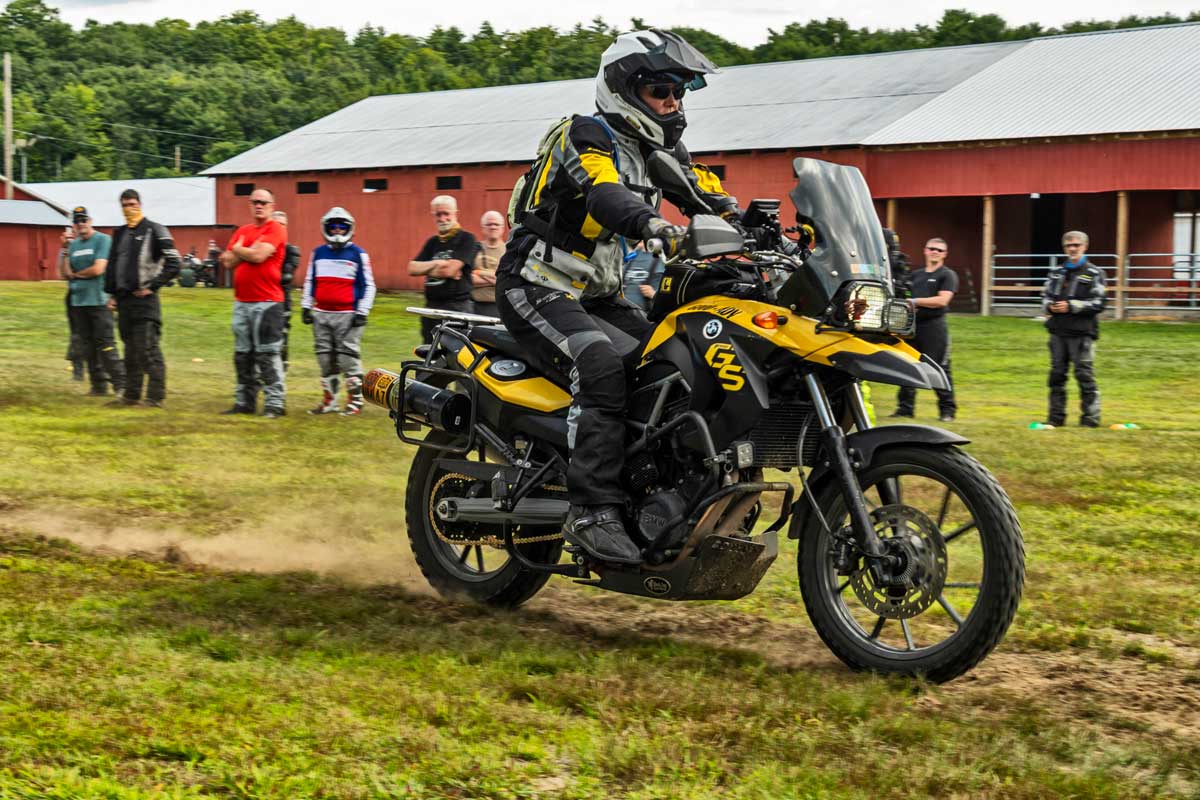 To kick off the class, we started with loose surface braking. Shalmarie demonstrated the technique with ABS on, rear brake only with ABS off, and then front and rear with ABS off. After the first pass with ABS on, we were instructed to turn both ABS and traction control off for the remainder of the class. My first two passes went without issue, but when it came to incorporating the front brake, things went a little sideways. I gave it a little too much front brake without enough finesse and tucked it in. Unfortunately, I didn't have time to make a fourth pass as the class needed to move to the next stage. However, this is one of the easier and safer drills to practice on one's own in a yard, field, or gravel lot.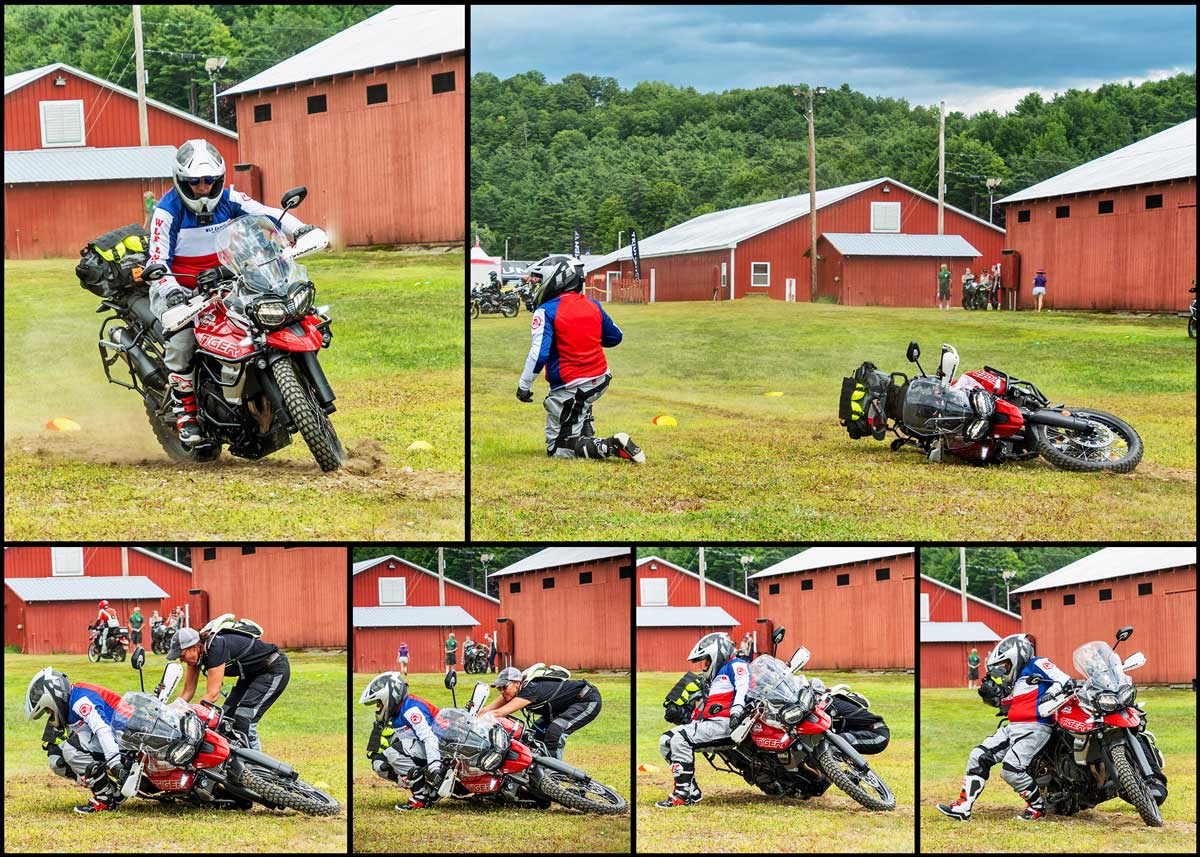 After the braking exercise came the hardest part of the day for me—slow-speed maneuvering. Ben prefaced these exercises with a quote from his dad, Bill Dragoo, "We make the easy things hard to make the hard things easier." Once again a three-stage exercise, Ben demonstrated a slow slalom with a dab at each cone, followed by a dab and a circle at each cone, and lastly a stop-dab-circle at each cone. This exercise heavily draws on counterweighting practice from the
Beginner
session I had not attended. I'm also short enough that I generally avoid dabbing at all costs and, when I do, I wouldn't consider things to be "slow" or "controlled." I gave it my best but was worn out after a couple of bike drops and a few close calls.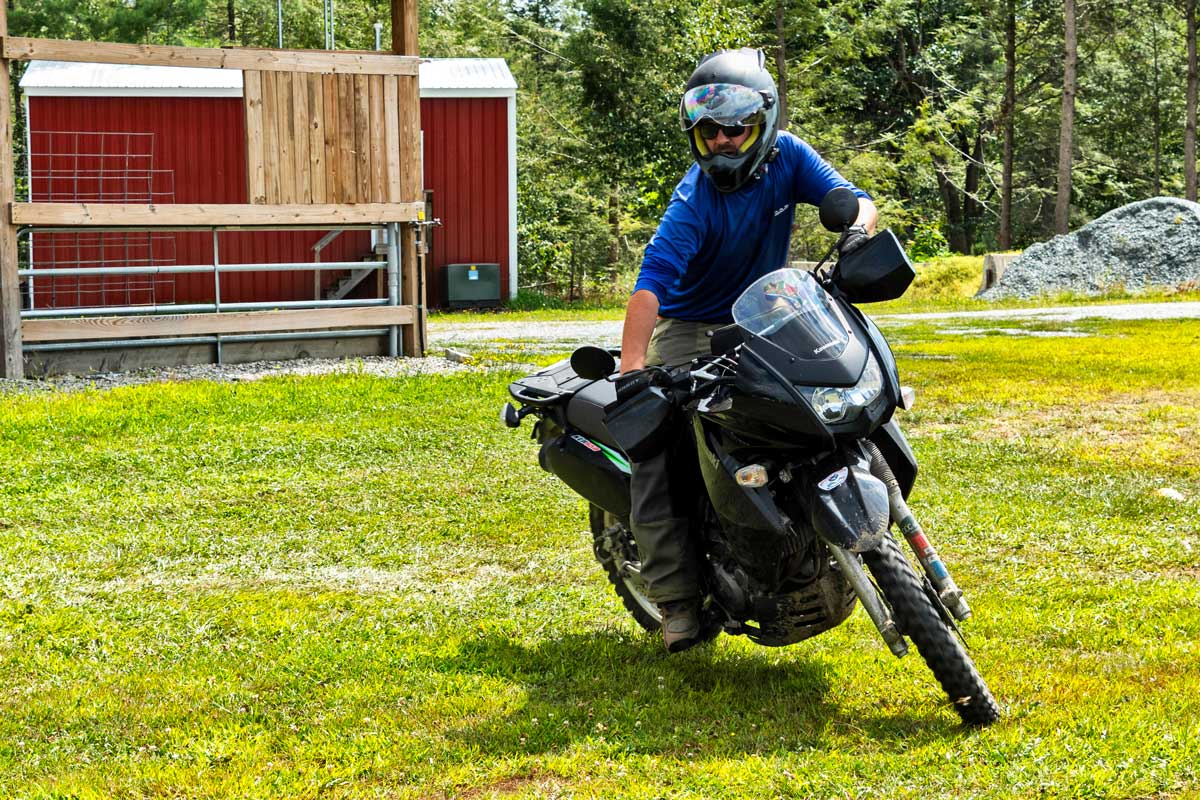 A needed break gave everyone time to catch their breath, a drink, and collect themselves before the exercises moved from a mostly level surface to one of the challenge courses set up for DirtDaze. During the break Ben brought up another good point: how important physical fitness is to the riding we enjoy, and I wasn't the only rider who would have benefited from a little more regular cardio.
Up next was practice starting on a grassy hill. Instead of the "more throttle is better" approach, we practiced a more controlled methodology. Release the clutch just enough to hold the bike, then move back and forth a little to feel the friction zone and build momentum, then engage smoothly, stand up on the pegs, and go up the hill. This exercise wasn't the most technically difficult of the day, but it was a nice warm-up after the break.
Like most fairgrounds, the
DirtDaze
location didn't come with dirt features for motorcycle training, so
DART
had built the large dirt and rock hill for the next two exercises.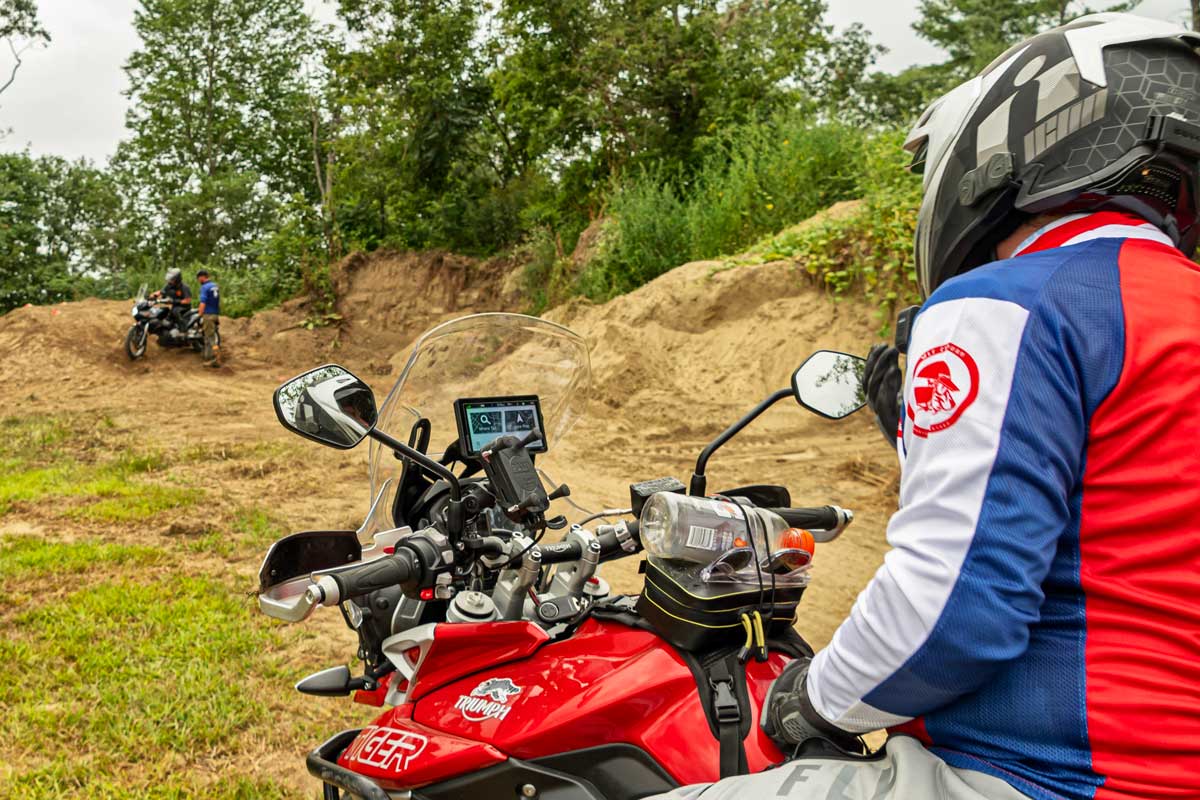 At one time or another, everyone has run into a scenario where they need to go back down a hill they started, either by way of running out of momentum on the way up, or realizing the need to stop and go back for other reasons. The
Hill Recovery Technique
will be your lord and savior when the time comes to use it. Before each rider started their run, we were asked to shout "CLUTCH OUT" as a reminder of the process. This technique involves shutting the engine off, using your clutch as your rear brake, and letting gravity do most of the work. A few turns of the handlebar lock to lock gets your front wheel pointed downhill again and ready to continue your ride.
Next, we approached the hill again for practice ascending and descending on loose surfaces. Descending loose, rocky slopes has turned me on my side before, so I was a little nervous about it. However, thanks to Shalmarie and Ben's coaching on body positioning and controlled application of front brake, I came away from the exercise with renewed confidence and additional knowledge for future rides.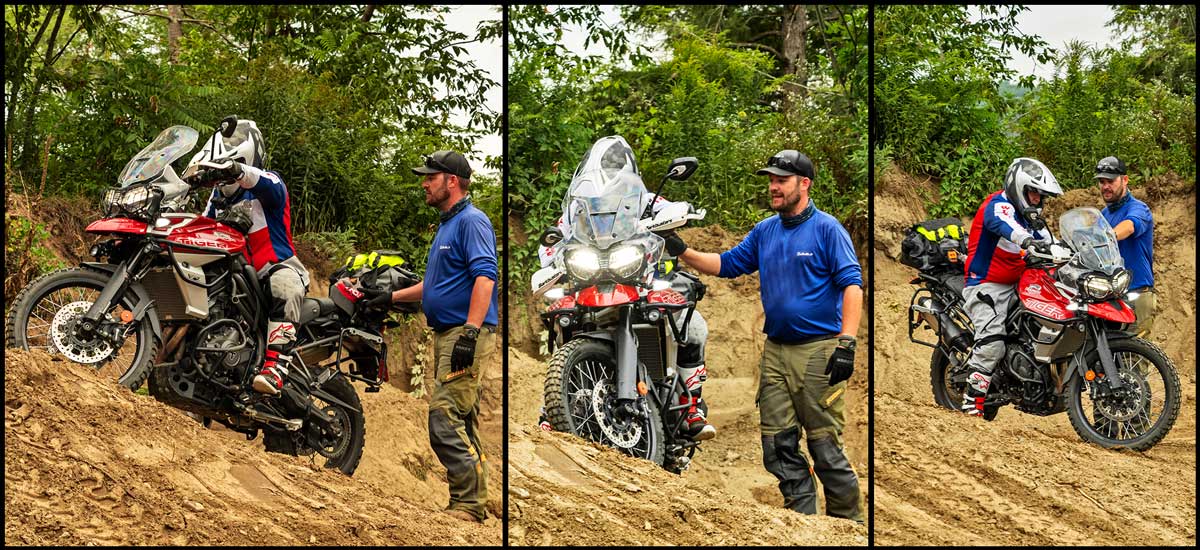 As the class wrapped up on the hill, we had time for a bonus exercise on towing. This exercise was prefaced with a fact: towing a motorcycle is neither safe, nor should it be an everyday occurrence. But if it's the only way to get a bike and rider somewhere safe, it's a good skill to have in your kit. We each paired up with another rider to practice and with a little work everyone got a turn towing their partner around the practice field.
At the end of the four hours, I was pretty exhausted but knew what I had learned would stick with me and be invaluable on rides to come. In fact, I made use of the
Hill Recovery Technique
the next day thanks to a wrong turn on
Section 5
of the
North East Backcountry Discovery Route
. I'm certain the descent training, braking, and even the slow-speed maneuvering work we did helped along the way, too.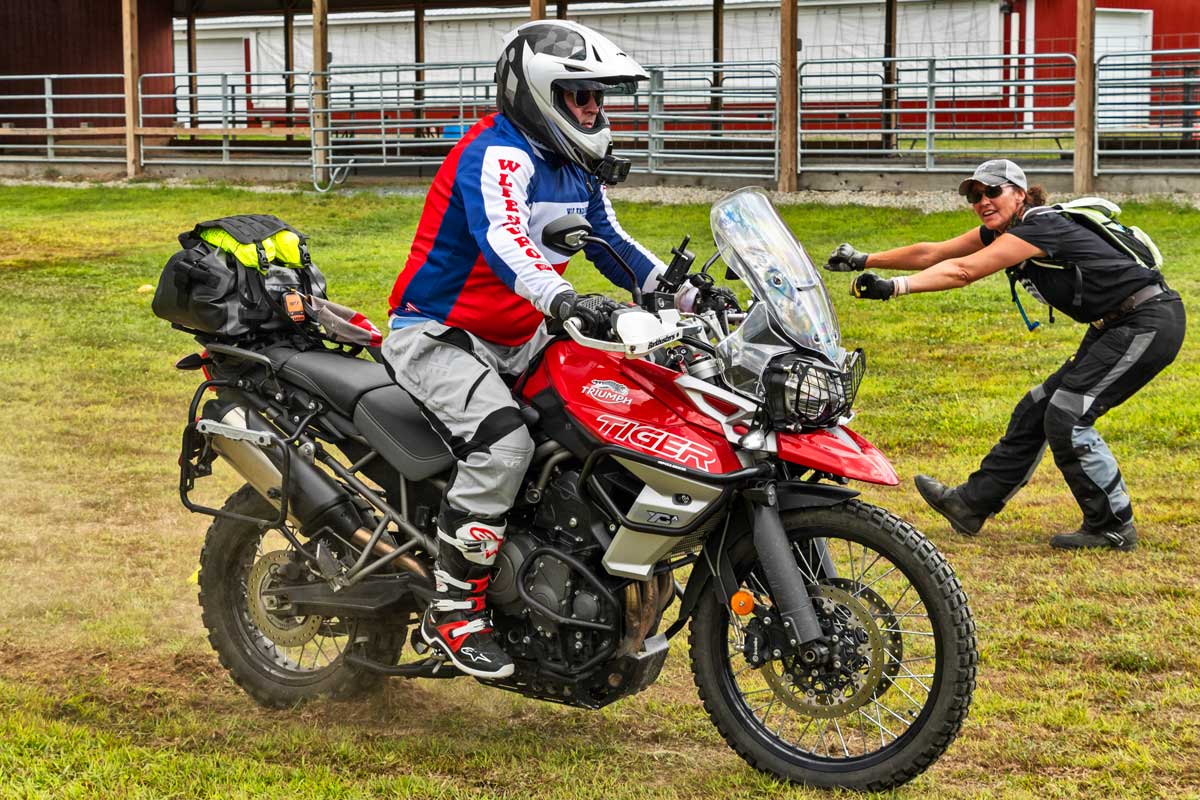 Another quote Ben mentioned throughout the afternoon from his father, Bill Dragoo, was, "Everything we strive for is bike mastery." After experiencing the abbreviated version of this training, I'm acutely aware of the immensity of work required to approach bike mastery and I'll be trying my hardest to find a way to take the full classes as soon as possible.
If you find yourself attending an ADV rally in the future, be it
Touratech's DirtDaze
or another, ask if they have training available. If so, do yourself a favor and attend all the classes you can. Even if your friends go off on a ride while you head to the practice grounds, riding is much better and safer when you have the extra skills learned from making the easy things hard.
• More Information: