ADVMoto Coverage of the 2016 AIMExpo
Page 1 of 3
Day 1
With the adventure touring market on the rise, it's no wonder why ADVMoto is excited to cover the 2016 American International Motorcycle Expo. The event runs from Oct. 13th through Oct. 16th and the first two days are open only to trade and media. We got a first hand look at new motorcycles, gear and apparel from some of the leading companies in the industry, as well as innovative products by vendors new to the market. Here are just some of the announcements and excitement that took place on Day 1.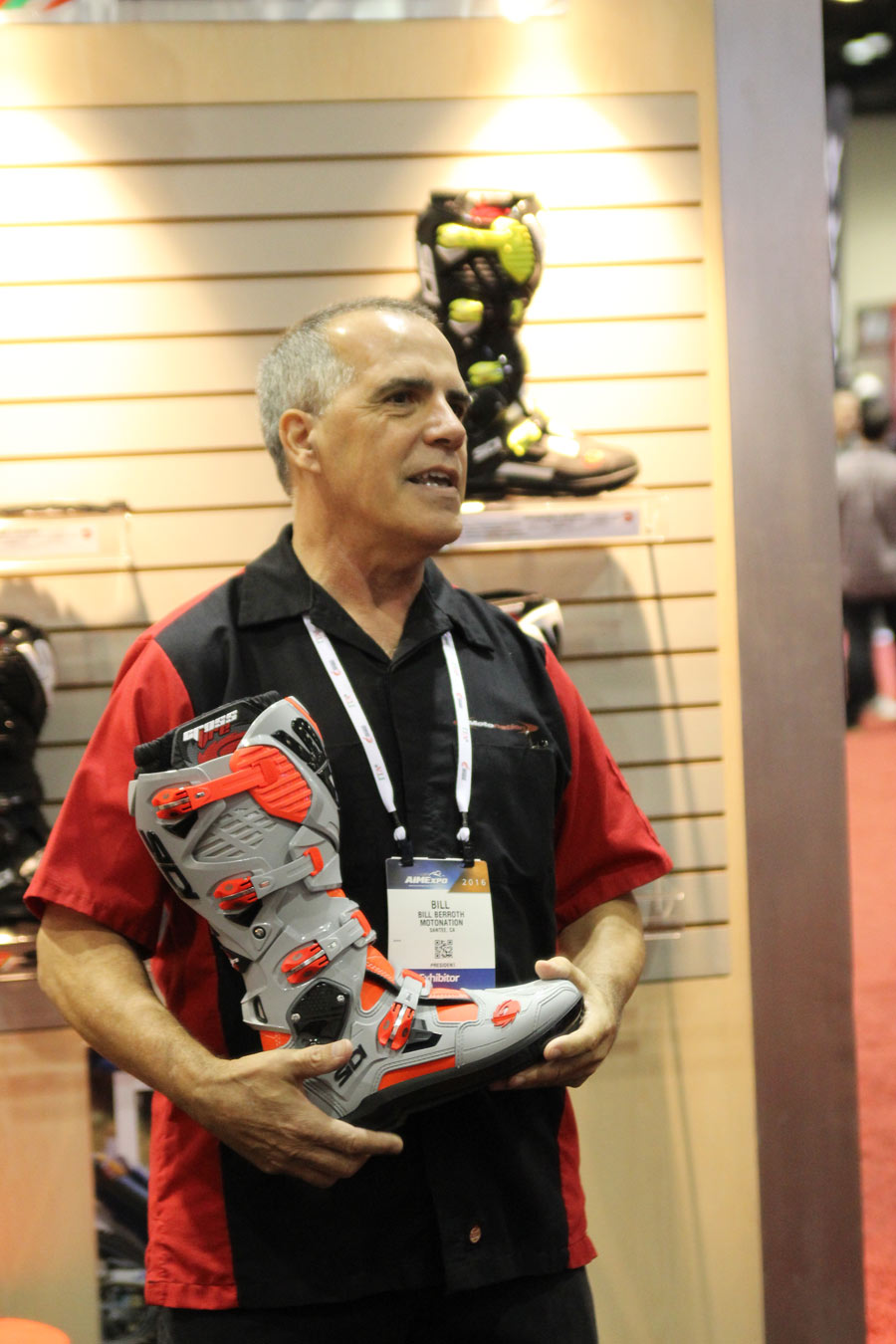 Bill Berroth from SIDI started our day with a presentation of the new and highly anticipated Crossfire 3 SRS motocross boots. Some of the unique features include a hyper-extension ankle stop pivot, quick change sole, more velcro on the inner liner for tighter closures, a molded, secure sole for added durability, and revised construction to reduce wear. The Crossfire 2's will still be available, however, the original Crossfires will be phased out. For more information about the Crossfire 3 SRS boots, visit Motonation.com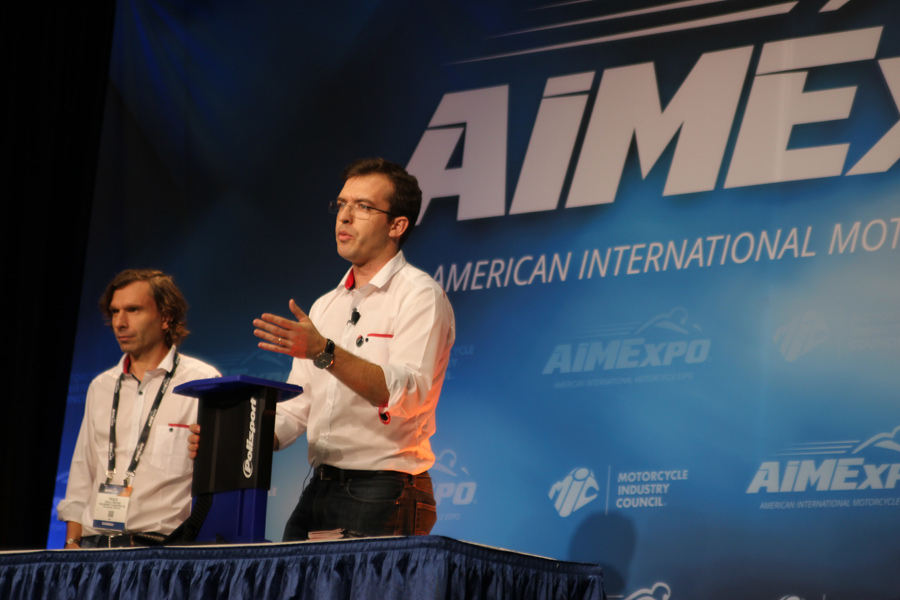 Presentations and announcements went on throughout the day, mainly at the Media Hub. Pictured above, Polisport explains their unique, foot actuated bike stand that folds to carry easily. This polypropylene stand can lift and support a whopping 440lbs. Polisport is one of the leading aftermarket plastic manufacturers in the industry, and more information about this stand and their company can be found at Polisport.com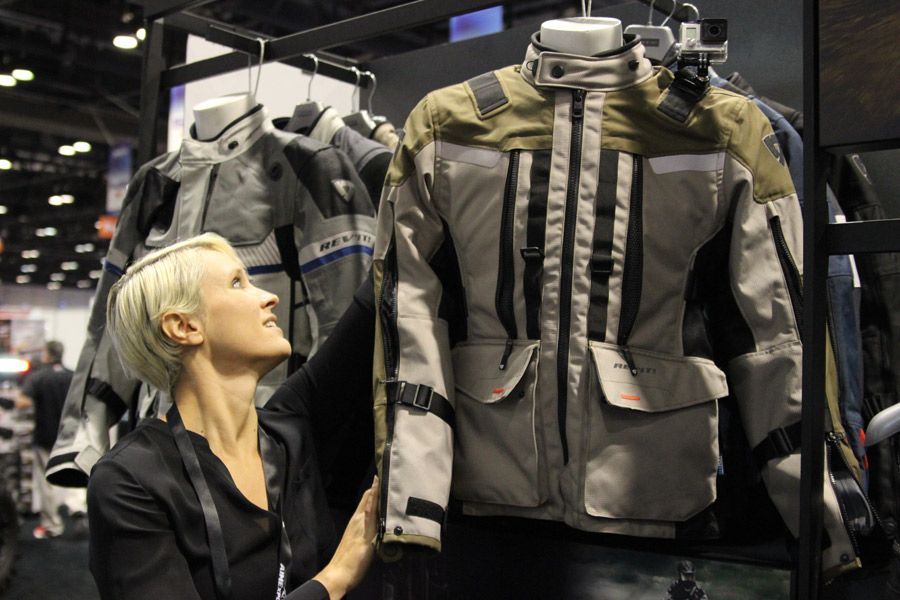 Tracy Motz from Rev'It invited ADVMoto to check out their 2017 Sand 3 Jacket with updated SeeSmart Protection Technology, as well as many other new products that will be available this coming spring. New boots will be announced by Rev'It that feature a BOA closure system that ensures a comfortable, personalized fit. Stay tuned to RevItSport.com for updates.
New and innovative products are around every corner at the AIMExpo! If you're tight on space in your garage, the Cycle Caddy might be just for you. David Tieche demonstrates how his product works to make his Yamaha R1 as easy to move as an office chair. We spent hours meeting people and finding products that make you think, "...you know, I think I want one of those...". The Cycle Caddy was just one of many new products at the event. To learn more about them visit CycleCaddy.com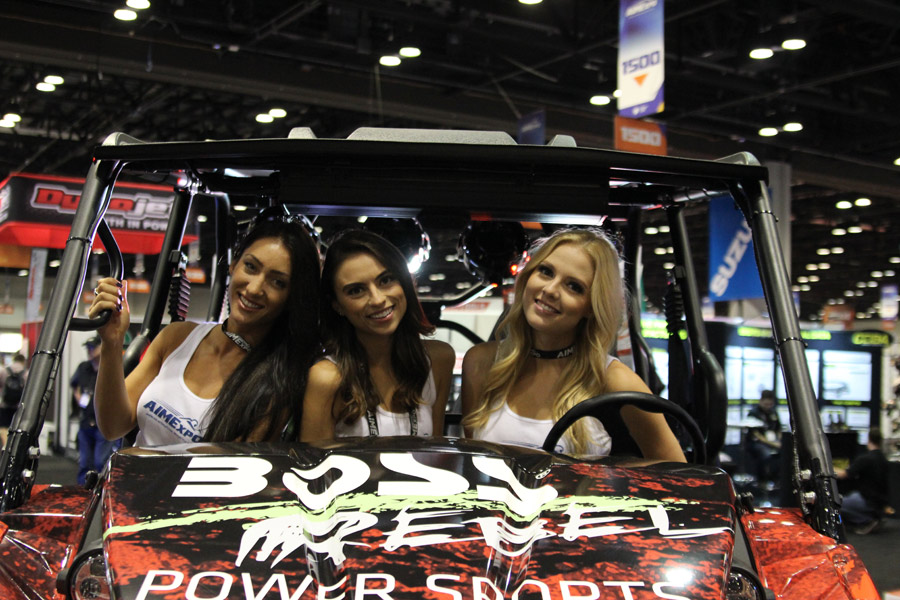 Day 1 was full of fun and as the day dwindles down, ADVMoto prepares for a schedule-packed Friday. Check back tomorrow for more coverage of the 2016 AIMExpo!
Continue to see the action on Day 2!
---