Wanting to do something completely different, Sam Manicom learned to ride a motorcycle and within three months he'd set off to ride the length of Africa. This one-year trip turned into an eight-year epic across 55 countries. Now he want's to share his experiences and adventure with you!
---


Asia Presentation:
Date: Friday, Sept. 6 2019 at 6pm
Location: Go AZ Motorcycles
16844 N. Arrowhead Fountain Center Dr.
Peoria, AZ 85382
Kicking off at 5.30pm with drinks and nibbles, Sam will be presenting on his 2 year journey across Asia. Travelling from Australia and New Zealand, up into steamy countries of SE Asia and then across to India, Nepal, Pakistan, Iran and Turkey.
Sam says, "This is the most colourful and culturally diverse part of the world I've been luck to ride. There's some stunning riding to be done and some great tales of the road. Some are funny, some are mad, some about the people and their cultures, and some are situations where I was lucky to get away with my life. Disasters rather hunt me out..."
The tales include smugglers, his life being saved by a Thai prostitute, being arrested in an Indian port on dodgy documents, and dinner in the Australian Outback with an Aborigine. With photography that has been described as simply stunning Sam will take you riding with him across this magnificent part of the world.
Sam will have copies of his 4 books (Paperback and Audiobooks) with him and will be book signing before and after the presentation.
---

Incredible Africa Presentations:
Date: Friday Sept. 8 2019 at 6pm
Location: BMW Motorcycles of North Dallas
900 K Ave #300, Plano, TX 75074
Date: Saturday, Sept. 21 2019 at 5pm
Location: Adventure Motorsports of NWF
6330 Pensacola Blvd. FL 32505
Date: Tuesday, Sept. 24 2019 at 6pm
Location: Pandora's European Motorsports
4301 Hwy 58 Chattanooga, TN 37416
Date: Friday Oct. 2 2019 at 7pm
Location: Motorcycles of Charlotte
31 Westinghouse Blvd.
Charlotte, NC 28273
Sam Manicom rode around the world for 8 years and is now the author of 4 acclaimed motorcycle travel books. He will be talking about his journey through the first continent of his adventures. Africa. His multi-media presentation is going to take you the length of what is known as the 'Dark Continent', but in fact is a land full of the unexpected.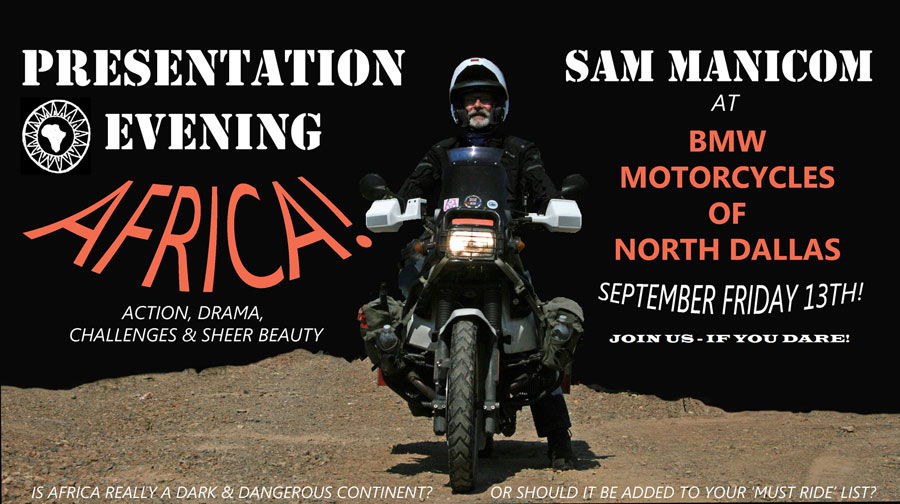 Sam says, 'Africa is a continent that could easily be considered to be motorcycle paradise. It has everything a big trip should have. Stunning and ever changing landscapes, roads that range from gnarly dirt tracks and desert sands to beaten up single lane asphalt that's so pockmarked by potholes that you'll be practicing your slalom technique, to roads that meander through mountain ranges where around every corner is a landscape that has you wanting to stop and take it all in.'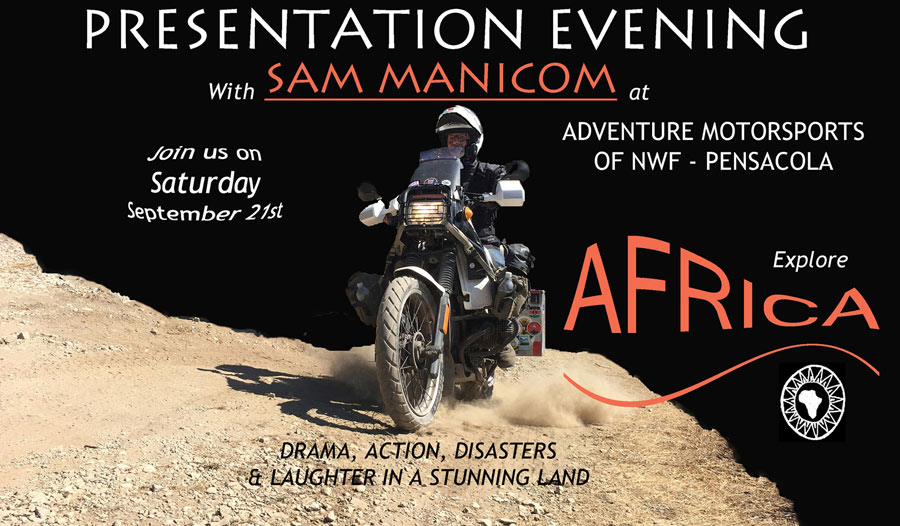 Sam is a self-professed disaster magnet and you'll find out that there are plenty of opportunities for things to go wrong; sometimes badly so. Sam talks about those times and how he dealt with them, and how many of those 'moments' turned into some of the best adventures a motorcycle traveler could have.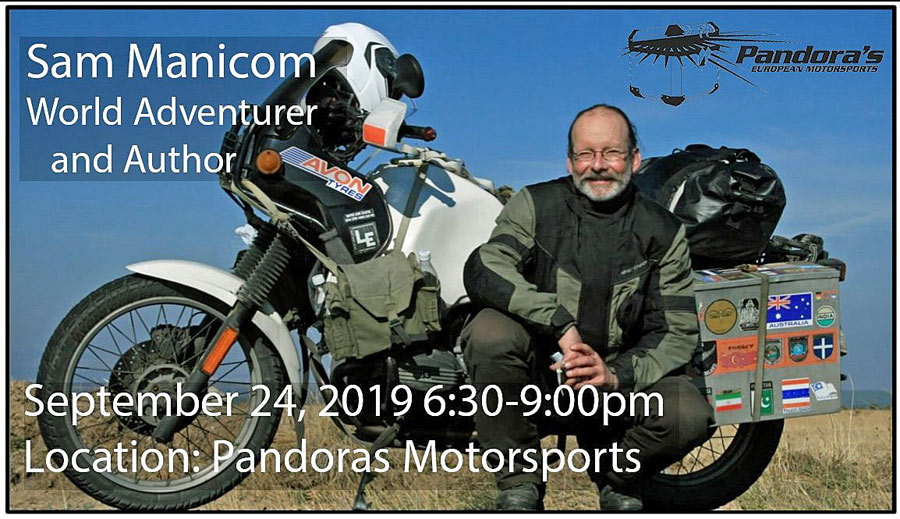 He will introduce you to the people, the cultures and has some real surprises in store for you. Whether you are dreaming about a big trip through this incredible continent, or love the idea of sitting back and listening to tales of the road, this evening with Sam will keep you entertained, and perhaps inspired…
Sam will have copies of his books with him and will be book signing before and after the presentation.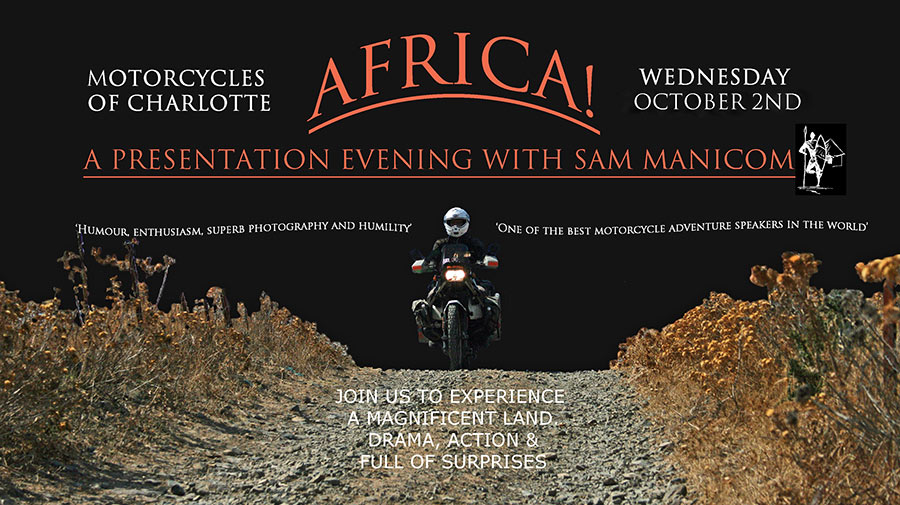 ---
Learn more about Sam and his books by visiting
Sam-Manicom.com
.